Hair Care Tips to Boost Hair Growth Naturally

So you got "the chop" and are looking on how to get your long lengths back, huh? Or are you looking to boost your hair growth postpartum or decrease hair fall out? No matter what brought you here, you are in good hands! At 1 Body, we specialize in natural, reliable, scientifically-backed wellness tips to help you overcome any ailment, hair growth included. Before you add a raw egg to your hair or try another wacky Pinterest hack, read through these simple and effective hair care tips to boost your hair growth naturally!
Understanding Hair Health
There are a number of factors that contribute to hair growth and the lack thereof. Approaching hair care from an "outside-in" only mentality usually results in short-term cosmetic changes. However, if you really want your hair to start sprouting and grow healthier, thicker, and shinier than ever, you need to start from the inside out via nutrition.
Hair follicles are rooted in the epidermis and the hair or hair shaft itself is made of a protein called keratin. The very bottom of the hair follicle, or the bulb, is surrounded by capillaries, or tiny blood vessels that nourish the cells. These cells are turned over at a very fast rate and combine to form hair strands. It passed through sebaceous glands which produce sebum, a natural oil "conditioner" for your hair. For this reason, maintaining healthy hair growth hinges on a healthy scalp. Literally! Nutrition, proper cleansing, increasing blood flow, and nourishing the scalp and hair strands can all impact the quality and rate of hair growth.
Hair has a natural growth and loss or death cycle as well; hair loss is followed by new hair growth. As we age, however, the rate of re-growth slows yet hair loss continues. Hair types can also influence how thick and quick hair grows. The American Academy of Dermatology says that head hair grows at a rate of about 1.5 inches per month or 6 inches per year. A single hair has a life of about 2 and 7 years, which can determine the maximum hair length you can achieve. However, there are certain things you can do to prolong the natural hair growth phase and minimize shedding and hair loss.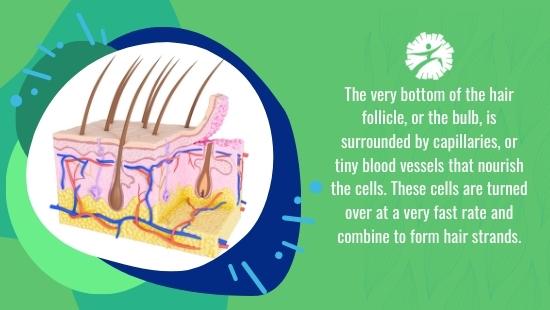 10 Hair Care Tips to Boost Hair Growth

Want to learn how to make your hair grow faster? Here's what we know works!
Get your protein

: Biotin is one of the most widely known supplements for hair health, but it isn't necessarily the most effective for all diets. If you want to minimize breakage and fallout while supporting scalp health, make sure you are getting enough protein. You can use this free online calculator to determine how much protein you need in your diet. One surefire and straightforward way to ensure you get more protein is with a protein supplement like collagen. Not only is collagen naturally found in the scalp, but it has also been shown on many occasions to improve skin health.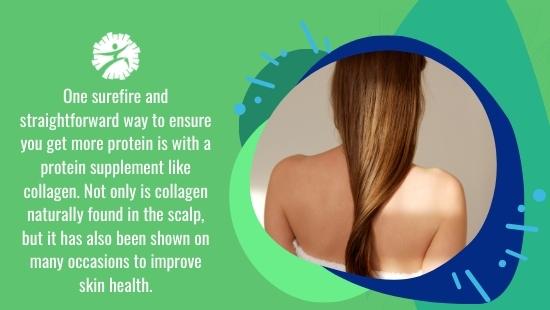 Avoid tight hairstyles

: Hairstyles that tug on the scalp such as tight ponytails and braids can cause a type of temporary hair loss called traction alopecia. It can also cut off blood circulation to certain areas of the scalp. When you have long hair and need to tie it up, try using a clip or avoid tying it too tightly.

Eat a colorful diet

: A balanced diet is absolutely critical for healthier hair. Avoid restrictive dieting which cuts out vital vitamins and nutrients. Deficiencies in vitamin A, vitamin C, vitamin E, and some B vitamins such as biotin may lead to thinning hair and stunted hair growth. Fatty fish in particular contains omega-3 fatty acids which may improve hair health. Try an at-home vitamin test to discover any holes in your diet and either fill them with food or natural supplements. 
Try a hair, skin, and nails supplement

: Supplements that contain a blend of hair growth-promoting ingredients are extremely beneficial! They are much more effective than topical hair products and provide your body with the "tools" it needs to fast-track the hair growth process. Rather than a simple one-ingredient hair supplement, try 1 Body's blend of Vitamins A, C, D, E, B1, B2, B3, B5, B6, B12, and more!

Try an at-home hair mask

: There are many natural remedies for hair growth that you probably already have in your kitchen! For instance, aloe vera is a hydrating ingredient that soothes the scalp, conditions hair, and can reduce dandruff. Coconut oil, onion juice, and lemon are all supported by studies as a promising way to nourish the hair follicles and stimulate hair growth. After you apply your hair mask and let it sit per the instructions, rinse with cold water to avoid stripping the hair oil away.
See what essential oils can do for you

: Essentials oils aren't just good for aromatherapy. Topical application of essential oils may boost hair growth as well! Try mixing rosemary oil or peppermint oil with a carrier such as a jojoba oil, castor oil, coconut oil, or even olive oil and apply it to the scalp on a wash day. Before applying, test it on a small patch of the skin to make sure it doesn't cause irritation.

Enjoy a scalp massage

: Massaging the scalp boosts blood flow in the scalp which then nourishes the hair. It's one of the home remedies you can do for absolutely free! If you want to up your scalp massage game, you can apply the essential oils above and work them in with a hairbrush with thick bamboo bristles. You'll thank us later!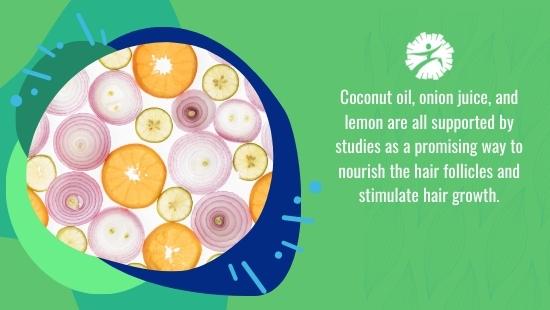 Keep heat styling and dying to a minimum

: Burning the scalp and damaging the hair follicles can stunt hair growth and cause breakage. Similarly, causing chemical burns or damaging the hair follicles with bleach will halt hair growth. As much as you can, avoid dying and bleaching your hair and use a heat protectant whenever you need to apply heat.

Get regular hair trims

: Split ends and dry brittle hair mark the final phase of the hair growth cycle and signal the body to start shedding the old follicles. Getting regular hair trims can help to slow your progression towards this phase and make your hair look healthier for longer!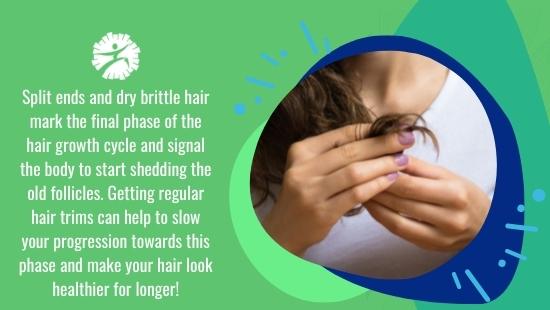 Take note of your medications

: Certain medications can come with side effects that include hair shedding and loss. If you are worried that medications might be causing adverse side effects, consider talking to a doctor or dermatologist to possibly adjust dosages and develop a thorough hair treatment plan.
There is no magical supplement or hair treatment that will grow 6 inches of hair overnight, but by making very small lifestyle changes, you can fast track your body's hair growth process the only way it knows how -- naturally!
Biotin Supplement
Healthier Hair

- Ditch the hair growth products with harsh chemicals and stick with a natural hair growth vitamin that's essential for healthy hair.

Stronger Nails

- Biotin is one of the best nail vitamins for stronger nails, helping your nails grow longer with less chipping and breaking.

Nourished Skin

- Do you want clear, healthy, glowing skin? Biotin is important for skin health, for women as well as men.

Essential B-Vitamin

- Biotin plays a role in skin, hair, and nail health. Although uncommon, biotin deficiency can lead to hair loss or skin rashes.

High Potency Biotin

- Our formula uses a high potency

10,000 mcg dose of bioti

n to maximize the potential benefits