Signs and Symptoms of Vitamin B Deficiency

A few years back, my mom seriously changed up her lifestyle and ended up going on a mostly vegan diet. She was eating what she thought was a well-balanced diet, and was feeling pretty good in the beginning, but then something strange happened. She told me her feet started to feel like they were floating. Seriously. Like, she could see her feet and know they were staying still, but it felt like they were being lifted. Not a great sign. Luckily, my aunt is a nurse practitioner and just a phone call away, so after a quick consultation, it was determined that my mom simply needed more vitamin B in her diet. But, how can not getting enough of a certain vitamin lead to such a seemingly unrelated and strange symptom? As it turns out, B vitamins play a huge role in keeping our nervous system healthy and functioning properly, which is why my mom was having problems with nerve sensations without enough of them. Don't get it wrong - B vitamins do more than keep our feet on the ground, they help nearly every part of our body function and thrive and when we don't get enough, some serious health problems could arise. 
What is Vitamin B?​
Technically, there is not just ONE vitamin B. When we look, there are 8 total B vitamins - B1 (thiamin), B2 (riboflavin), B3 (niacin), B5 (pantothenic acid), B6 (pyridoxine), B7 (biotin), B9 (folate [folic acid]), and B12 (cobalamin). Some of these may sound familiar, and some of them...not so much. But be assured, they all play an important part in how our body functions! These water-soluble vitamins help our bodies break down carbohydrates to be used as energy and are vital for a healthy, balanced life. Let's go over what each B vitamin does for our health and wellness: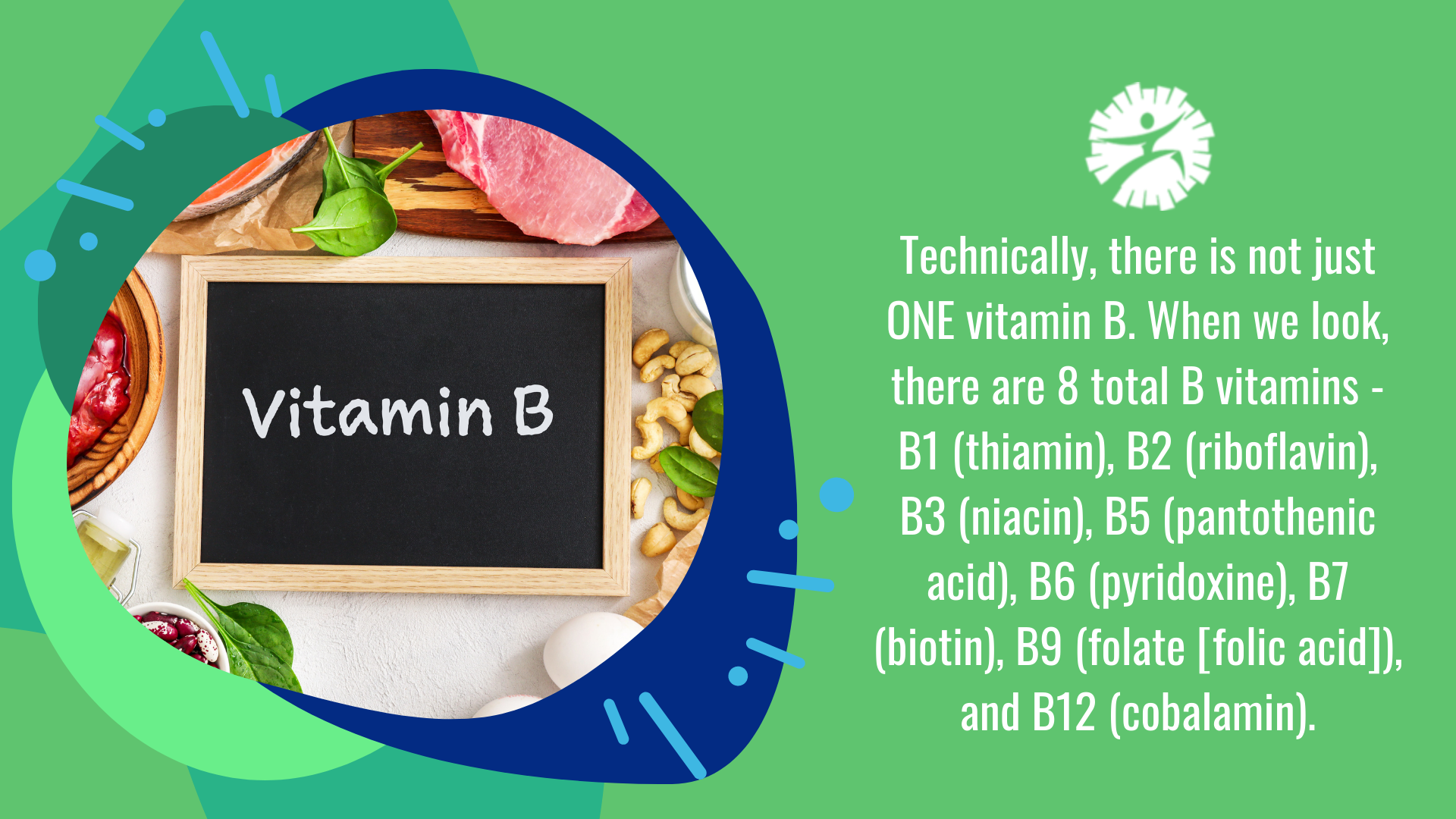 Vitamin B1 (Thiamin)

- Thiamin plays a key role in keeping our nervous system, brain, muscles, heart, stomach, and intestines healthy and disease-free. It may also help boost your immunity! 

Vitamin B2 (Riboflavin)

- Our body requires vitamin B2 to convert carbohydrates into what is called adenosine triphosphate (ATP), the thing that our body needs to store energy in muscles. It is also a key player in the health of our eyes, skin, and nervous system! 

Vitamin B3 (Niacin)

- Vitamin B3 is presented in two main chemical forms - nicotinic acid and niacinamide or nicotinamide. Nicotinic acid is used to help lower cholesterol and prevent heart disease, while niacinamide can help keep the skin healthy.

Vitamin B5 (Pantothenic Acid)

- Vitamin B5 not only helps your body break down Vitamin B2, but it is also vital for "the manufacture of red blood cells, as well as sex and stress-related hormones produced in the adrenal glands," according to Mount Sanai.

Vitamin B6 (Pyridoxine)

- The Mayo Clinic states that vitamin B6 is"important for normal brain development and for keeping the nervous system and immune system healthy." It is also important for the production of hemoglobin, the thing that helps red blood cells move oxygen around the body.  

Vitamin B7 (Biotin)

- Biotin is commonly known for its benefits to the hair, skin, and nails, among other health benefits. Vitamin B7 also helps "regulate signals sent by cells and the activity of genes," according to Harvard Health.

Vitamin B9 (Folate or Folic Acid)

- Vitamin B9 is crucial for the development of DNA and ensuring cell growth, which is why it is often recommended to women who are pregnant. Vitamin B9 can present itself in two forms - folate or folic acid, though they are often used interchangeably. Folate is the naturally occurring form of vitamin B9, while folic acid is the synthetic form. 

Vitamin B12 (Cobalamin)

- Vitamin B12 is required by our bodies for the production of DNA and RNA and for maintaining healthy nerve cells. Additionally, vitamin B12 works with vitamin B9 to create red blood cells, keep the immune system healthy, and balance mood (through the production of S-adenosylmethionine).
It is important for people to get all 8 of these B vitamins, which when working together is known as the vitamin B complex. As people, we don't naturally produce our own vitamin B, so we need to consume it through our diet, or by adding a vitamin B supplement. Not enough vitamin B in our day-to-day routine can lead to vitamin B deficiency, which in turn, can lead to some serious health issues.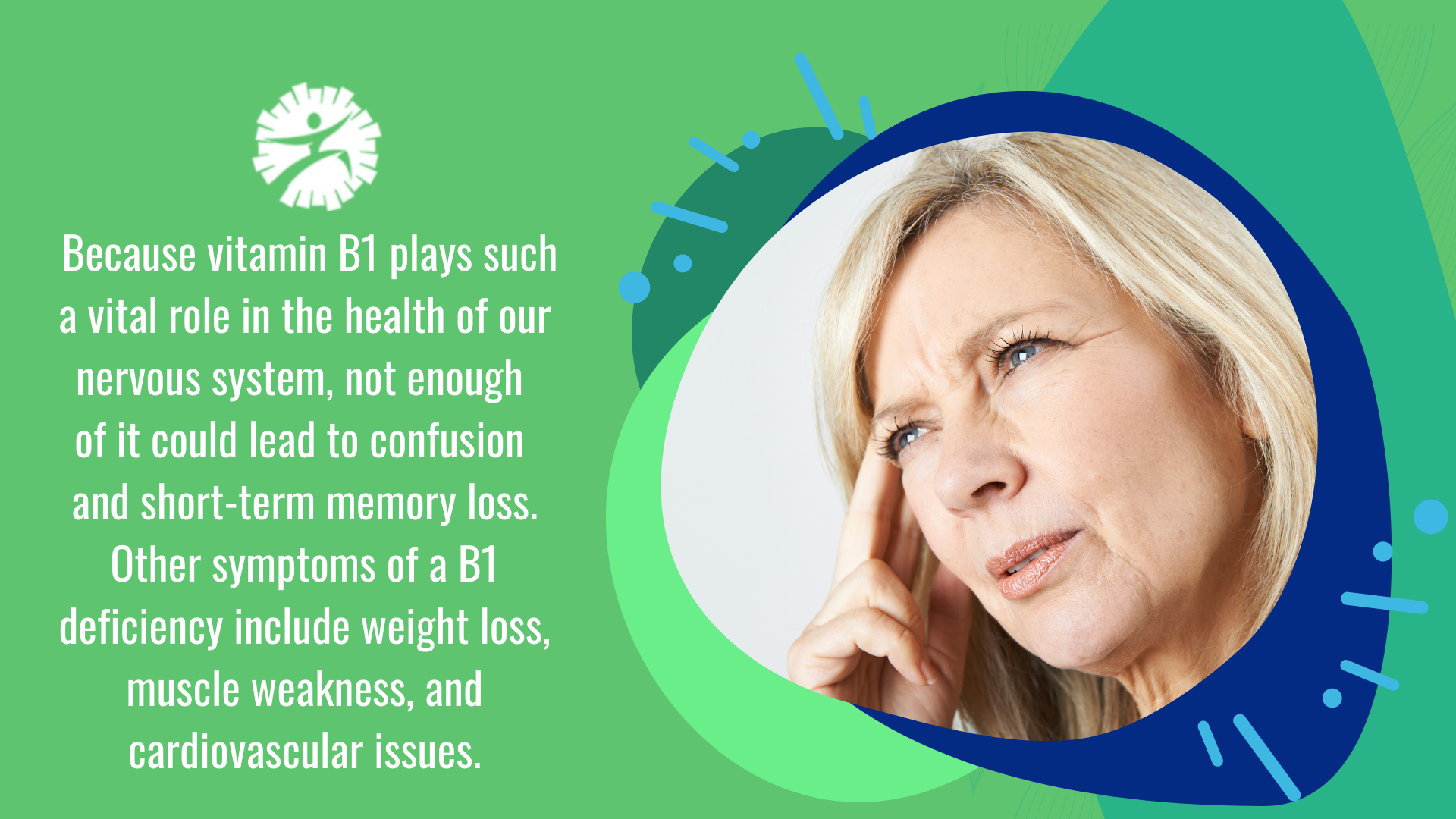 Symptoms of Vitamin B Deficiency 
Now that we've covered what each of the B complex vitamins does for our health, let's take a look at what happens (and what could potentially happen) when we don't get enough of them. 
B1 (Thiamin) - Because vitamin B1 plays such a vital role in the health of our nervous system, not enough of it could lead to confusion and short-term memory loss. Other symptoms of a B1 deficiency include weight loss (and even cases of anorexia), muscle weakness, and cardiovascular issues. Medical News Today even reports that not enough vitamin B1 "commonly leads to beriberi, a condition that features problems with the peripheral nerves and wasting."
B2 (Riboflavin) - Riboflavin is vital to skin, eye, and nervous system health, so without enough vitamin B2, one may experience the following symptoms: 

Angular cheilitis or cracks at the corners of the mouth
Cracked lips
Dry skin
Inflammation of the lining of the mouth
Inflammation of the tongue
Mouth ulcers
Red lips
Sore throat
Scrotal dermatitis
Fluid in mucous membranes
Iron-deficiency anemia
Eyes may be sensitive to bright light, and they may be itchy, watery, or bloodshot
B3 (niacin) - Niacin deficiency, sometimes referred to as pellagra, can lead to some serious neurological and physical symptoms including: 
Memory loss and mental confusion
Fatigue
Depression
Headache
Diarrhea
Skin problems
B5 (Pantothenic Acid) - Those that have kidney disease, are alcohol-dependent, or have certain autoimmune disorders are more likely than most to have a deficiency in vitamin B5. Without enough B5, anemia and depression could develop, as well as a weakened immune system.
B6 (Pyridoxine) - According to the National Institutes of Health, those with vitamin B6 deficiency may suffer from "microcytic anemia, electroencephalographic abnormalities, dermatitis with cheilosis (scaling on the lips and cracks at the corners of the mouth) and glossitis (swollen tongue), depression and confusion, and weakened immune function."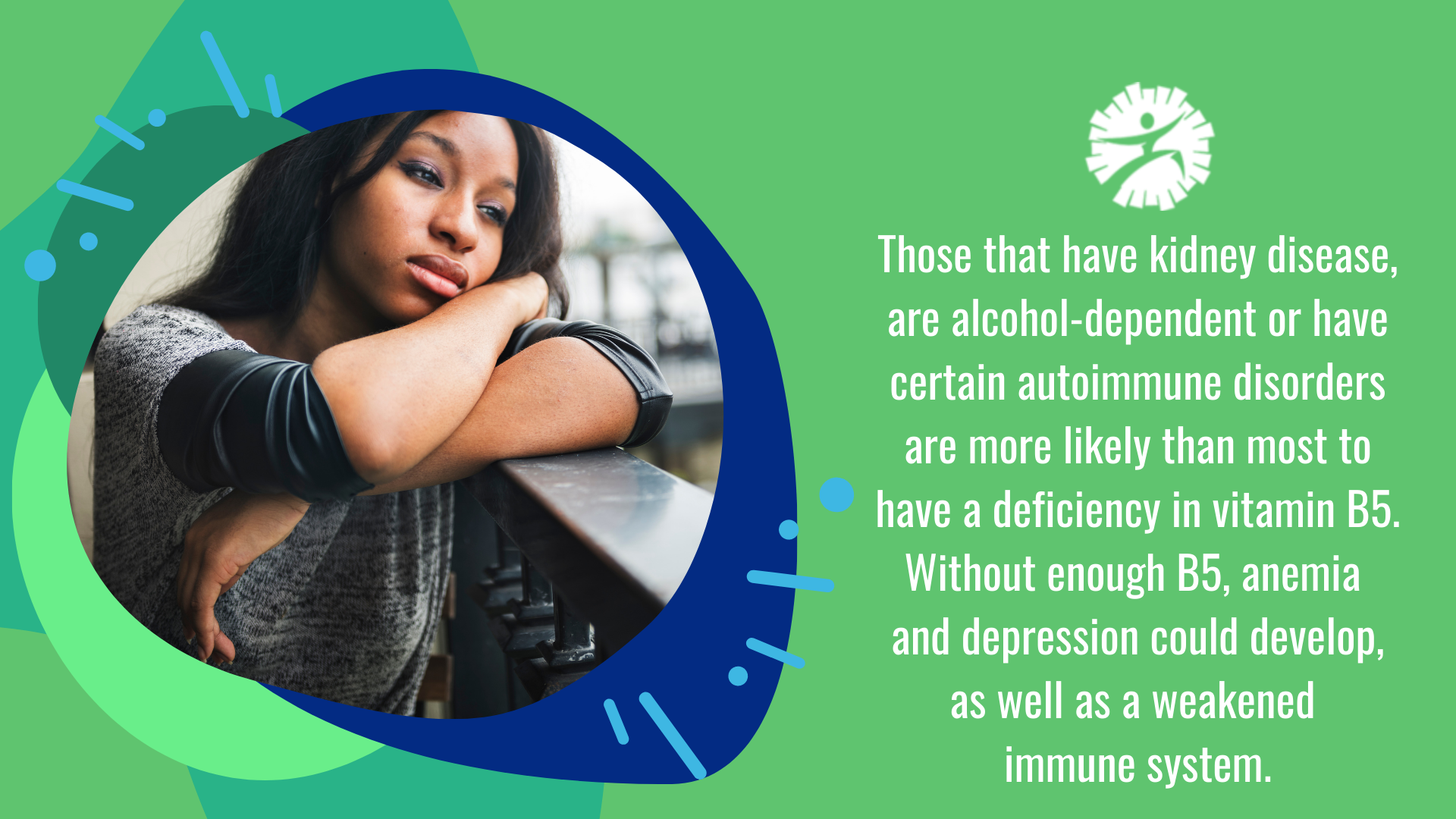 B7 (biotin) - Biotin is closely related to the health of our hair, skin, and nails, and without enough of it, the following symptoms and health problems may occur: 

Hair loss, or alopecia
A scaly, red rash around the eyes, nose, mouth, and genitals
Depression
Lethargy
Hallucinations
Numbness and tingling in the hands and feet
A loss of control of bodily movements, known as ataxia
Seizures
Impaired immune function
Increased risk of bacterial and fungal infection
B9 (Folate or Folic Acid) - Vitamin B9 deficiency or folate deficiency may lead to high homocysteine levels, which have been linked to heart disease and stroke, and put you at an increased risk for cancer. Additionally, folate deficiency in pregnant women has been linked to birth defects. 
B12 (Cobalamin) - While most common in older adults, anyone can experience vitamin B12 deficiency. The most common signs and symptoms of vitamin B12 deficiency include: 
Fatigue
Shortness of breath
Diarrhea
Nervousness
Numbness
Tingling sensation in the fingers and toes (neuropathy) 
Nerve damage can occur in severe cases
The most common cause of vitamin B deficiency is the low levels of B complex vitamins in a personal diet, although there are several other health reasons that one may become vitamin B deficient. Those who have atrophic gastritis, pernicious anemia,  Crohn's disease, celiac disease, or are drinking heavily have a harder time digesting and properly absorbing B vitamins, and thus are more likely to become deficient. Additionally, those with immune system disorders, or are taking certain diabetes and heartburn medications are also more likely to develop signs of vitamin B deficiency. 
If you're experiencing one or more of the complications we mentioned above, contact your doctor or healthcare provider. They may order a blood test if you're experiencing symptoms of anemia, which is linked to low levels of vitamins B12 and B9.
How to Get Enough Vitamin B
As mentioned before, because we do not produce our own B vitamins, people need to turn to food sources, multivitamins, or dietary supplements to maintain a healthy, balanced lifestyle. Ensuring that our diets are well balanced and high in nutritional value is one of the best prevention plans we have against vitamin B deficiency. 
Look for foods rich in each of the 8 B complex vitamins. Here are some of our favorites! 
Vitamin B1 -

peas, bananas, oranges, nuts, whole grain bread, some fortified foods like breakfast cereals, liver

Vitamin B2 - milk, eggs, mushrooms, lean meats, leafy vegetables
Vitamin B3 -

tuna, salmon, turkey, avocado, brown rice

Vitamin B5 -

potatoes, oats, yogurt, broccoli, some dairy products (like whole milk)

Vitamin B6 -

liver, chickpeas, papaya, cantaloupe 

Vitamin B7 -

egg yolks, peas, sweet potatoes, bananas

 
Vitamin B9 -

spinach, asparagus, nuts and seeds, liver

Vitamin B12 -

clams, liver, whole grain cereals, and fortified non-dairy milk
Generally, if you balance your diet with protein, grains, fruits, and vegetables, the chances of developing signs of vitamin B deficiency are slim. Talk to your doctor or healthcare provider about finding a diet that's right for you. 
1 Body Has Your Vitamin B Supplement Solution
Clearly, getting enough B complex vitamins in your daily routine is vital for overall health and wellness, which is why it's important to give your body the extra vitamin B boost it needs! Try adding a vitamin B supplement, like 1 Body's Vitamin B Complex formula. Made with the highest quality ingredients, our unique formula contains all B vitamins, including B1, B2, B5, B6, B12, Niacin, Folate, and Biotin. Our formula also uses the most bioavailable forms of the essential B vitamins to ensure maximum absorption and long-lasting effects. Plus, 1 Body manufactures all of our supplements in the US, with a vegan capsule that contains ZERO sugar, salt, dairy, wheat, gluten, soy, preservatives, artificial colors, or flavors. 
You may also check other 1 Body daily supplements and reward yourself with the quality health that you deserve.