Can Biotin Really Help My Hair Grow?

If you've ever Google'd how to maintain healthy hair, how to get longer natural hair, or how to prevent thinning hair, the term biotin has definitely graced your screen before. There are endless amounts of shampoos, hair masks, and oral supplements all containing biotin, with lofty claims of thicker and longer hair, healthier, glowing skin, and stronger nails with regular use.
With all of these options, how are we supposed to know what will work for our hair? Let's take a look at what biotin is, how it helps our hair grow, how much we should be taking, and its possible side effects.

What is Biotin? 
Biotin, also referred to as Vitamin B7 or Vitamin H, is " a water-soluble vitamin that is a cofactor for five carboxylases (propionyl-CoA carboxylase, pyruvate carboxylase, methylcrotonyl-CoA carboxylase [MCC], acetyl-CoA carboxylase 1, and acetyl-CoA carboxylase 2) that catalyze critical steps in the metabolism of fatty acids, glucose, and amino acids" according to the National Institutes of Health. Biotin helps with the metabolism of protein, fats, and carbohydrates. It helps our bodies convert food into energy and plays a huge role in the health and function of our hair, skin, nails, and brain. The benefits of biotin also include: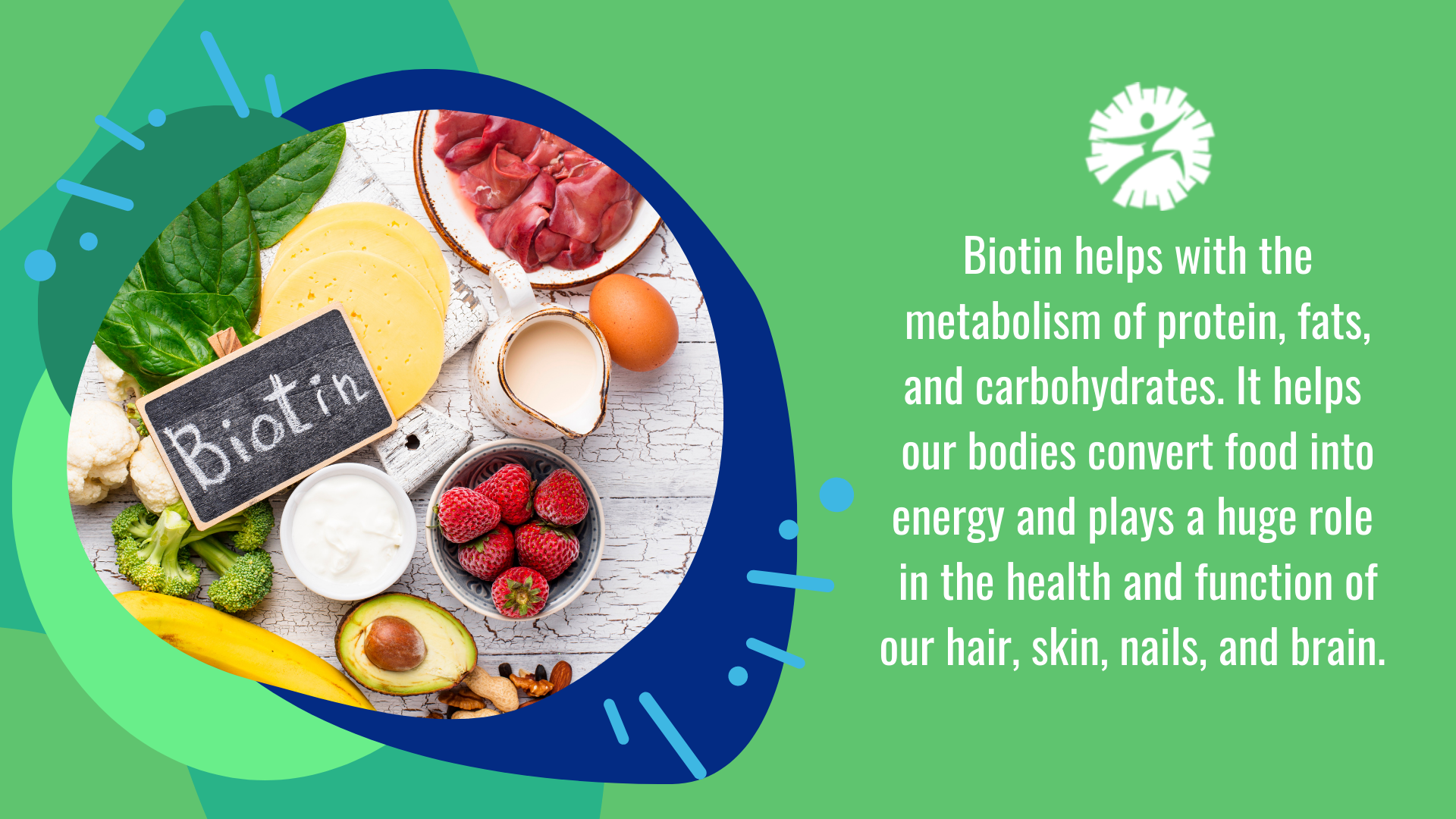 Regulating blood sugar levels
Reducing inflammation
Increasing good cholesterol in the body
Improving cognitive function
Reduces nerve damage in people with diabetes, and those undergoing dialysis
Biotin is found naturally in food, mostly bound to proteins in foods such as egg yolks, nuts and seeds, sweet potatoes, and mushrooms. Bananas, liver, broccoli, and avocado are also good sources of biotin! 
Because biotin is a water-soluble vitamin, our bodies can't store its nutrients, meaning that we as people need to consume it regularly as a part of a balanced diet to maintain healthy, adequate levels. While it is rare to experience biotin deficiency, there are a few signs your body may be giving you to step up your Vitamin B7 intake: 
Thinning hair
Brittle nails
Red scaly skin rash around the eyes, nose, mouth, and perineum
Hair loss
Conjunctivitis
Skin infections
If you are experiencing one or more of these symptoms, talk to your doctor or dermatologist about adding the right amount of biotin to your diet or if finding a biotin supplementation would be right for you.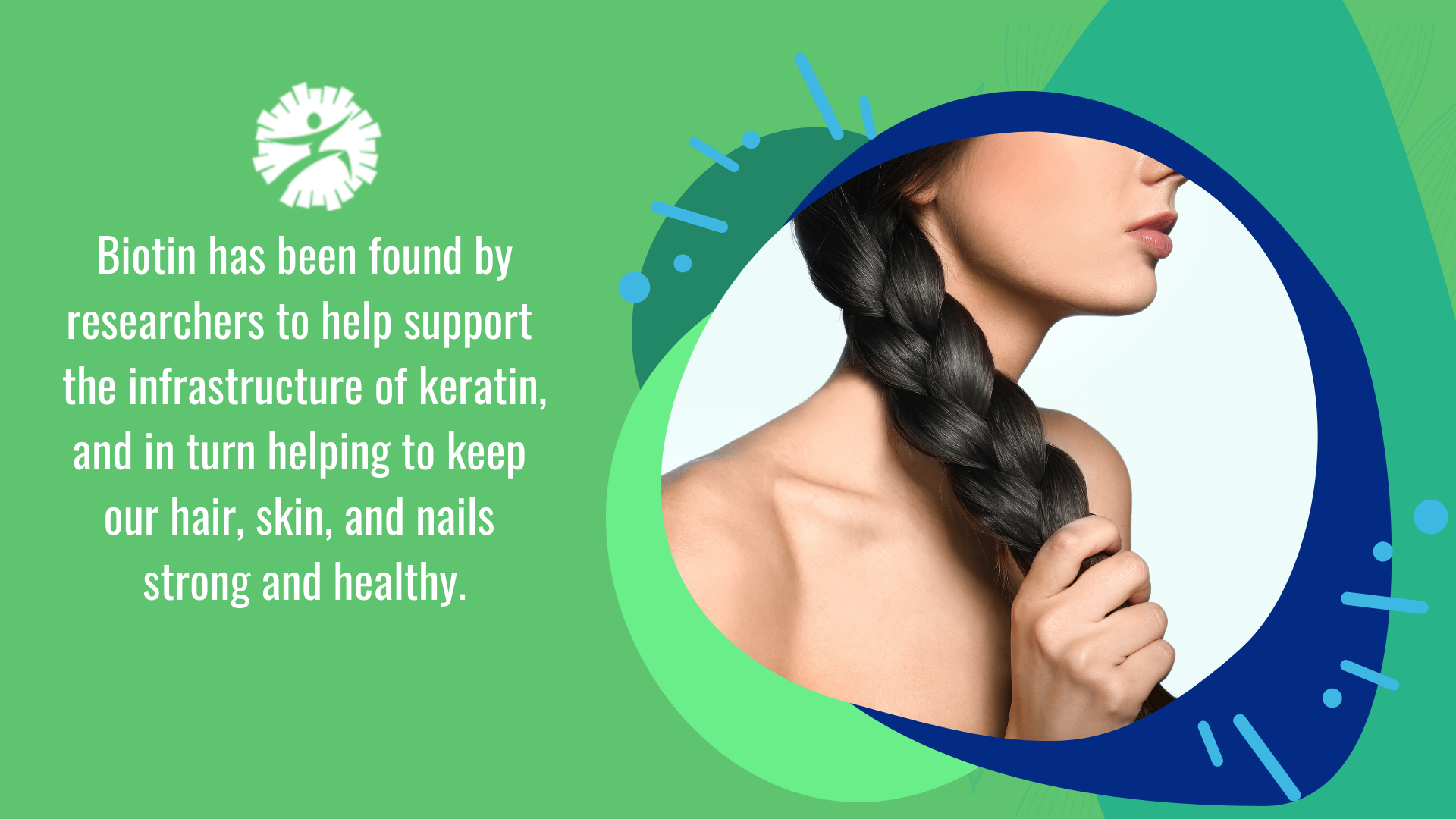 How Biotin Helps Hair Growth
Dermatologists and doctors have been prescribing biotin as a hair loss treatment for thinning hair and alopecia for years, but how does biotin actually help hair grow? It all comes back to keratin. Keratin is a type of protein found in cells in our hair (specifically the hair follicle), skin, and nails. It can also be found in your internal organs and glands. Keratin provides structural support to these cells as well as protection as it is less prone to scratching or tearing than other types of cells. Biotin has been found by researchers to help support the infrastructure of keratin, and in turn helping to keep our hair, skin, and nails strong and healthy.
While there is limited scientific evidence from studies on the direct impact of biotin on hair growth and hair health, one 2015 study found that women who took an oral supplement containing biotin among other ingredients experienced significantly more hair regrowth in areas where hair was previously thinning than women who took a sugar pill for the same amount of time. The women taking the biotin supplement also experienced less hair shedding than the women taking the sugar pill.

What You Need to Know About Biotin Supplements
There are a TON of dietary supplements out there containing biotin, that claim to give users healthier hair, skin, and nails. As we discussed above, biotin helps hair grow by helping to provide infrastructure support to the keratin in our cells, but the key is to find supplements that contain enough biotin.
There are a TON of dietary supplements out there containing biotin, that claim to give users healthier hair, skin, and nails. As we discussed above, biotin helps hair grow by helping to provide infrastructure support to the keratin in our cells, but the key is to find supplements that contain enough biotin.
Because Biotin Deficiency is so rare, there is only dosage guidelines or a Daily Value (DV) recommendation that the FDA can give us, instead of a recommended dietary allowance (RDA). For people ages 10 and older, the recommended amount of biotin is 30 -100 mcg (or micrograms) a day. For women that are pregnant and breastfeeding, more biotin may be required as the body is breaking down the vitamin much more rapidly than before. Some studies have even found that 33% – 50% of expectant women are deficient in biotin as they enter the later part of their pregnancy.
Look for supplements that contain AT LEAST your recommended DV amount, if not more like 1 Body's Biotin Supplement that contains a 10,000 mcg dose of high-potency biotin, and try to avoid filler ingredients like magnesium stearate, silicon dioxide, titanium dioxide, starch, microcrystalline cellulose, stearic acid, simethicone, vegetable gum, talc, and propylene glycol.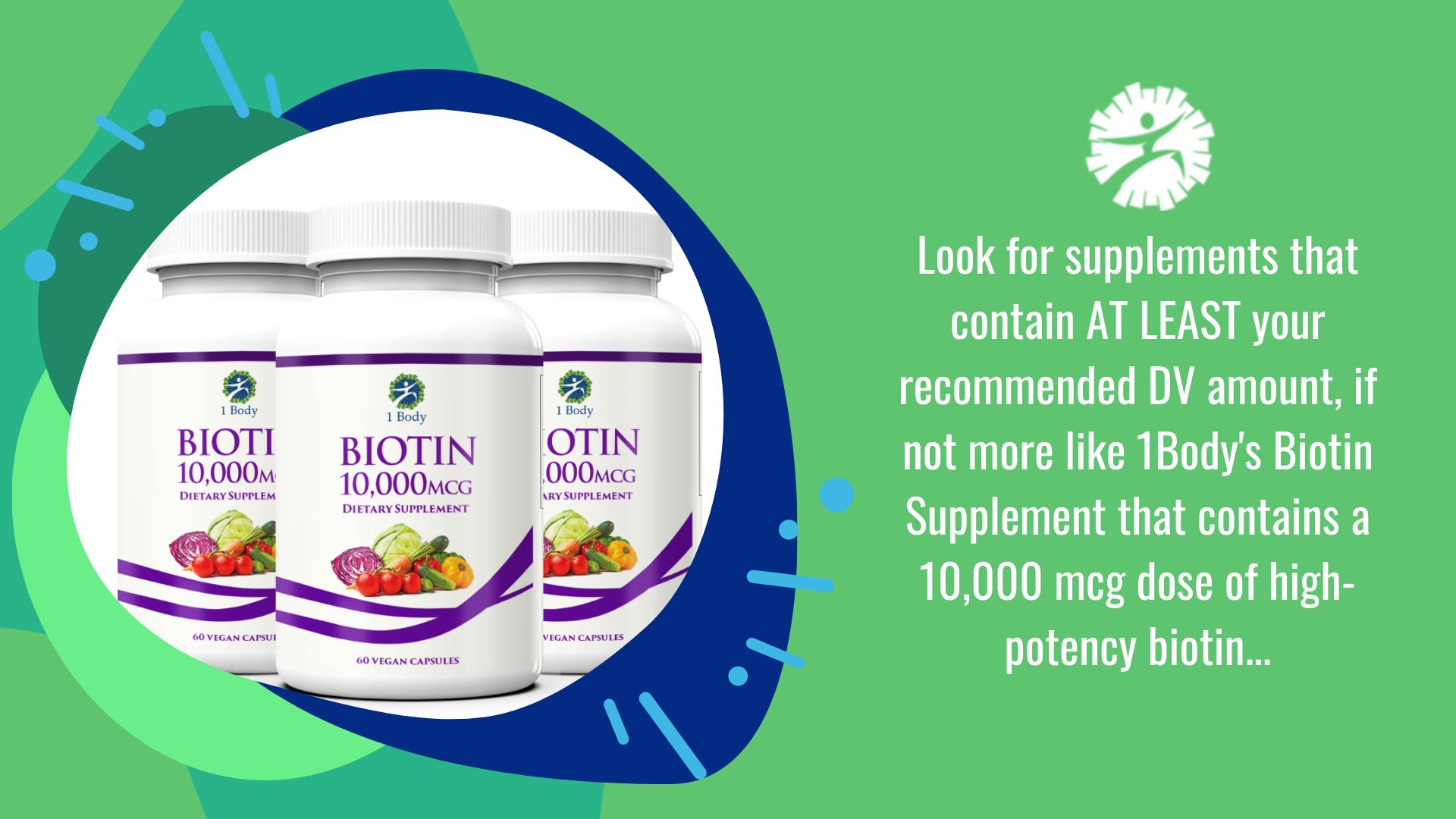 Side Effects of Biotin
As we've mentioned above, biotin is water-soluble, which prevents our body from storing its nutrients, but also makes it difficult to take too much biotin. The Mayo Clinic states that no side effects have been reported for biotin in amounts of up to 10 milligrams (10,000 mcg) per day, and it is generally considered safe even in large doses. That being said, everybody is different, and everyone reacts differently to different supplements, including biotin. What might be right for one person, may not be right for you.
Talk to your doctor or dermatologist if you are experiencing one or more of these complications, as they could be a side effect of too much biotin:

Interaction with medications - Before starting a biotin supplement, make sure to talk to your doctor about any potential interactions with your current medications. Certain medications such as seizure and cholesterol medications have been found to be less effective when interacting with biotin.
Lab test results - Make sure to inform healthcare professionals that you're taking a biotin supplement if you're going for blood tests or lab work. Biotin has been found to skew lab results, specifically results for hormone or thyroid conditions, leading to incorrect diagnoses.
Allergies - Some people can actually be allergic to biotin which results in nausea, a rash, or swelling of the throat and face. If you experience one or more of these symptoms with a biotin supplement, quit use immediately and contact your doctor.
Acne - Too much biotin has been found to increase acne around the chin and jawline in some patients. Skincare experts believe this is because biotin may interfere with the absorption of pantothenic acid, an acid that helps keep acne-causing bacteria out of the skin.
Miscarriage - While it is safe (and encouraged!) to eat biotin-rich foods during pregnancy, contact your doctor before adding a biotin supplement to your diet, as too much biotin can increase your chances of a miscarriage.
Frequent urination - Biotin supplements may increase your urgency and frequency of bathroom trips. It might also lead to excessive sweating.
Make sure to listen to your body and your doctor when it comes to adding any vitamin or supplement to your daily routine.
Trust 1 Body with Your Biotin Supplements!
Looking for a trustworthy biotin supplement for your hair health? Try 1 Body! Our Biotin supplement contains 60 servings of 10,000 mcg of real, natural, non-GMO, high-potency biotin, or 333% of our Daily Value. Our capsules are manufactured in the USA at a cGMP lab with NO wheat, gluten, soy, milk, egg, fish, sugar, salt, dairy, tree nuts, preservatives, artificial colors, or flavors in an easy-to-swallow vegan capsule.
Try 1 Body Biotin for hair growth and SAVE 35% and receive free shipping when you subscribe and purchase!