Why Men Should Take Collagen
Collagen supplements are extremely popular among women for a number of good reasons. It's the ultimate anti-aging supplement that can support healthy hair growth, skin health and elasticity, bone health, and stronger nails. But, the health benefits of collagen aren't limited to just skincare. Many men are also taking to collagen for its ability to support gut health, build muscle mass, decrease joint pain, and speed up recovery time. All that and decreased fine lines and wrinkles? Who wouldn't want that?
How Does Collagen Work?
Collagen is a structural protein that can be found in all the connective tissues throughout the human body. In fact, collagen makes up about 90% of the body's total protein. It can be thought of as a building block that supports and provides structure to the muscles, joints, ligaments, tendons, skin, blood vessels, gut, and more. Collagen helps these connective tissues to stay flexible and strong and keeps joint pain, wrinkles, muscle atrophy, and hair loss at bay. The body produces this abundant protein at a steady rate during youth. Then, after age 25 or so, collagen production slows and free radicals start to damage the collagen proteins already in the body.
Because collagen supports so many areas of the body, this gradual drop in collagen levels has pretty hefty consequences. It can cause arterial stiffness and further complications relating to heart health, muscle loss, leaky gut syndrome and other gastrointestinal issues, joint pain, lack of mobility and flexibility, wrinkles, and more. This is where collagen supplements come into play.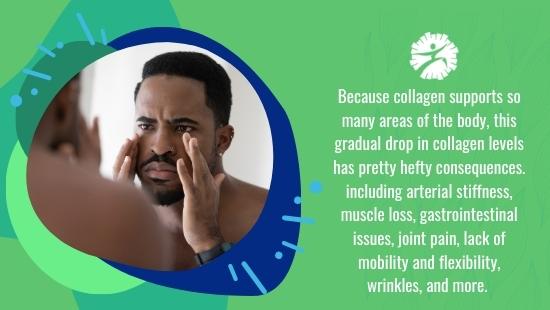 Collagen supplements, often called collagen peptides or hydrolyzed collagen, are made by extracting collagen from certain animal body parts. Common sources include fish skin (marine collagen), cowhides (bovine collagen), chicken ligaments, and eggshell membranes. Then, the collagen undergoes a process called hydrolysis which breaks the collagen down into a smaller, easily digestible form. The result is pure collagen powder that is 100% safe for human consumption. While the body's process of breaking down certain supplements can inhibit their efficacy, it is a necessary and useful step for collagen. When humans consume collagen, it is broken down into its three amino acids: glycine, proline, and hydroxyproline. These amino acids all have additional unique health benefits, but they can also work together to help the body produce collagen on its own. Using a collagen supplement to up your collagen intake has many health benefits.
The Unique Health Benefits of Collagen for Men  
Collagen essentially works the same for both men and women. However, all too often collagen is viewed as strictly a "beautifying" ingredient. The reality is this is just an added perk! Collagen can benefit the male body in many different ways and help men to achieve their health goals including:
Less hair loss

: Collagen is a big player when it comes to skin and hair health. It is known to help keep the skin firm and healthy, which includes the scalp as well. By increasing collagen intake, it may help to improve scalp health and help lessen age-related hair loss. Don't fall for biotin or "cooling" shampoos. Nourish your skin and scalp where the hair follicles are rooted instead! 
Boosted muscle building

: As a structural protein, collagen may be the missing key in your workout routine. Compared to other protein supplements like whey, when consumed before or after a workout, collagen may help to increase muscle building without causing side effects like stomach upset or bloating.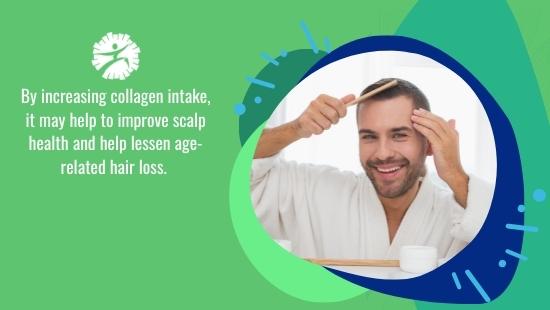 Faster muscle recovery

: In addition to boosting muscle growth, collagen supplements may help support your gym goals by decreasing the amount of time it takes for your muscles to rebuild and recover. Some studies have found that muscle pain and soreness were lower in those who used a daily collagen supplement contain than those who did not. This may also hold true for more serious injuries that can stop you from performing at the top of your game.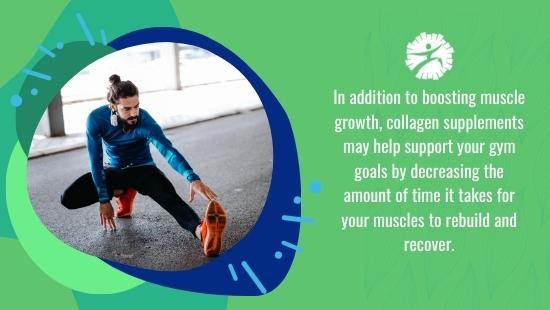 Decreased joint pain

: Joint health isn't just important for women. In fact, according to a study by the Arthritis Foundation, more than one in two men may have arthritis. Using a supplement to help build up collagen within the joints and ligaments may alleviate joint pain and improve mobility for men of all ages.

May aid in weight loss

: Because collagen is a lean protein, many people also find that collagen increases energy levels and satiates their appetites without adding unnecessary fat and calories to their diet. Compared to heavy and sugary protein drinks and supplements, pure collagen capsules may help you to stay fuller longer without breaking your diet.
Improved heart health

: Taking collagen may also support heart health in a number of ways. For instance, when collagen levels are low, it can cause the arteries to become narrow and stiff. This can ultimately lead to heart attack, stroke, and other serious health implications. By ensuring that the body has all the collagen it needs, it may support healthy heart functioning and help to decrease many of the risk factors of heart disease.

Smoother skin

: Who doesn't want to look a little younger? Whether it's your main reason for adding collagen to your diet or it's just an added bonus, collagen can help to increase skin elasticity and hydration to help you look (and feel) your best. Many studies have found that daily collagen consumption resulted in decreased fine lines and wrinkles as well as higher marks of skin hydration. It's a win-win!

Strengthened gut

: Many men struggle with IBS and other gastrointestinal issues such as leaky gut syndrome. In many cases, these conditions are linked to a weakened gastrointestinal tract. Because certain types of collagen can be found in high quantities in the bowels, preliminary studies point to collagen as a way to strengthen the gut lining and improve overall gut health.
Collagen Pro-Tips
If you're interested in using a collagen supplement to help you achieve your fitness or wellness goals, consider speaking with a healthcare professional. In many cases, consuming 10-20 grams of collagen is enough and will not cause side effects. However, those with extremely active lifestyles may require a bit more.
Choosing the right collagen supplement can also make a world of a difference. Don't fall for gimmicky "triple chocolate" flavored collagen protein mixes. Instead, choose a lean and pure supplement like 1 Body's Collagen Complex. Just take 3 capsules every day to up your collagen intake and fast-track your health goals.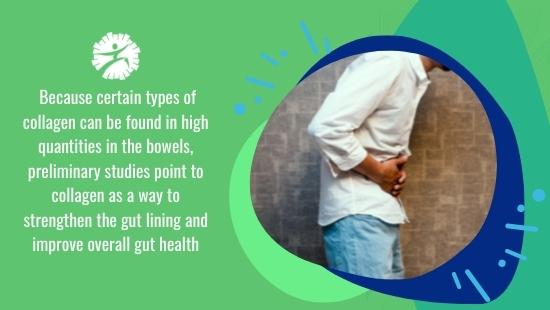 For enhanced bioavailability, try taking collagen alongside a vitamin C supplement. When consumed together, vitamin C can help to increase the rate at which the body can absorb and use the collagen so none goes to waste.

COLLAGEN COMPLEX
Promote hair and nail strength – Collagen is essential for hair and nail growth and strength. Oftentimes brittle nails are a sign of low collagen, but collagen supplements provide a convenient solution.
Support gut and skin health – In addition to making your skin look healthy from the inside out by boosting elasticity, collagen peptides also protect the lining in the gut for good gut health.
Strengthen joints, bones, and cartilage – Collagen provides the structure, strength, and elasticity necessary for our connective tissues, such as bone, skin, and ligaments.