Top 7 Foods That Can Help Boost Your Body's Collagen Production
Let's cut to the chase, shall we? Collagen is wildly important for nearly every function of the human body, from skin elasticity to joint health and muscle growth. However, steady collagen synthesis is not guaranteed! In order to keep collagen levels high, you have two options: diet and supplements. Since collagen-rich foods are few and far between (unless you like eating chicken cartilage and bone broth!) your best bet is to consume a pure collagen supplement and eat foods that can stimulate your body to produce new collagen. Here are the top 6 collagen-boosting foods worth adding to your grocery list!
Collagen In A Nutshell 
Collagen isn't just a flashy ingredient in skincare products or supplements. No matter who you are or what products you buy, you already have collagen in your body! In fact, it is the most abundant protein in the human body! The body produces collagen naturally; It can be found in nearly every connective tissue including the muscles, skin, blood vessels, eyes, cartilage and ligaments, and more. As a structural protein, it can be thought of as a building block that supports these connective tissues and provides them with strength, volume, and flexibility.
So you may be wondering why you would bother with a collagen supplement if the body can produce it on its own. Throughout one's youth, the production of collagen is steady and collagen fibrils are still healthy and strong. However, with age, these collagen fibers can become damaged by free radicals and sun exposure and the body starts to produce less and less collagen. This gradual decrease in collagen aligns with the common signs of aging like joint pain, fine lines, and wrinkles, and bone loss. Luckily, multiple studies have shown that consuming pure collagen peptides (the supplement form of collagen) may reverse signs of aging or improve the symptoms, aches, and pains that are the hallmark of the aging process.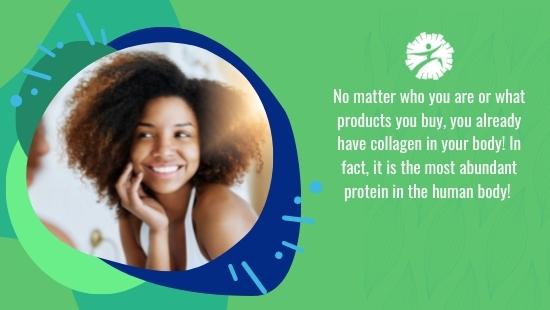 The health benefits of collagen include:
Improved skin elasticity
Better skin hydration
May reduce hyperpigmentation by helping the skin cells renew and repair
Boosted muscle growth
May reduce the symptoms of osteoarthritis
Increased bone density
May support healthy skin, hair, and nail growth
May strengthen the gut's lining and prevent diseases such as leaky gut syndrome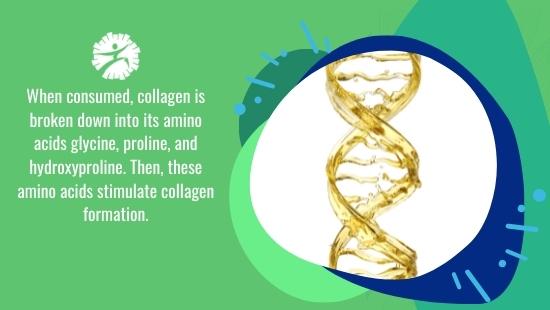 It's important to note that these health benefits are only achieved by consuming collagen, topical collagen is not as effective or widely beneficial. When consumed, collagen is broken down into its amino acids glycine, proline, and hydroxyproline. Then, these amino acids stimulate collagen formation. Though collagen cannot be found in many food sources, there are foods that contain essential amino acids that then kick collagen production into high gear!
Foods That Can Boost Collagen Production
Vitamin C-rich foods

: Vitamin C is also needed to produce collagen! In fact, when consumed with a collagen supplement, vitamin C may even make it more bioavailable! There are many fruits and veggies that contain vitamin C including citrus fruits, bell peppers, raspberries, blueberries, blackberries, tomatoes, and kiwi fruits. If you're growing tired of the expensive fruit-filled smoothies, try taking a liposomal vitamin C supplement instead.

Garlic

: Garlic lovers, you now have a bonafide health reason to double the garlic in your recipes! Garlic is naturally high in sulfur which helps to synthesize collagen and prevent it from breaking down.
Egg whites

: There are many different sources and types of collagen, but one of the "newest" or most unexpected is eggshell membranes! Rather than munching on eggshells, eating egg whites may boost collagen production due to having large amounts of proline, one of the amino acids needed for collagen production. 
Fish and shellfish

: Fish is a common source of collagen, called marine collagen. You may be able to get trace amounts of collagen from the meat of fish, but the collagen is usually concentrated in the skin, head, scales, or eyeballs. Try to leave the skin on your salmon filets to get as much collagen goodness as possible. The added omega-3 fatty acids are a plus too, as they're known to help slow skin aging.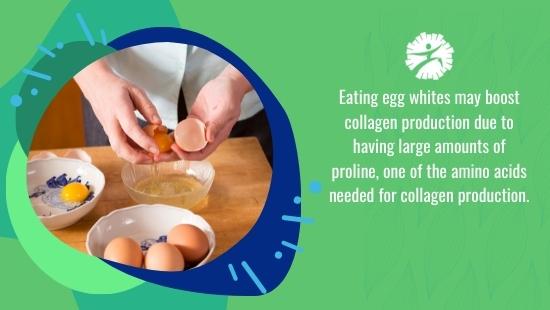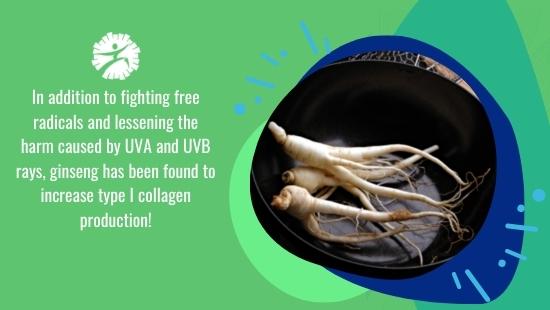 Leafy greens

: Leafy green vegetables are great for total health and wellness for many reasons. One of the best benefits is that it can help to increase collagen production! Leafy greens like spinach, kale, and Swiss chard contain chlorophyll, a known antioxidant that can rid the body of collagen-damaging free radicals. They may also contain hyaluronic acid, which works alongside collagen to improve skin health and hydration!

Cashews

: They're filling, delicious, and nutritious -- cashews contain zinc and copper which are needed for the body to produce collagen! 

Ginseng

: In addition to fighting free radicals and lessening the harm caused by UVA and UVB rays, ginseng has been found to increase type I collagen production!
Collagen is considered safe for daily use and may cause light stomach upset in some people when consumed in high doses. In general, it is safe for anyone's diet regardless of age! If you're wondering more about how to get the most out of your collagen supplement and boost collagen from all angles, consider speaking with a dietitian! Together, you can craft an anti-aging diet that fills in any gaps in your nutrition while setting your body up to produce high-quality collagen. 
COLLAGEN COMPLEX
Promote hair and nail strength – Collagen is essential for hair and nail growth and strength. Oftentimes brittle nails are a sign of low collagen, but collagen supplements provide a convenient solution.
Support gut and skin health – In addition to making your skin look healthy from the inside out by boosting elasticity, collagen peptides also protect the lining in the gut for good gut health.
Strengthen joints, bones, and cartilage – Collagen provides the structure, strength, and elasticity necessary for our connective tissues, such as bone, skin, and ligaments.