Benefits of Joint Support Supplements for Women

Women go through plenty of discomfort in their lives. Everything from menstrual cycles to childbirth to menopause can cause unbearable amounts of pain that lead women to seek relief. One thing we don't consider? Joint pain! Women actually make up about 60% of the American population suffering from the joint pain and discomfort that is often associated with osteoarthritis. Luckily, there are a ton of options including natural supplements out there to help women find support for joint function.

Why Women Have Joint Pains?

As mentioned above, women are more likely to suffer from joint pain than men, but why? Well, there are a few reasons: 
1.  Estrogen
Estrogen plays a key role in both cartilage health and pain management, which both play a huge role in joint pain. Cartilage is the strong, flexible tissue in between our joints, and is 65–80% water. When estrogen levels decrease in the body, so does the amount of cartilage cushion. Every month, levels of estrogen plummet with women's menstrual cycle, as well as later on in life with menopause. In addition, estrogen is thought to protect against pain by healthcare experts, which is why women may feel joint pain more intensely than men as levels decrease in the female body.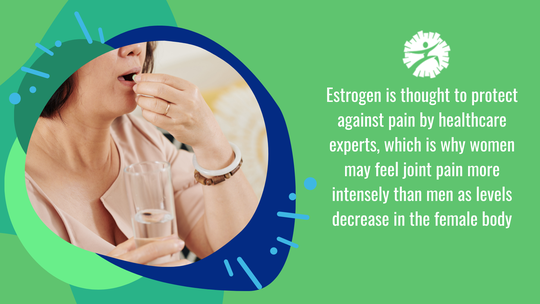 2. Female Body Structure and Pain Response
Due to the flexibility and looseness of joints and ligaments compared to men, women are more likely to develop joint pain, arthritis, and conditions like osteoarthritis, especially in the knees. Plus, women's brains are less prepared to deal with pain than men's, as the endorphins in the male brain are thought to be more effective. Endorphins "act on the opiate receptors in our brains, they reduce pain and boost pleasure, resulting in a feeling of well-being." Women have also been found to release less dopamine, AKA the happy hormone, than men in response to pain, and without dopamine, endorphins cannot function properly. It is also important to mention that due to how the female body reacts to pain, combined with slow absorption caused by slower metabolisms, women may find traditional pain relievers like acetaminophen to be less effective for joint pain.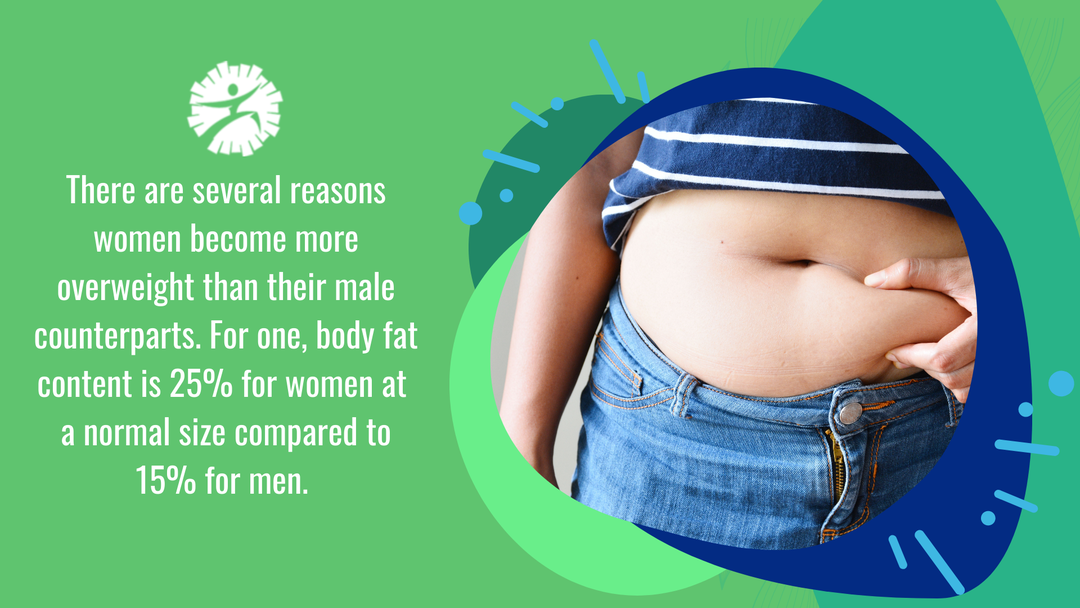 3. Obesity
Women are more likely to become obese than men, which can impact joint health and function. According to a study by the CDC, "Across all adult age groups, about 38 percent of women are obese, while 34 percent of men were obese." There are several reasons women become more overweight than their male counterparts. For one, body fat content is 25% for women at a normal size compared to 15% for men. Plus, for many women who have been on birth control, the additional estrogen can cause weight gain. 
Extra weight on the body can add stress to the joints and lead to joint pain, loss of joint function, and arthritis. The American Academy of Orthopaedic Surgeons (AAOS) states that "Every pound of body weight places four to six pounds of pressure on each knee joint. Individuals with obesity are 20 times more likely to need a knee replacement than those who are not overweight."
4. Forms of Arthritis and Other Diagnoses

Women are at a much greater risk for being diagnosed with medical conditions that experience joint pain including osteoarthritis (OA), rheumatoid arthritis (RA), lupus, scleroderma, multiple sclerosis (MS), and fibromyalgia. According to Everyday Health, women are three times more likely to develop RA and scleroderma than men, nine times more likely to have lupus, twice as likely to develop MS, and eight times more likely to experience fibromyalgia. Here's a quick look at what these health concerns look like: 
5. 
Age
It's no question, that as people age things start to hurt and ache more than they were in adolescence and young adulthood. In fact, more than 50% of people over the age of 65 report having some level of joint pain and discomfort. Although other factors like family and health history contribute to whether or not one might experience joint pain, the general wear, and tear that comes with having and using joints for decades is usually the culprit. This is usually diagnosed as osteoarthritis. 
How to Minimize Joint Pain 
Women that suffer from joint pain often turn to over-the-counter pain relief medication such as ibuprofen and acetaminophen, or topical solutions like IcyHot patches or Lidocaine. While these are both good starts, there are other ways to help your body relieve joint pain. Talk to your doctor or healthcare provider about adding these lifestyle changes like adding stretches to relieve lower back and joint pain to your daily routine for joint support and pain management:

1. Exercise and Stretching
By strengthening the muscles surrounding the joint, you can help reduce the amount of stress placed on the joints. Try low-impact activities such as swimming or yoga and try to avoid repetitive movement to help reduce the amount of pressure placed on joints during exercise.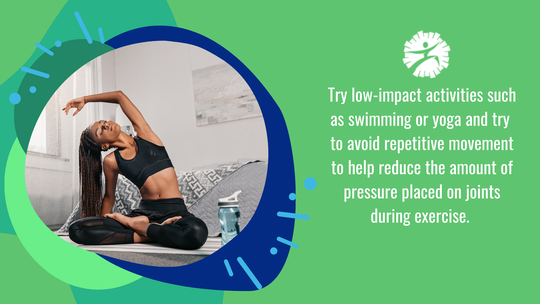 2. Weight Management

Keeping a healthy weight is important for overall health and wellness, but can also help reduce the amount of pressure and stress put on the joints. Remember, every pound of body weight adds four to six pounds of pressure on the joints, particularly the knees.  
The PRICE Method - If you're experiencing a flare-up or significant joint pain, try the classic Protection, Rest, Ice, Compression, and Elevation (PRICE) method to help relieve discomfort temporarily.
3. Foods for Joint Pain
Adding certain foods to your diet may help reduce joint pain and discomfort. The best foods to add for joint support include Omega-3 fatty acids or fish oil, nuts and seeds, leafy greens like kale or arugula, fruits like blueberries, apples, and pineapple, olive oil, lentils and beans, garlic, whole grains, bone broth, and dark chocolate. 
If these general joint support practices don't seem to be helping much, it may be time to talk to your doctor about medications, changing your diet, or adding a joint support supplement to help relieve your symptoms. 
The Best Joint Support Supplements for Women

Fish oil
Fish Oil contains Omega-3 fatty acids: docosahexaenoic acid, and eicosapentaenoic acid, which both have anti-inflammatory properties. There are some studies out there that have found fish oil to be effective for those with osteoarthritis. In one study, it was found that those who took 200 mg of EPA and 400 mg of DHA (fish oil's active ingredients) daily for 16 weeks experienced less chronic pain."
Glucosamine
There are technically two kinds of glucosamine (a component that is naturally found in cartilage) that can be found in joint support supplements. These are called glucosamine hydrochloride and glucosamine sulfate. Studies have found glucosamine sulfate to improve joint pain symptoms more effectively than glucosamine hydrochloride. 
Chondroitin
Chondroitin is another component naturally found in cartilage, and when taken as a chondroitin supplement it may help prevent the cartilage from breaking down and leading to osteoarthritis. According to Healthline, studies have found that "About 53 percent of people who take chondroitin have a 20 percent or greater improvement in knee pain." 
SAMe
SAMe or S-adenosyl-L-methionine is naturally produced by our liver from an amino acid called methionine, which works to produce and repair cartilage among other things.
Boswellia
AKA Indian frankincense contains anti-inflammatory chemicals called Boswellia acid. Researchers believe Boswellia prevents the formation of leukotrienes, which are molecules that can cause inflammation. 
Methylsulfonylmethane (MSM)
Methylsulfonylmethane is naturally found in all living things including plants, animals, and people. Studies have found that MSM may be effective at reducing inflammation and preventing cartilage breakdown. In one study, 100 people over 50 found that "taking 1,200 mg of MSM for 12 weeks decreased pain, stiffness, and swelling in the joints, compared to a placebo". 
Collagen
Collagen is a protein that can be found in cartilage and is key for preventing cartilage breakdown. Researchers have found that collagen has the potential to not only protect cartilage and relieve pain but can even help with improving bone health and strength. 
Vitamin D
Vitamin D is crucial for bone health, including the bones that make up our joints, as it helps our bodies absorb calcium, one of the main building blocks of strong bones. Vitamin D also helps regulate phosphate, which in turn helps us move and contract the muscles surrounding the joints. 
Devil's Claw
Also referred to as harpagophytum, the devil's claw is full of the anti-inflammatory chemical harpagoside. While clinical studies are limited, one study found that devil's claw was found to be about as effective as an anti-inflammatory drug called diacerein. 
Always talk to your doctor or healthcare provider before adding any dietary supplement to your routine, including joint support supplements. Certain individuals such as those who have diabetes or are taking blood thinners should avoid taking supplements containing glucosamine, one of the most common ingredients in joint support supplements. Those who are allergic to shellfish should also avoid joint support supplements containing glucosamine, as it is derived from a substance found in shellfish species. In addition, children and women who are pregnant or breastfeeding should not take these kinds of dietary supplements as the effects of glucosamine and chondroitin are not known in the developing body. 
That being said, if you are taking a supplement to help with joint pain and function, keep an eye out for these side effects: 
Nausea
Diarrhea or constipation
Heartburn
Increased intestinal gas
If you're experiencing one or more of these side effects, discontinue use and reach out to your healthcare provider to find other solutions. You're looking to relieve your pain and discomfort, not add to it! 
1 Body has the Ultimate Joint Support Supplement for Women and Men
Finding a reputable and effective joint support supplement can be challenging, which is why 1 Body has worked hard to create a formula containing joint supporting ingredients such as glucosamine, MSM, chondroitin, vitamins C and D, glucosamine sulfate, chondroitin sulfate, grape seed extract, l-proline, ginger root, bromelain, turmeric curcumin, Boswellia Serrata gum extract, and clinically proven ApresFlex. ApresFlex has been shown to reduce oxidative damage, prevent collagen deterioration, promote tissue healing, and improve overall health. Plus, all of 1 Body's dietary supplements are manufactured in the USA at our cGMP certified facility and made without sugar, dairy, wheat, gluten, soy, preservatives, artificial colors, or flavors!