3 Ways to Use Ginger to Make Your Joints Feel Better Naturally

The Institute of Medicine of the National Academies estimates that around 100 million people in this country walk around with chronic pain, often related to the joints. This number includes the 54 million adults diagnosed with arthritis, an inflammatory condition of the joints. There are different ways to approach treating joint pain but its possible nature offers the best options. Ginger, for example, has been a homegrown remedy for many ailments for thousands of years, including joint pain. One of the major challenges to using ginger for arthritic pain is how to take it. Consider three ways to use ginger to make joints feel better.
1. Ginger Tea
One obvious option is to brew ginger as a tea. All you need to do is grate some fresh ginger, just one or two teaspoons, into a pan or teapot and let it simmer in hot water for five or more minutes. Dried ginger in capsule form can be used for tea, as well. Simply open a couple of capsules to brew for your tea.
If you prefer your tea less tangy and more tea-like, then brew your favorite flavor and just add some ginger to it. The hot drink will soothe more than just your joints, too. Tea is a natural feel-good drink that helps you relax.
2. On Food
The tangy and fragrant taste of ginger is a spicy addition to any meal. Try grating some onto your next salad or putting it in a stir-fry. Anything that would benefit from a little extra flavor is the right choice for fresh ginger.
It's an important additive for your next after exercise smoothie, too. Researchers at the University of Georgia and the Georgia State College published a study in the Journal of Pain that indicates just a few teaspoons of ginger daily is all it takes to find relief.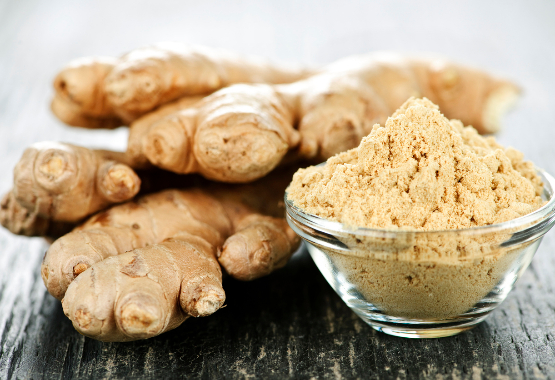 3. Ginger Powder
A study published in the Journal of Nutrition in Gerontology and Geriatrics indicates that 500mg of ginger powder may help those with age-related arthritis. Researchers believe that it contains an anti-inflammatory chemical that reduces the swelling in the joints, so there are less pain and a better range of motion.
The most effective option is always prevention, though. 1 Body Joint Support, for example, combines ginger root with other powerful healing ingredients like:
vitamin C
vitamin D
glucosamine sulfate
chondroitin sulfate
grape seed extract
liproline
bromelain
turmeric curcumin
The goal is to provide help for the joints and prevent chronic pain before it starts. The 1 Body supplement also contains apresflex, a substance clinically proven to support healthy joints. If you get the occasional twinge in your hip, knee, or elbow, consider how ginger can help reduce that pain. In the meantime, take a joint support supplement to keep your joints working at their best.
Source: https://www.webmd.com/vitamins-and-supplements/ginger-uses-and-risks#1
Joint Support
Helps you stay active - We know it's a pain when you don't feel free to move like you used to. Our expertly formulated blend of glucosamine MSM chondroitin & clinically proven ApresFlex helps you stay active. It supports healthy joint function increases your comfort during routine movement and strenuous activities.

High-Quality Ingredients & Nutrients: includes vitamin C and D3 grape seed extract l-proline ginger root bromelain turmeric curcumin (95% curcuminoids) curcuma longa root extract and Boswellia serrata gum extract 

Manufactured in the USA at our cGMP certified facility enforced by the FDA . NOT manufactured with sugar dairy wheat gluten soy preservatives artificial colors or flavors We simply use the highest quality raw ingredients. No handful of horse pills like other brands, just 3 easy-to-swallow tablets