Vitamin C vs. Liposomal Vitamin C: What's the Difference?

An apple a day keeps the doctor away, right? We're firm believers in the power of apple cider vinegar, but when it comes to supporting the immune system, an apple won't cut it. But what about an orange, or a kiwi, guava, bell pepper, or juicy strawberry? We're not comparing apples to oranges, but I think we're on to something! Something that all of these fruits have in common is vitamin C and lots of it.
Vitamin C supplements have been around for decades and for a long time, not a whole lot has changed. Sure, maybe the form of vitamin C changed from orange-flavored powders that make your water sweet and tangy to TV-character-shaped gummies. But aside from that, we've been taking the same-old, regular vitamin c supplements. That was until liposomal encapsulation entered the picture.
In this blog, we'll go over the ins and outs of liposomal encapsulation, the benefits of vitamin C, and how traditional vitamin C supplements stack up to liposomal.
The Health Benefits of Vitamin C
There's a reason that vitamin C supplements have outshined other trendy dietary supplements for decades. Vitamin C is one of the most well-researched, well-established, and effective immune boosters we know of. Vitamin C, or ascorbic acid, is a water-soluble vitamin that is necessary for the growth, maintenance, and repair of all body tissues. The more it is studied, the more functions we discover it is involved with. From producing collagen (the body's anti-aging protein) to supporting the immune system, wound healing, and reducing oxidative stress, many healthcare professionals agree that high levels of vitamin C is often a marker of good overall health.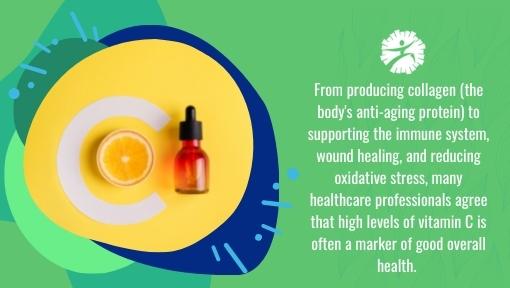 Vitamin C is also an antioxidant that fights free radicals and other toxins. Without antioxidants, these free radicals collect and cause oxidation. Essentially, just like how a half-eaten apple becomes brown and mushy, oxidation can cause dysfunction within the muscles, skin, and other connective tissues. This can eventually lead to chronic diseases and even cancer.
Due to its powerful antioxidant properties, vitamin C supplementation has many benefits such as:
Increasing the absorption rate of other minerals like iron.

Enhancing the bioavailability of collagen and stimulating collagen production. When consumed along with collagen, vitamin C may enhance its bioavailability to make it easier for the body to absorb and use. As a structural protein, collagen provides support to the joints, muscles, eyes, intestine, skin, blood vessels, and more. Without it, these connective tissues become frail and weak, causing any number of issues. Thus, by upping your intake of vitamin C, you're also increasing collagen synthesis and supporting all the connective tissues throughout the body.
Prevent gout by lowering blood levels of uric acid.

Improving cardiovascular health in a number of ways. In addition to boosting collagen synthesis within the blood vessels and reducing arterial stiffness, vitamin C may support heart health by managing high blood pressure, lowering high triglyceride and LDL (bad) cholesterol levels, and raising levels of HDL (good) cholesterol. 

Slowing the rate of cognitive decline. Due to its ability to clear out damaging free radicals, studies show that getting adequate vitamin C may help to improve memory and slow the rate of cognitive decline such as in dementia.

Supporting immune function. Vitamin C has long been touted as a natural way to prevent the common cold and strengthen the immune system. It does this by supporting the production of white blood cells to help fight infection, protecting white blood cells from free radicals, and improving skin health by strengthening the skin barrier, your body's first line of defense against foreign invaders.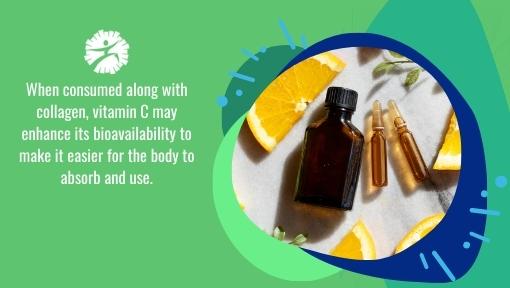 So is a mandarin orange here and there enough to provide all of these benefits? Not quite. At a minimum, the daily recommended intake of vitamin C is about 65 to 90 milligrams. However, high doses of up to 2,000 mg are tolerable because excess vitamin C is removed via urine. The side effects of excess vitamin C consumption include gastrointestinal upset, nausea, diarrhea, and vomiting, but this is only in severe cases and is often the result of "megadosing".   

The Ins and Outs of Liposomal Encapsulation
You might be wondering what the difference is between liposomal and regular Vitamin C and if it's really worth it. Liposomal vitamin C supplements have been proven to deliver more vitamin C to the body, making your supplement more efficient. Liposomal encapsulation involves "wrapping" vitamin C inside liposomes. Liposomes are microscopic spherical vesicles that are made of one or more phospholipid layers and contain a high concentration of phosphatidyl-choline, a building block of cell membranes. Phospholipids mimic cell membranes which are composed of a bilayer containing a "water-loving" and "fat loving" tail. This unique structure allows the liposomes to make the vitamin C fat-soluble (instead of water-soluble) and penetrate the cell membranes where they deposit vitamin C directly into the cells, thus raising INTRA-cellular levels. 
This is also important for how we digest oral vitamin C supplements and how much actually makes it to the bloodstream. Liposomal encapsulation allows nutrients to be deposited directly into the bloodstream rather than being destroyed by digestive enzymes and acid in the digestive tract or stomach. This is where many traditional supplements fall short. 
In short, liposomal formulations are more effective because they are able to change how vitamin C is absorbed and used by the body while depositing it directly into the cells so none is lost. If you want to make your vitamin C as effective and bioavailable as possible, liposomal is the way.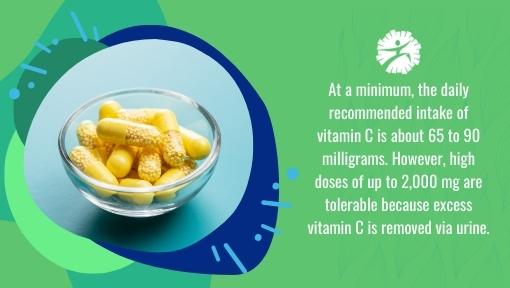 Liposomal vitamin C supplements have been specifically tested and measured in many studies. One 2016 study conducted on adult men and women found that liposomal vitamin C supplementation resulted in greater circulating concentrations of vitamin C than unencapsulated oral vitamin C, but less than intravenous administration. However, this study also found that liposomes reduced the oxidative stress caused by ischemia-reperfusion injury. that is similar to the protection provided by unencapsulated oral and intravenous administrations.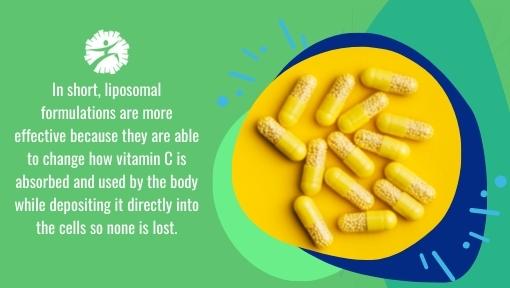 Additionally, because vitamin C is known to increase collagen production, recent studies have found that your oral vitamin C supplement may help you to look and feel your youngest! A 2014 study found that when compared to the placebo, those who took 1000 mg of liposomal vitamin C daily saw a 35% increase in skin firmness and an 8% reduction in fine lines and wrinkles. Those who took large doses of 3000 mg per day saw an even better improvement. These individuals had a 61% increase in skin firmness and a 14% reduction in fine lines and wrinkles. The best skincare starts from the inside out!

The Liposomal Vitamin C Capsules by 1 Body are a superior form of vitamin C that allows optimal absorption of more than 90% of the vitamin into the body. They are manufactured in a cGMP-certified facility in the USA, using the highest quality ingredients, are non-GMO, and contain ZERO sugar, salt, dairy, wheat, gluten, soy, preservatives, artificial colors, or flavors. With 1200 MG in each capsule, just one capsule a day will provide 15x your minimum daily recommended value and send you well on your way towards glowing, healthy skin, boosted immunity, and sharper memory. Try them for 90 days and love them or get your money back!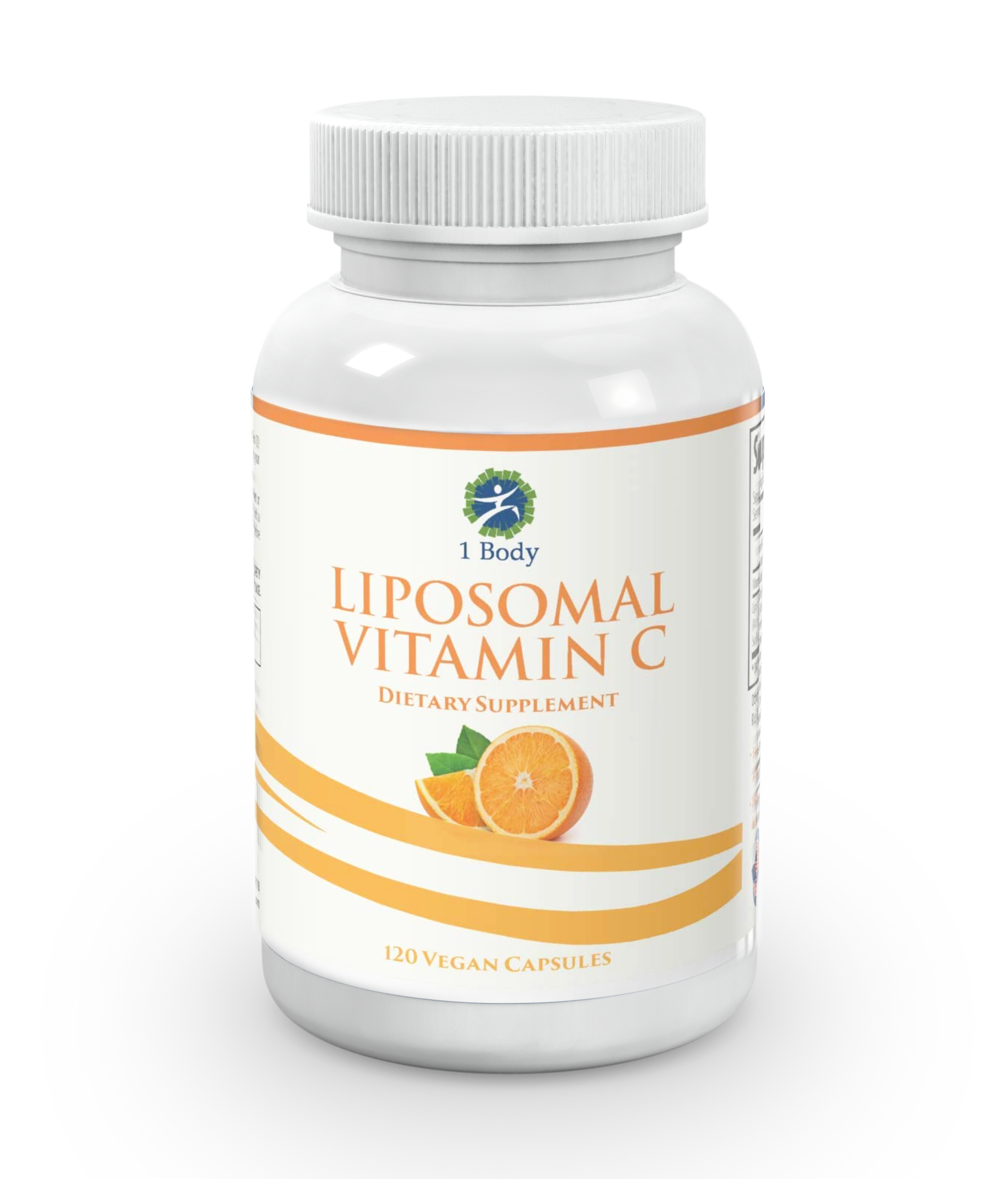 LIPOSOMAL VITAMIN C 
Boost Immune System. Vitamin C is shown to support a healthy immune system, which means fewer sick days from the cold and flu, and greater overall health.

Support Collagen Synthesis. Natural vitamin C is great for skin and eye health because it supports collagen synthesis, which is a necessary component of skin, tendons, and bones.

Powerful Natural Antioxidant. Vitamin C is a powerful antioxidant that helps protect the body's cells from free radicals as well as assisting in the supporting neurotransmitter function in the brain.

Healthy-heart LIfestyle. Liposomal C helps improve blood flow and blood vessel dilation and also assists with iron absorption, contributing to a heart-healthy lifestyle.

Enhanced Absorption. Our Liposomal Vitamin C supplement is packed with a potent dose of fat-soluble vitamin C powder for great absorption to increase bioavailability and to avoid an upset stomach.