Vitamin C for Glowing Skin
It should come as no surprise that vitamin C is an essential part of our diet – and now you'll be adding it to your beauty routine as well! The benefits of vitamin c have been known for a while, like a long, long while, dating back to the pirates using it to help cure scurvy.
But does Vitamin C make your skin glow? The short answer, YES. Perhaps most importantly, vitamin C helps give you beautiful, glowing skin, and because it also acts as an exfoliant, vitamin C can help even skin tone and brighten it.
After decades of research, we now know that vitamin C, or for the scientifically inclined, l-ascorbic acid, does more than just support strong, healthy bones. Vitamin C is an immune-boosting, antioxidant powerhouse that promotes healthy and youthful, glowing skin that can help reduce blemishes, discoloration, and dry skin. And that's just the tip of the iceberg! An antioxidant-rich, nutrient-dense shake or supplement is a great way to ensure you're doing your best to prevent breakouts and all-around skin health.

Vitamin C is a necessary part of natural collagen production which means it plays a vital role in the growth and repair of all bodily tissues. It keeps teeth and bones strong and aids in repairing tissue and healing wounds. Collagen, as we know, is what aids in keeping us looking younger, longer. It keeps skin tight, full, plump, gives skin its elasticity, and, most importantly, wrinkle-free. After about age 25, natural collagen production decreases approximately 1% each year(!), resulting in loose, sagging skin, fine lines, and wrinkles over time. What doesn't this mighty vitamin do?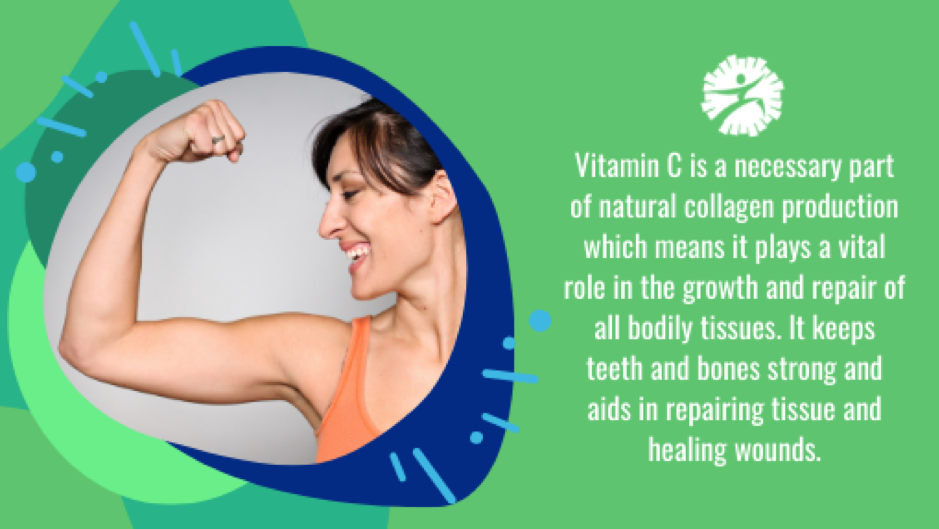 Eating a diet with plenty of vitamin C foods and including a supplemental form of vitamin C  will encourage natural collagen production, the first line of defense in preventing collagen loss. But you can double your efforts by also including a collagen hydrolysate supplement. 
Given the incredible benefits Vitamin C offers your skin, it seems only fitting that it also works magnificently with your SPF 30 sunscreen to provide you with layered protection against sun damage. To be clear, Vitamin C works in conjunction with sunscreen and should not be used as a replacement.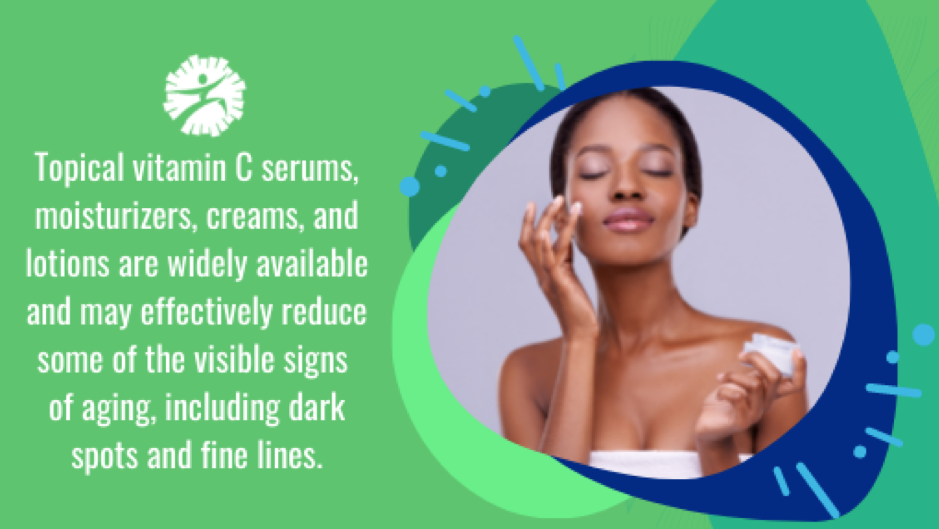 Vitamin C plays a variety of roles in supporting healthy skin, including promoting collagen formation and neutralizing damaging free radicals. Topical vitamin C serums, moisturizers, creams, and lotions are widely available and may effectively reduce some of the visible signs of aging, including dark spots and fine lines. (12) If you have sensitive skin or other skin conditions, speak to a healthcare practitioner before adding a vitamin C serum to your skincare routine. Additionally, topical vitamin C can help with acne through its anti-inflammatory properties that help control sebum (oil) production within the skin. In clinical trials, using a topical Vitamin C supplement twice daily reduced acne lesions compared to placebo.
The Main Squeeze 
Regular dietary intake of

vitamin C

is required to maintain health and prevent

nutrient deficiency.

When an individual's need for vitamin C is increased or intake through dietary sources is insufficient,

vitamin C supplementation

may be considered. Take these 1Body Liposomal Vitamin C Capsules

.



Foods High In Vitamin C
Vitamin C is abundant in several fruit and vegetables, including:
Bell peppers
Broccoli
Brussels sprouts
Cantaloupe
Citrus fruits (e.g., orange, grapefruit)
Kiwifruit

Strawberries

Tomatoes and tomato juice
While Vitamin C works are great for sun defense, it's important to note that heat will kill it off when consuming it through foods. For this reason,  consider consuming your produce raw or steamed, as opposed to broiled, grilled, or roasted.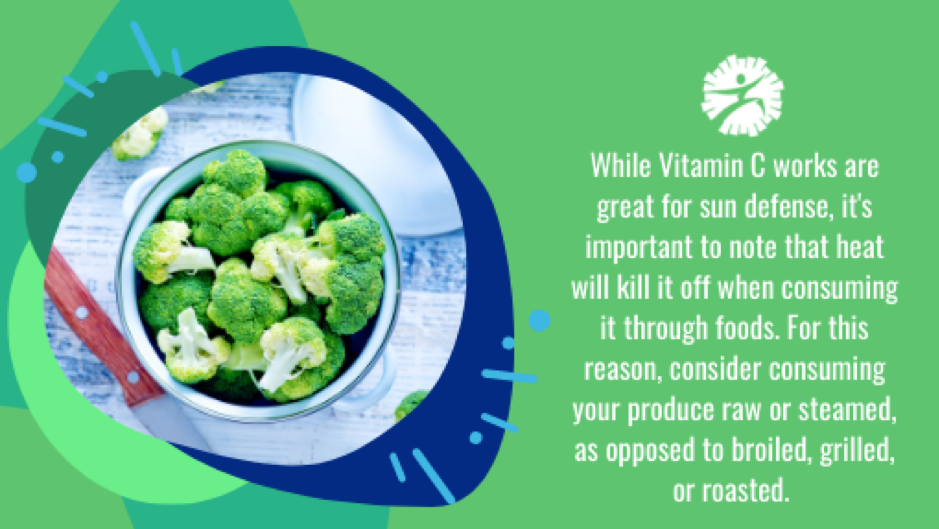 Vitamin C +  Antioxidants
Just as Vitamin C gives collagen and sunscreen a boost, the antioxidants Ferulic Acid and Tocopherol (Vitamin E) give Vitamin C a leg up as well by making it more stable and efficient. Pairing it with hydrating ingredients such as Hyaluronic Acid will also help prolong its shelf life. 
Is there a certain amount I should be taking to reap all the benefits?
So glad you asked. The ceiling for intake is around 2,000mg (milligrams). The United States Recommended Dietary Allowance is 90 milligrams per day; however, 500mg has been deemed safe. 
Can I get too much?
Oral vitamin C supplements are safe to take. Side effects tend to be dose-related. Taking MEGADOSES of Vitamin C, which can be more than 2,000mg, may cause:
Nausea
Vomiting
Heartburn
Inflammation
The bottom line is, vitamin C (1Body has an excellent supplement I've been using for some time) is one of the most nourishing, effective, and powerful nutrients. It may not be the cure for your cold. Still, its benefits include protection against immune system deficiencies, cardiovascular disease, prenatal health problems, and even skin wrinkling, enhancing the anti-aging process. Sticking to a balanced diet of fruits and vegetables and incorporating supplements, getting your daily dose of vitamin C is important to keep your immune system in top shape and your skin shining bright like a diamond!
LIPOSOMAL VITAMIN C 
Boost Immune System.

 Vitamin C is shown to support a healthy immune system, which means fewer sick days from the cold and flu, and greater overall health.

Support Collagen Synthesis

. Natural vitamin C is great for skin and eye health because it supports collagen synthesis, which is a necessary component of skin, tendons, and bones.

Powerful Natural Antioxidant. 

Vitamin C is a powerful antioxidant that helps protect the body's cells from free radicals as well as assisting in the supporting neurotransmitter function in the brain.

Healthy-heart LIfestyle. 

Liposomal C helps improve blood flow and blood vessel dilation and also assists with iron absorption, contributing to a heart-healthy lifestyle.

Enhanced Absorption. 

Our Liposomal Vitamin C supplement is packed with a potent dose of fat-soluble vitamin C powder for great absorption to increase bioavailability and to avoid an upset stomach.