Symptoms and Signs of Adrenal Fatigue
Have you noticed yourself feeling more run down and tired lately? What about trouble focusing or sleeping? Do you notice muscle or joint pain? If you've noticed these symptoms lately, don't stress! In fact, that might be the last thing your body needs. These are all signs of what is known as adrenal fatigue, which is directly related to stress.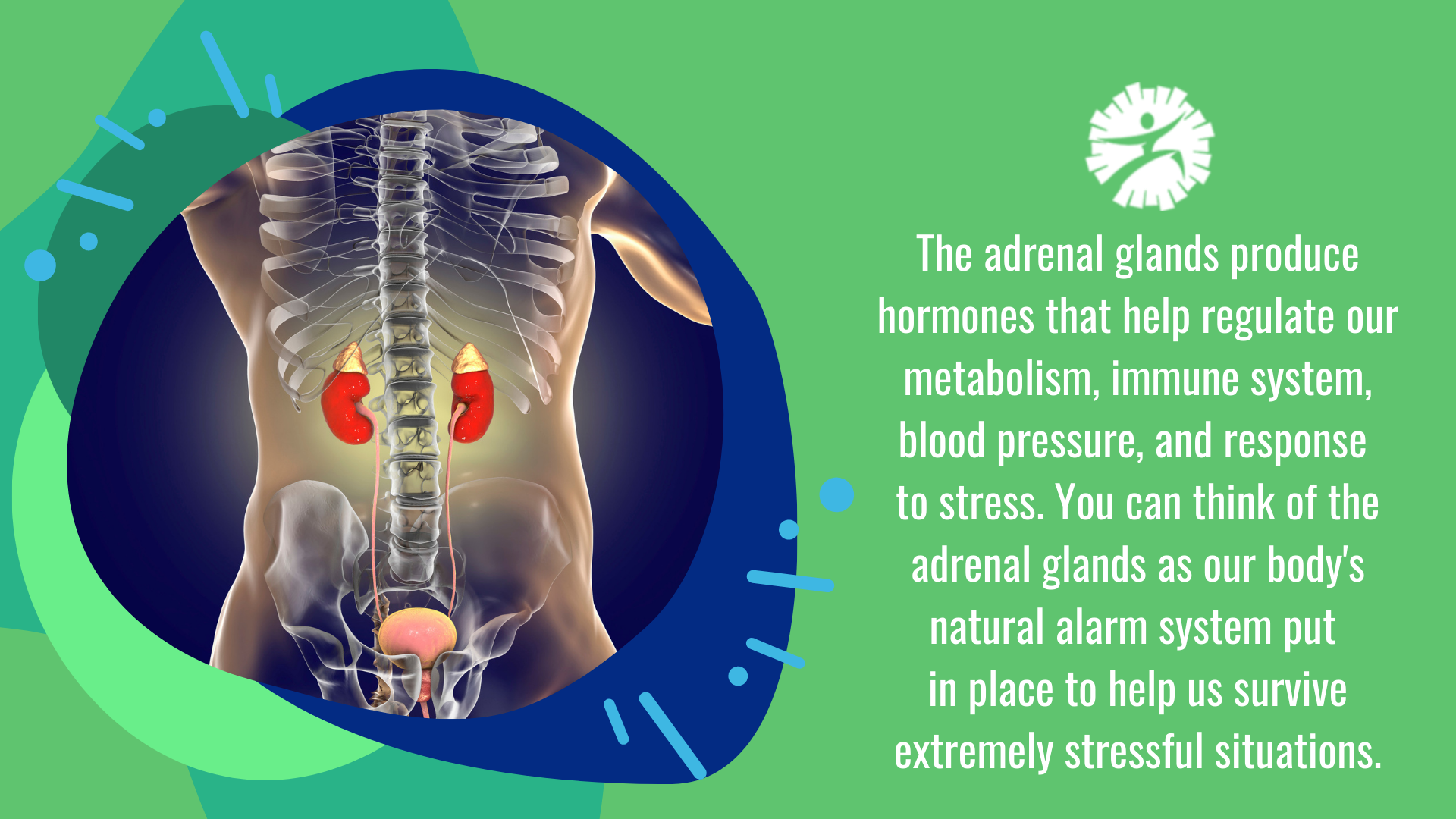 Understanding the Adrenal Glands and System
To fully understand what adrenal fatigue is, we first need to discuss the function of the adrenal system and the adrenal glands in the body. Our adrenal glands, called the cortex and medulla, are located on the tops of our kidneys and are part of the endocrine system, meaning they send and receive hormones signals. 
The adrenal glands produce hormones that help regulate our metabolism, immune system, blood pressure, and response to stress. You can think of the adrenal glands as our body's natural alarm system put in place to help us survive extremely stressful situations. When our body perceives a potentially stressful or dangerous scenario, the adrenal glands produce hormones in response to signals that are sent from the pituitary gland in the brain, to help our body face whatever stressful situation we're in.
One of these hormones is called cortisol, AKA the stress hormone. Cortisol is a glucocorticoid hormone that helps our bodies metabolize carbohydrates, fats, and proteins, keep inflammation down, regulate blood pressure, increase blood sugar (glucose), control the sleep/wake cycle, and boost energy in periods of stress. When cortisol and other adrenal hormones are released into the body we go into "fight or flight" mode, which increases heart rate, tightens muscles, increases blood pressure, and sharpens the senses.
Normally, the adrenal system allows the body to return to normal function after the stress or danger is gone. But what periods of prolonged stress? When our bodies can no longer shut off the alarm system, what happens? As it turns out, remaining in fight or flight mode for long periods of time can be detrimental to mental and physical health with something referred to as adrenal fatigue.
What is Adrenal Fatigue 
The term adrenal fatigue was coined in 1998 by James Wilson, Ph.D., and can be described as  a "group of related signs and symptoms (a syndrome) that results when the adrenal glands function below the necessary level." Essentially, when we experience too much chronic stress, our adrenal glands become fatigued and produce lower levels of cortisol as a result. According to Dr. Wilson, people that suffer from adrenal fatigue may experience the following symptoms: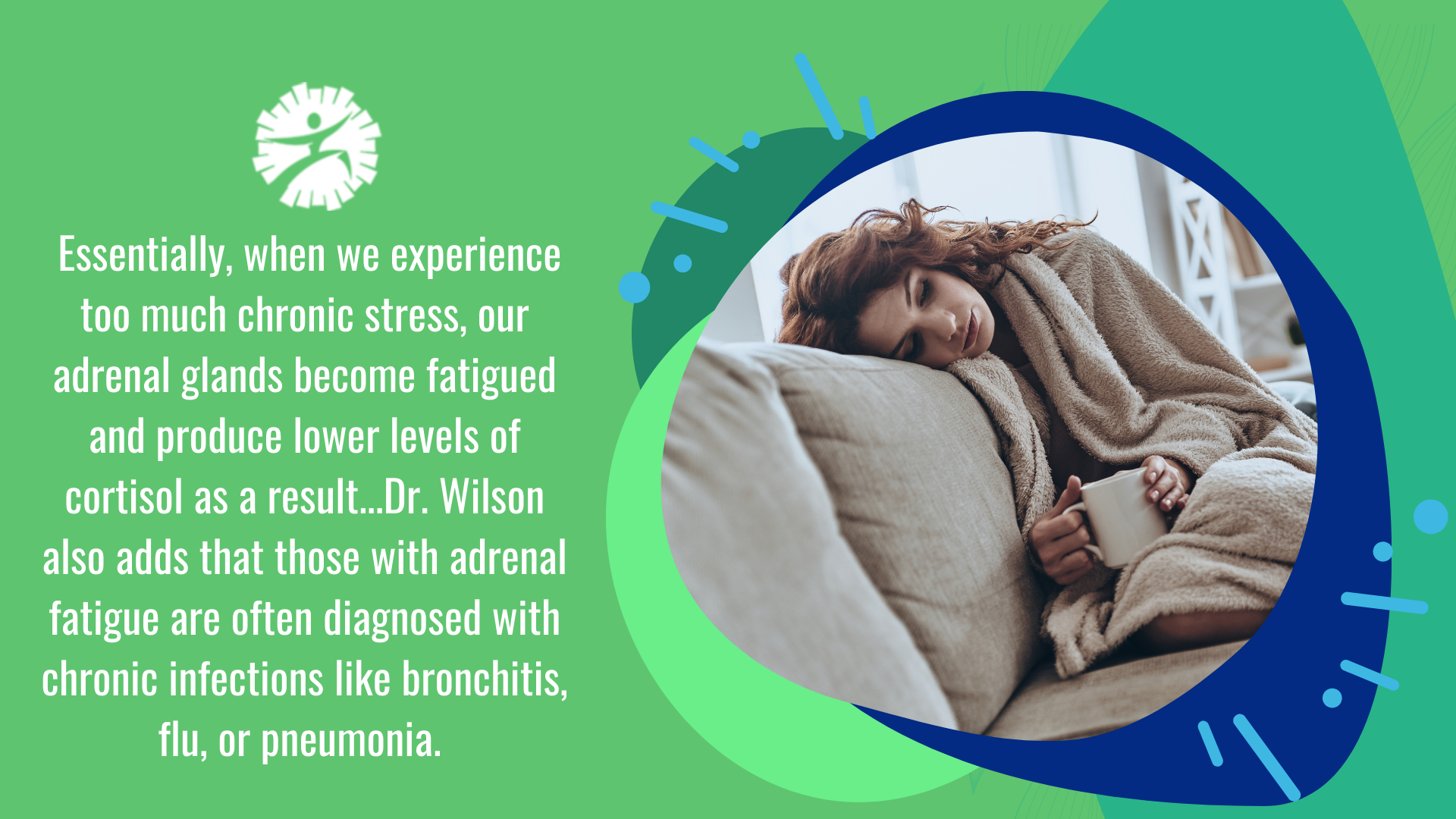 nervousness
chronic fatigue
digestive issues
body aches
lightheadedness
low blood pressure
weight loss
hair loss
Dr. Wilson also adds that those with adrenal fatigue are often diagnosed with chronic infections like bronchitis, flu, or pneumonia. You can also check out more of the signs and symptoms of Adrenal fatigue.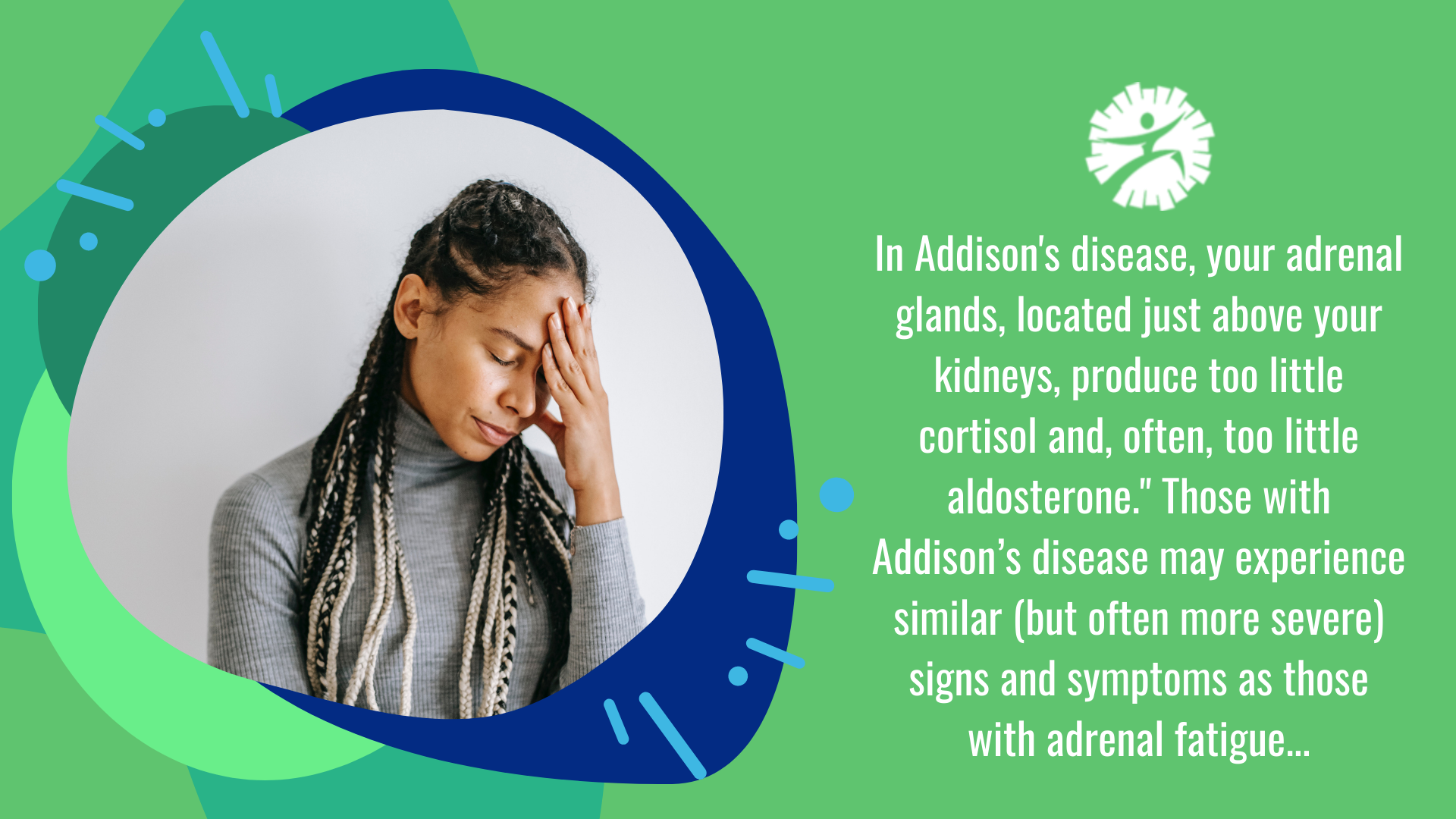 Adrenal Fatigue VS Adrenal Insufficiency 
Adrenal fatigue is not recognized by medical professionals as an accepted medical condition, but adrenal insufficiency or Addison's disease is. Addison's disease is defined by the Mayo Clinic as "an uncommon disorder that occurs when your body doesn't produce enough of certain hormones. In Addison's disease, your adrenal glands, located just above your kidneys, produce too little cortisol and, often, too little aldosterone." Those with Addison's disease may experience similar (but often more severe) signs and symptoms as those with adrenal fatigue, including: 
●      Extreme fatigue
●      Weight loss and decreased appetite
●      Darkening of your skin (hyperpigmentation)
●      Low blood pressure, even fainting
●      Salt craving
●      Low bloodsugar (hypoglycemia)
●      Nausea, diarrhea, or vomiting(gastrointestinal symptoms)
●      Abdominal pain
●      Muscle or jointpains
●      Irritability
●      Depression or other behavioral symptoms
●     Body hair loss or sexual dysfunctionin women
So how can we tell the difference? It all comes down to testing. Adrenal insufficiency can be detected by healthcare professionals through series of blood tests and special stimulation tests that show inadequate levels of adrenal hormones in the body. On the other hand, the rate at which adrenal hormones fall in those with adrenal fatigue is too minimal to be detected by these tests. This can be especially frustrating when trying to find a diagnosis and treatment for these symptoms when they can have such a severe impact on day-to-day life.
What You Can Do
Symptoms of adrenal fatigue can have a significant impact on one's life and have long-term effects on both mental and physical health, which is why it is vital to help support your adrenal system for overall wellness. Talk with your doctor about your symptoms to rule out any other underlying health conditions that have similar symptoms such as depression and autoimmune diseases. If you still feel that you're experiencing symptoms of adrenal fatigue, try some of these solutions: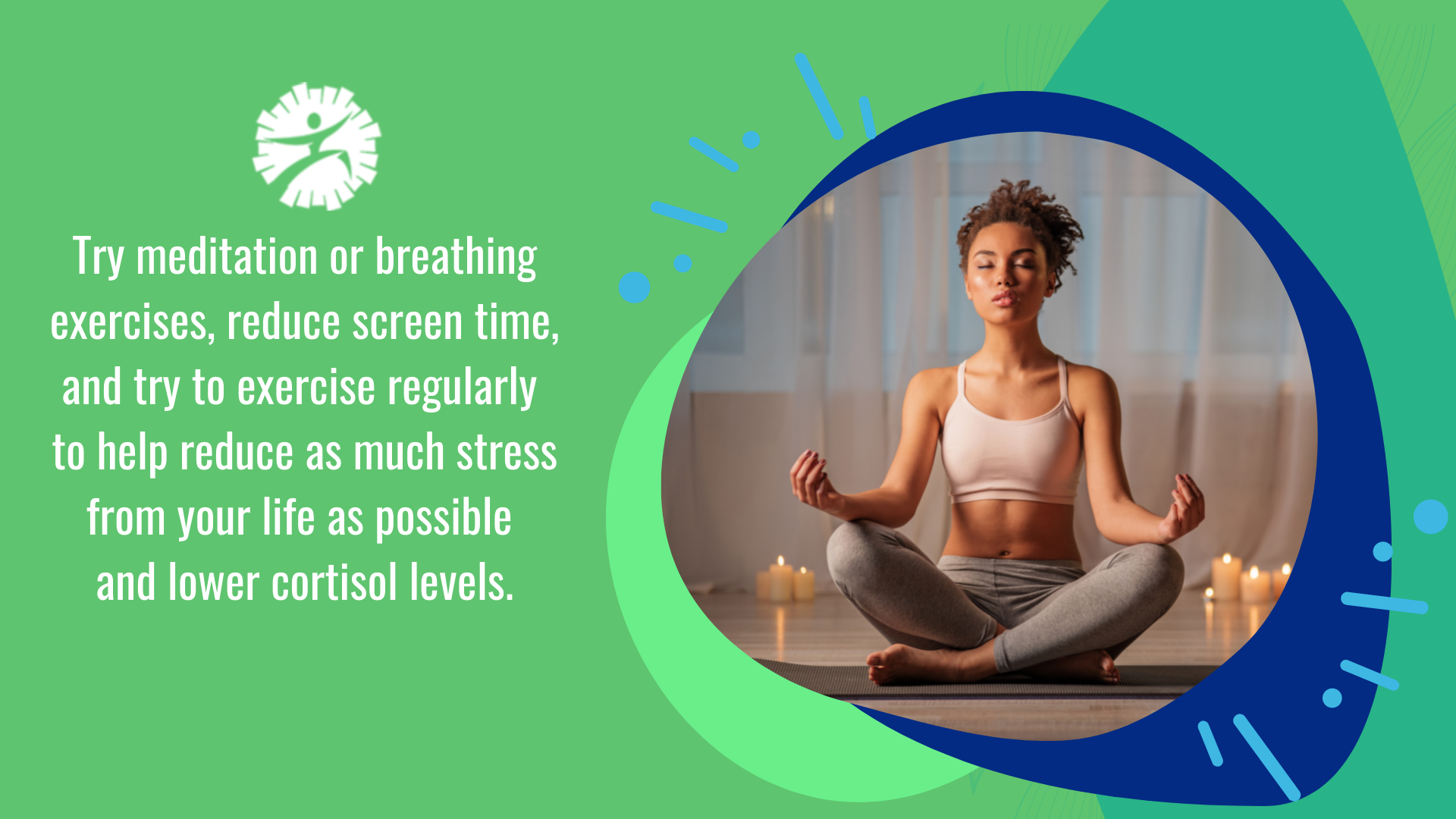 Clean Up Your Diet -  The adrenal fatigue diet suggests cutting out food products like white sugar, white flour, alcohol, caffeine, carbonated drinks, fried food, processed food, and artificial sweeteners and adding foods that are rich in vitamins C,B, (especially B-5 and B-6) and magnesium. These vitamins and minerals are extremely important in the health and function of the adrenal glands (more on this below). It is also important to note the importance of eating regular meals throughout the day as being hungry increases levels of cortisol.
Take Time to De-Stress - Of course, this is easier said than done, but one of the simplest ways to help support a fatigued adrenal system is to reduce the stress that is overworking the adrenal glands. Try meditation or breathing exercises, reduce screen time, and try to exercise regularly to help reduce as much stress from your life as possible and lower cortisol levels.
Try a Supplement - As we mentioned above, vitamin B and magnesium are imperative to the function and health of the adrenal glands. Magnesium actually acts in both the pituitary gland and the adrenal glands, so it's important to add to your diet or supplements. According to Integrative Medicine for Mental Health, "In the pituitary gland, it (magnesium) modulates the release of ACTH, a hormone that travels to the adrenal glands, stimulating cortisol release. In the adrenal gland, it maintains a healthy response to ACTH, keeping cortisol release within a normal range." As for B vitamins, our adrenal glandnot only requires them to function, but stress causes us to burn throughthese vitamins at a faster rate. Experts in adrenalfatigue also suggest looking for supplements that contain licorice root,maca root, golden root, and Siberian ginseng to help support a healthy adrenalsystem.  
1 Body is Your Adrenal Fatigue Solution
If you're suffering from symptoms of adrenal fatigue, the last thing you need is more stress about what you're putting in your body. 1 Body has formulated a high-potency adrenal support supplement that is designed to help support adrenal gland health, reduce fatigue, and promote healthy cortisol levels in the body. 
Our formula contains Vitamin C, B6, Vitamin B-12, Pantothenic Acid Magnesium L-tyrosine, Eleuther Extract, Rhodiola Rosea Extract, Ashwagandha Extract, Choline, Ginger Extract, Licorice Extract, Gotu Kola, and Schizandra. Plus, our capsules are manufactured in the USA with no sugar, salt, dairy, wheat, gluten, soy, preservatives, artificial colors, or flavors!