Apple Cider Vinegar Gummies, Pills, and Liquid: Which is Best?
What was once seen as a drab kitchen staple has now become a popular wellness supplement and superfood. Apple cider vinegar, or ACV, is extremely versatile in the kitchen and as extra health, boost to add to your wellness routine. But does adding ACV to your salad dressing deliver the same benefits as drinking it plain? What about new apple cider gummies, liquid supplements, or pills? Do they all deliver the same benefits? As you'll read in this blog, not all supplements are created equally. Here's what you need to know about adding this superfood to your daily routine!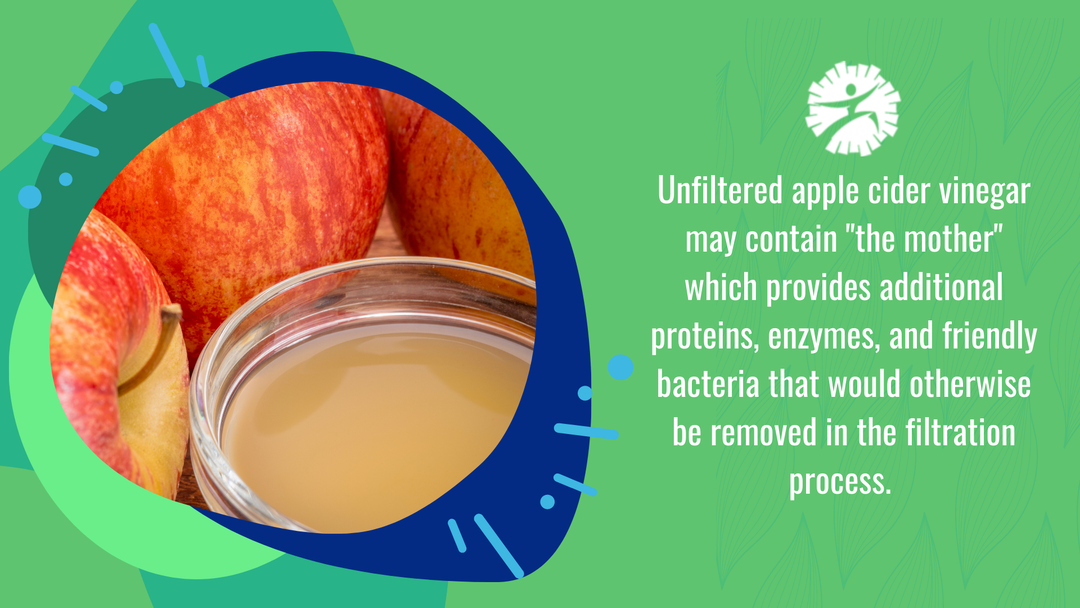 The Health Benefits of Apple Cider Vinegar
Maybe you've had a bottle of apple cider vinegar sitting at the bottom of your pantry for months not sure what to do with it or manage its strong taste. Now all of a sudden, it's a superstar and superfood that everyone wants to get their hands on! You might be wondering what the hype is all about. Well, you'll be glad to know that it is well worth it!
Acetic acid is the main active ingredient in apple cider vinegar and it is believed to provide all of ACV's health benefits. Acetic acid is made by exposing apple mash to yeast and allowing it to ferment into alcohol. Then, bacteria are added to further break down the alcohol and turn it into acetic acid. When all is said and done, apple cider vinegar weighs in at about 5-6% acidity.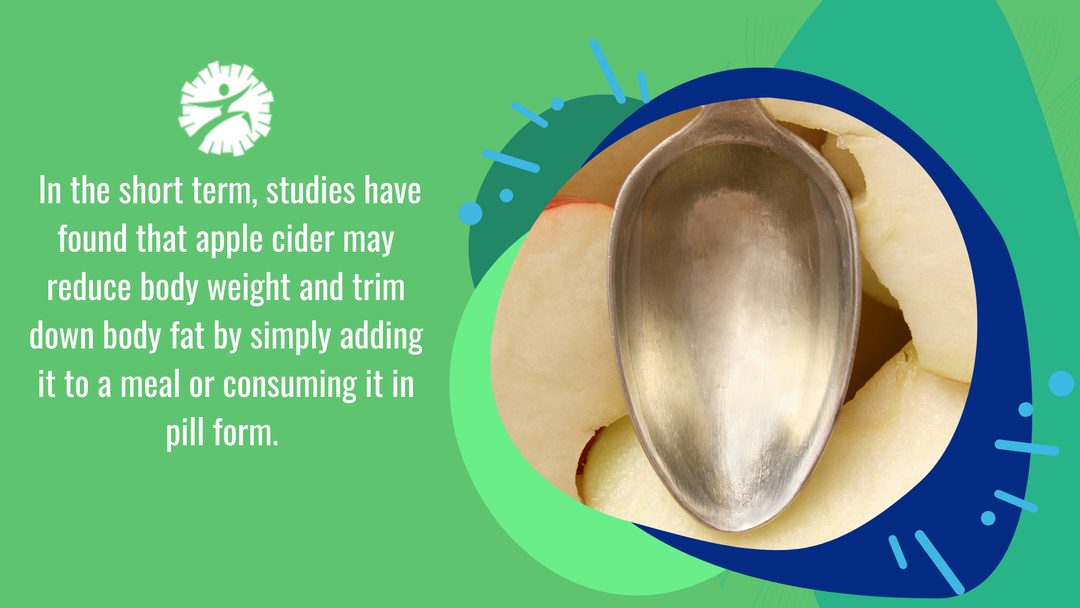 In addition to creating acetic acid, this fermentation process also provides other healthy substances. Unfiltered apple cider vinegar (also called raw apple cider vinegar) may contain "the mother" which provides additional proteins, enzymes, and friendly bacteria that would otherwise be removed in the filtration process. Certain formulations also contain small amounts of potassium, amino acids, antioxidants, and other ingredients to make the ACV more bioavailable.
The benefits of ACV include:
●Kill harmful bacteria: Vinegar is used both as a disinfectant and a food preservative. Some people apply ACV directly to the skin to kill bacteria that can cause acne and inflammation.
●Help manage type 2 diabetes: Apple cider vinegar has been shown to help manage inflammation in a number of different ways. Some studies have shown that consuming ACV improves blood sugar control, reduces fasting blood sugar levels overnight, and reduces blood glucose the following morning. In addition to the safest methods of managing diabetic blood sugar such as by limiting carbohydrates, apple cider vinegar supplements may provide a safe way to manage glucose levels with little to no side effects.
● Supports weight loss: In the short term, studies have found that apple cider may reduce body weight and trim down body fat by simply adding it to a meal or consuming it in pill form. Study participants reported feeling fuller and more satiated by meals that contained this superfood. So, if you are eager to try a natural way of managing your weight or help lose weight with proper diet and exercise, getting a high-quality ACV supplement like 1 Body is your best choice!
●Improves skin clarity: Like mentioned above, apple cider vinegar is a common home remedy for keeping acne and skin inflammation at bay. In addition to applying it directly to the skin (which has resulted in mixed results) consuming apple cider vinegar pills or consuming it in liquid form may help to reduce skin dryness from eczema and improve the skin barrier function by restoring its natural pH.
● May improve heart health: Promising animal studies have found that consuming ACV can lower cholesterol, blood pressure, and triglyceride levels. Though results from human studies are limited, if you struggle with heart health or are looking for more holistic ways to improve your total body wellness, apple cider vinegar may provide a great stepping stone.
You may also check out the 10 Amazing Health benefits of drinking Apple Cider Vinegar to learn more.
Apple Cider Vinegar Pills vs Liquid vs Gummies: Which is best?
Before you get to taking shots of ACV, first let's go over the benefits and drawbacks of the three main forms of ACVsupplements.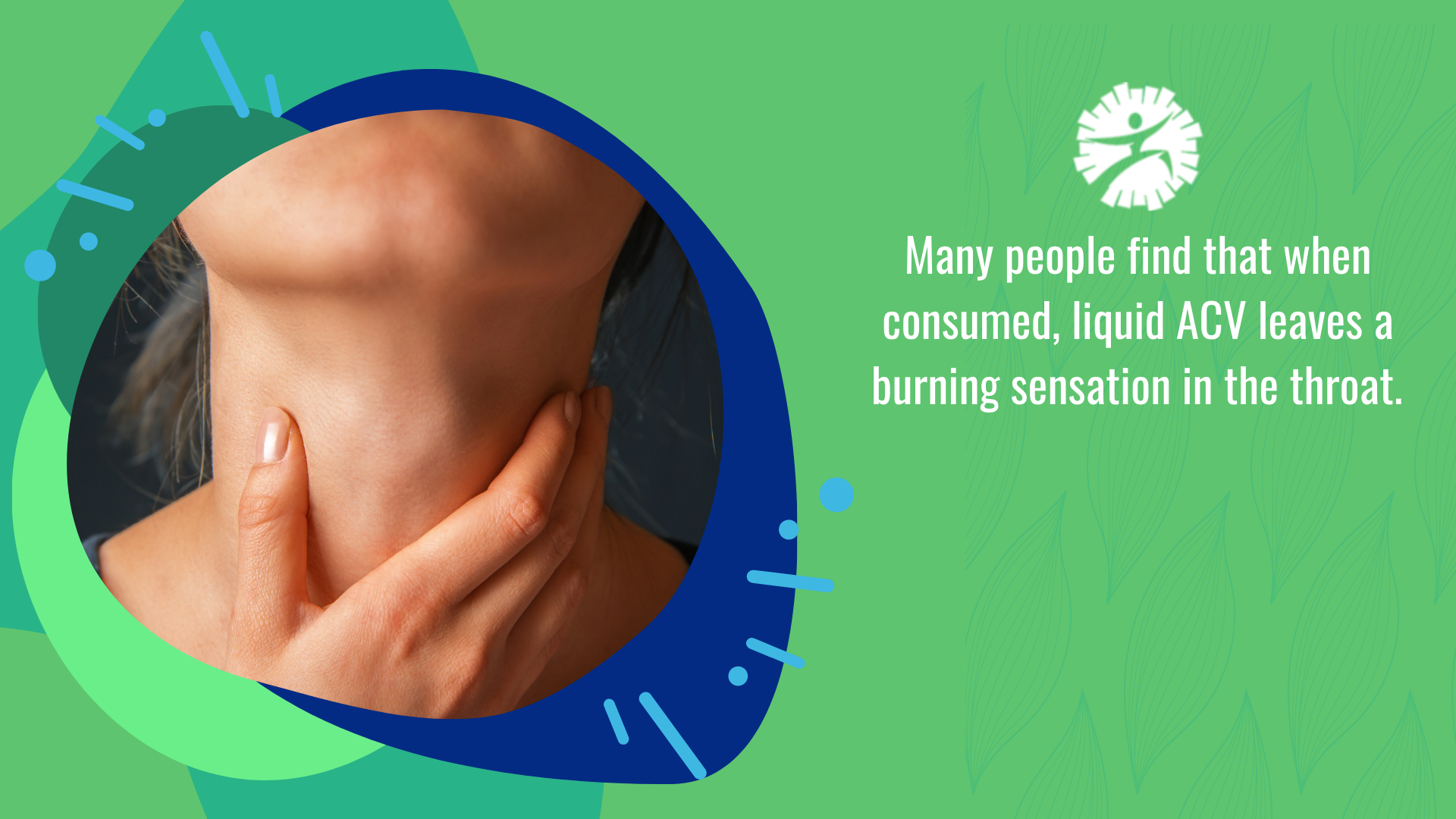 ● Liquid Apple Cider Vinegar: Liquid ACVis the kind you're most likely to see in the grocery store. Unless you shop at a specialty grocery store or health foods store, you probably won't find unfiltered organic apple cider vinegar because it has a sour taste that makes it difficult to cook with. If you can manage to slug back an ACV health shot, drink it diluted into a glass of water, or find a creative recipe, then liquid form may provide more flexibility than the other forms. However, many people find that when consumed, liquid ACV leaves a burning sensation in the throat. The acetic acid can also start to eat away at tooth enamel causing sensitivity and permanent damage. Before you commit to buying a bottle for health purposes, try a sip first instead and be prepared - this is not the same as apple cider!
Apple Cider Vinegar Gummies:

Lots of vitamins and supplements are now being offered in gummy form because who doesn't want to relive the candy-like gummies from their childhood? While many people report that ACV gummies have a pleasant taste, it's most likely due to added sweeteners and sugar. If you're looking for a keto-friendly pure ACV supplement, gummies probably won't fit the bill.
●Apple Cider Vinegar Capsules: Pill or capsule form is arguably the best apple cider vinegar supplement form. ACV pills are easy to swallow, light on the stomach, easy toincorporate into your daily routine, and best of all, they don't leave behind asour or pungent aftertaste or burning sensation in the throat. Additionally,ACV in pillform makes it easy to track exactly how muchapple cider vinegar you're consuming in a day and ensures morebioavailability. The capsules in 1 Body's Organic Apple CiderVinegar areroughly the length of a quarter and contain not only high-quality organic applecider vinegar, but also contain cayennepepper. No, it's not there for taste! Cayennepepper is a natural fat burner and has anti-inflammatory abilities tohelp detox the body and support weight loss.Simply take up to 3 capsules a day with a glassof water to fast track weight lossand get glowing, clear skin.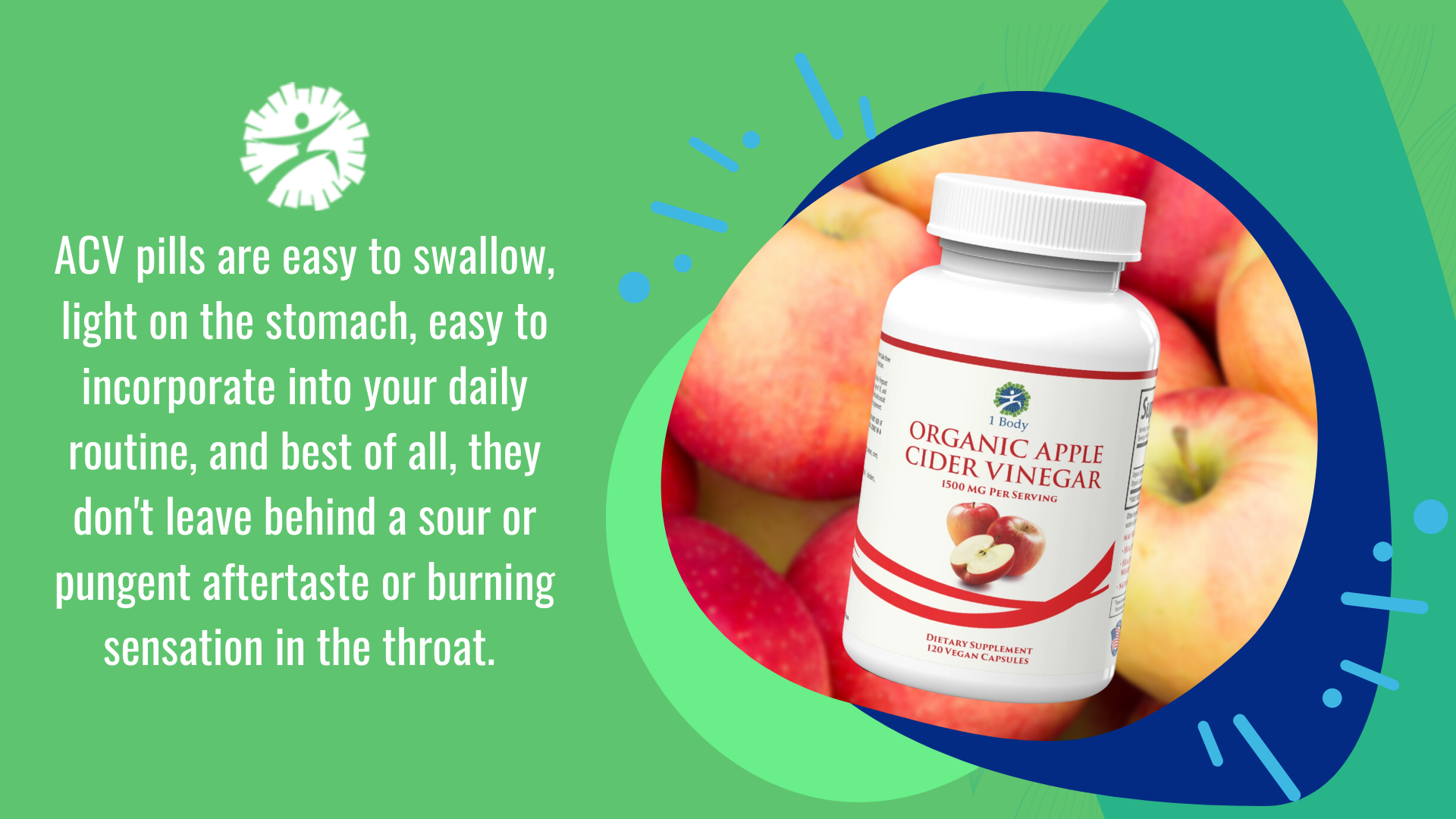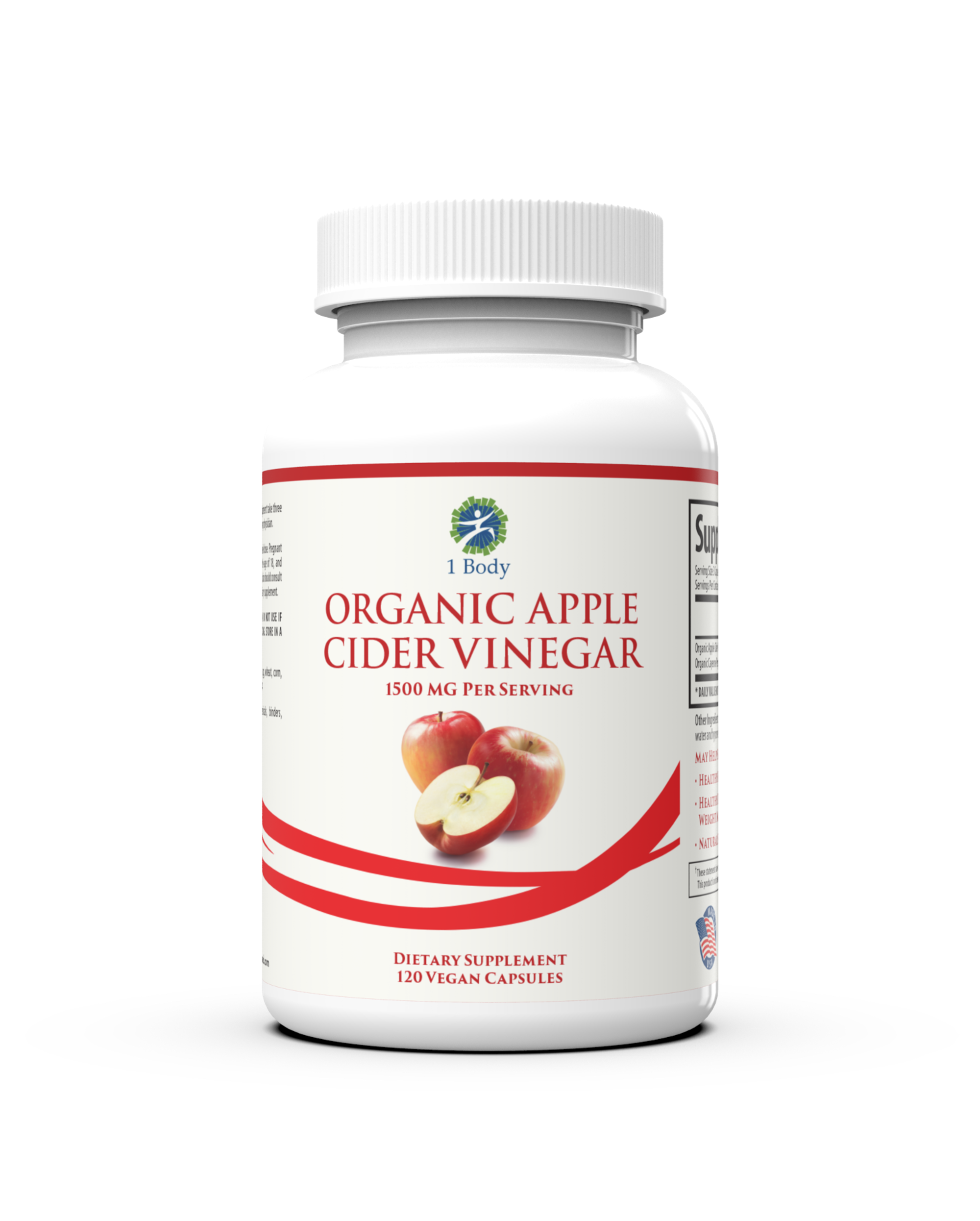 1 Body Apple Cider Vinegar
In summary, if you're looking for easy addition to your wellness morning routine, apple cider pills are your best bet! Whether your goal is to clear up redness and inflammation of the skin, shed some extra weight, or support your diabetes management plan, all you need is a glass of water and a  high-quality ACV pill or two!