Apple Cider Vinegar for Weight loss: Does it work?

Do you remember a few years ago when coconut oil was all the rage? We were using coconut oil to cook, putting it in our coffees, and using it on virtually every part of the body to try and reap the benefits. Any ailment or discomfort you had in 2015, coconut oil was the answer. In 2021, it seems that apple cider vinegar or ACV has stepped into this spotlight. 
Proponents of ACV claim that the home remedy ingredient can help relieve a variety of health problems, such as lowering cholesterol and blood sugar levels, but the most popular claim is that apple cider vinegar may aid in weight loss. But what does the research say about the benefits of ACV? Let's take a look. 
ACV & Its Health Benefits 
Before we dive into the health benefits of apple cider vinegar, let's discuss how it's made and what makes it unique. ACV is created in two steps: First, crushed apples are exposed to yeast which turns the natural sugars in the apples into alcohol through fermentation. Then, bacteria are added to the mix, which further ferments the alcohols into acetic acid which is actually the main active compound in vinegar. According to Healthline, "Organic, unfiltered apple cider vinegar also contains a substance called mother, which consists of strands of proteins, enzymes, and friendly bacteria that give the product a murky appearance."  Beyond being packed with healthy ingredients, antioxidants, and antibacterial properties, apple cider vinegar can be used for: 
Weight Loss

- One of the most popular uses for ACV is as a weight loss aid as apple cider vinegar may help you feel fuller, longer, which can help reduce calorie intake and curb cravings. While research is limited, there have been several studies that have yielded positive outcomes in terms of vinegar consumption and body fat loss. One study found that consuming apple cider vinegar along with a high-carb meal had participants eating 200–275 fewer calories throughout the rest of the day. Another small study, conducted on 175 people over a three-month period, showed participants lost weight and belly fat with those taking 1 tablespoon losing approximately 2.6 pounds and those taking 2 tablespoons losing around 3.7 pounds. There have also been positive animal studies concerning obesity and apple cider vinegar. One Japanese study

found that obese rats who consumed ACV lost more body weight, fat mass had lower triglyceride levels, and had a more reduced waist circumference than the control group over a 12-week period.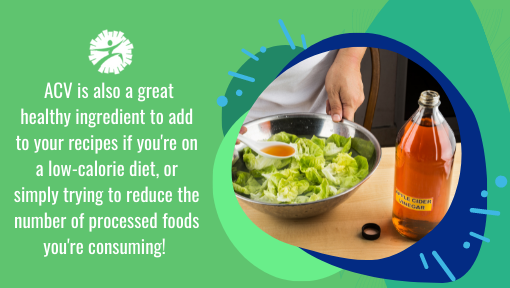 ACV is also a great healthy ingredient to add to your recipes if you're on a low-calorie diet, or simply trying to reduce the number of processed foods you're consuming! Try making a salad dressing or meat marinade with ACV as a healthier alternative to store-bought ones. For a healthy alternative to sugary hot chocolate or teas, try the apple cider vinegar detox, or apple cider vinegar diet drink! To make, simply combine 2 tablespoons of apple cider vinegar, 1 teaspoon cinnamon, 1 tablespoon honey, and 2 tablespoons lemon juice into 12 oz of hot water. 
Adding ACV to your diet may also help: 

give the body a good dose of enzymes
increase potassium levels
support a healthy immune system
promote pH balance in the body
aid with healthy digestion
add good bacteria for the gut and immune function
help remove "sludge toxins" from the body
Managing Blood Sugar - Those with type 2 diabetes may benefit from ACV, as research has found that it may help regulate blood sugar levels (although even healthy people should attempt to keep their blood sugar levels normal as well). Type 2 diabetics have high blood sugar levels caused by insulin resistance or the inability to produce insulin. Keeping these sugar and insulin levels at a healthy number usually requires a healthy diet that avoids refined carbohydrates and sugars. However, some research has found that ACV can help to manage blood sugar levels when taken with a meal. One study found that "vinegar may improve insulin sensitivity by 19–34% during a high carb meal and significantly lower blood sugar and insulin response." Another very small study of just five healthy (non-diabetic) people, found that vinegar reduced blood sugar by 31.4% after eating 50 grams of white bread.
Skin & Hair Health - The health benefits of Apple cider vinegar extends to the skin and hair as well. The skin has its own acid mantle that helps to naturally protect the skin, and when the pH level is thrown off, skin irritation or damage may occur. ACV may help to rebalance the skin barrier's pH levels, and in turn, improve skin health. Some people use ACV to tone the skin with homemade tonics usually made up of two parts water to one part apple cider vinegar to help kill bacteria on the skin*.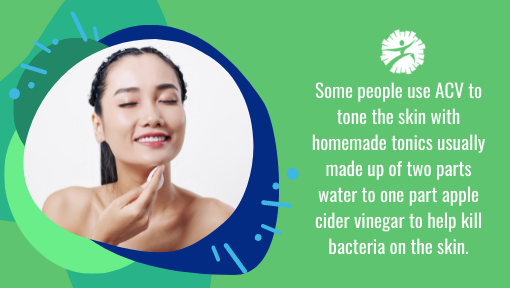 ACV can also help to give your hair an extra boost of shine and remove product buildup when used as a rinse on the hair and scalp. Some people even use it to help treat their dandruff! While there is not a ton of research on why ACV works for dandruff, it is believed that the vinegar's antibacterial properties help to prevent the growth of the fungus Malassezia, which can cause dandruff. 
***Vinegar is not recommended for topical use for those with sensitive skin or conditions such as eczema. Discontinue use if irritation occurs. 
Kill Harmful Bacteria - Apple cider vinegar is used by some as a natural way to remove harmful bacteria from: 
Fruits and vegetables

- Cleaning fruits and veggies with diluted ACV before consuming can help remove any unwanted bacteria such as E. coli and Salmonella. 

The teeth and mouth

- Diluted apple cider vinegar can be used as a mouthwash, denture wash, and way to clean your toothbrush!

Household surfaces

- Mix one cup of water with half a cup of ACV to create your own natural household cleaner! 

The skin

- Diluted ACV is used by some to help eliminate body odor! It can be used as a natural deodorant or as a foot soak to help remove the bacteria that cause us to smell. 

Dishes

- Giving your dishes a quick ACV bath after washing or adding a little bit to the dishwasher will ensure no harmful bacteria are still clinging on. 
Additional Benefits - Apple cider vinegar has been used in household remedies for years, and for a variety of uses. Here are some other fun benefits and uses for ACV:
Soothe a sore throat
Preserve or pickle foods
Trap fruit flies
Use it as a weed killer
Of course, the above benefits we have listed for you are just some of the many benefits of apple cider vinegar that you can enjoy when you start adding ACV into your day-to-day routine.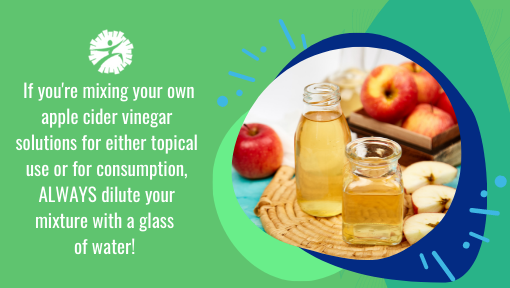 Side Effects of ACV
For the most part, apple cider vinegar is safe for everyone to use. But just like any natural ingredient or supplement, there are risks for mild side effects, which is why it's important to talk with your doctor or healthcare provider before adding ACV to your daily routine. Side effects include: 
Burns in mouth and esophagus  (ACV is acidic!) 
Tooth enamel erosion
Negative medication interactions (may contribute to low potassium levels if you take diuretics or insulin) 
Nausea or stomach discomfort
These side effects can generally be avoided by talking to your doctor and using ACV in the correct dosage and application. If you're mixing your own apple cider vinegar solutions for either topical use or for consumption, ALWAYS dilute your mixture with a glass of water! This ACV mixture is usually taken three times a day, which is not only inconvenient but increases the chance of damaging tooth enamel with every drink. Because of this, some people turn to apple cider vinegar pills or supplements to help with weight management.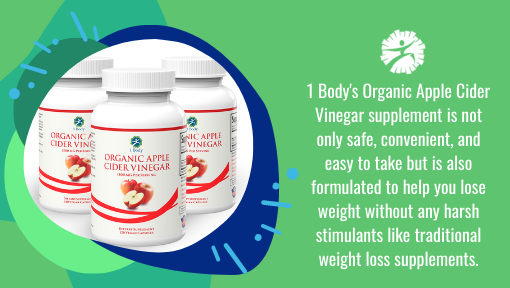 The key is to look for reputable brands like 1 Body that transparently list both ACV and other helpful ingredients like cayenne pepper to help improve digestion and boost metabolism. Plus, you only have to take 1 Body's ACV formula once a day, so you don't have to drink your ACV three times a day to see results. 
Bottom Line 
If you're looking to lose a couple of extra pounds, relieve bloating, and support healthy blood sugar levels, apple cider vinegar might just be your new best friend! When taken correctly, the effects of apple cider vinegar can be positive - which is why it's so important to trust the ACV you take. 1 Body's Organic Apple Cider Vinegar supplement is not only safe, convenient,  and easy to take but is also formulated to help you lose weight without any harsh stimulants like traditional weight loss supplements. Plus, all 1 Body products are manufactured and produced at a cGMP lab with NO wheat, gluten, soy, milk, egg, fish, or tree nuts! 
Organic Apple Cider Vinegar
Relief from bloating.

1500 mg of Apple Cider Vinegar per serving combined with organic cayenne pepper helps your body cleanse, detox, and relieve gas and bloating. It also improves digestion and supports gut health.

Supports healthy weight loss.

Unlike most weight loss pills and fat burners for women and men, our Apple Cider Vinegar supplement may help you lose weight without stimulants and other harsh ingredients.

Natural Appetite Suppressant.

Apple Cider Vinegar serves as an appetite suppressant for women and men, helping you avoid hunger cravings while following a fat loss diet plan.

Convenient & flavor-free.

Apple Cider Vinegar capsules are more convenient for travel and storage than the liquid, and they also don't have the same strong, pungent flavor that scares many people away.

All-natural & vegan friendly.

Manufactured in the USA at a cGMP lab with NO wheat, gluten, soy, milk, egg, fish, or tree nuts. Easy-to-swallow vegetarian capsules.