Tips to Keep Your Gut Healthy During the Holiday Season
One of the best parts of the holiday season is undoubtedly the food. You're presented with a smorgasbord of the most delicious and indulgent foods you can imagine and surrounded by a great company. It's hard not to overindulge in all the eggnog, cookies, and second and third helpings! But, for as merry and bright as those holiday meals may be, the recovery can be brutal. Knowing that overeating is likely on the horizon, here are some things to keep in mind to keep your gut healthy and reduce recovery time over the holiday season.
The Repercussions of an Unhealthy Gut
Gut health has been a trending topic all throughout 2020 and 2021 and it's expected to continue into the new year and beyond! We are constantly learning about all the ways that our guts can influence our mental health, digestive health, energy levels, and more. The gut is teeming with fungi, bacteria, and viruses. This living accumulation of microorganisms makes up what is known as the microbiome. Within the microbiome, there are good and "bad" gut bacteria, and they are constantly duking it out and trying to take over. Some studies have even shown that gut's composition changes depending on the time of the year. 
Some studies have even shown that gut's composition changes depending on the time of the year.  When the gut is in good health and good bacteria are abundant, overall health is often at its highest. Conversely, when the bad bacteria outnumber the good, it can impact nearly every area of the body, not just the digestive tract. Not only can it cause weight gain, constipation, acid reflux, bloating, inflammation, cravings for sugar, and other conditions linked to the digestive system, many studies have linked gut health to the immune system, mood and mental health, autoimmune diseases, skin irritations, and even cancer.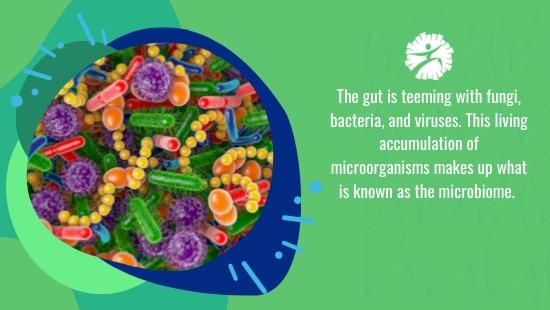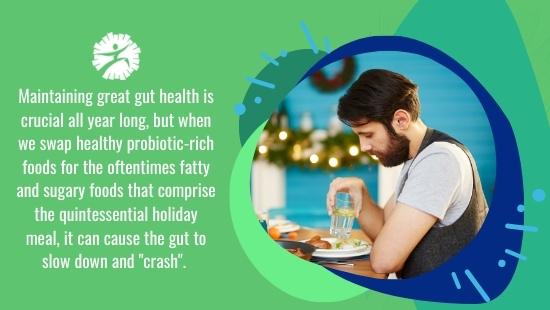 Maintaining great gut health is crucial all year long, but when we swap healthy probiotic-rich foods for the oftentimes fatty and sugary foods that comprise the quintessential holiday meal, it can cause the gut to slow down and "crash". Holiday foods are a highly coveted and cherished tradition, and we don't want you to forego them altogether! But if you want to maintain a healthy gut through the holiday season and beyond, here are some tips that you can easily sprinkle into your holiday plans.
7 Tips to Keep Your Gut Healthy During the Holiday Season
Manage Stress:

A stress-free holiday party?! Does such a thing exist?! Easier said than done, we know, but managing physical and emotional stress is one of the greatest things you can do for your gut! If you have a self-care or exercise routine that you usually follow, don't leave it behind when you go visit the family. Squeeze in deep breathing, yoga, workouts, bubble baths, and your nightly cup of herbal tea no matter where you go. Your gut (and sanity) will thank you!

Eat Healing Foods:

We all know that not all holiday foods are healthy, per se. Unsurprisingly, eating a healthy well-rounded diet is crucial to nourishing the gut microbes and powering the body. Remember to add lots of veggies, antioxidant-rich leafy greens and berries, whole grains, healthy fats, fiber, and collagen-rich bone broth to your holiday diet, even if it's as a side dish to your leftovers.

Limit Triggering Foods:

Certain foods can trigger inflammation, bloating, and gastrointestinal distress quite easily. As always, keep food allergies in mind and limit your intake of the common pro-inflammatory foods such as gluten, excess carbs, dairy, processed foods, sugar, and alcohol.

Follow Your Intuition:

Intuitive eating is one of the greatest assets you can have during the holiday season. You don't have to pass on the cranberry sauce or swap your favorite stuffing for kale, just eat slowly and mindfully and pay attention to your body's cues. If you feel full, it's okay to stop! If certain foods make you feel sluggish, it's okay to pass them up or only enjoy a couple of bites rather than a heaping plateful. In short, go with your gut!

Get Plenty of Rest:

Diet changes, emotional stress, and packed schedules are enough to set your sleep schedule out of whack! Yet, sleep is one of the biggest factors in maintaining great health and wellness. In order for your body to keep up with your holiday plans, you'll need plenty of rest. Aim for 7-9 hours of deep sleep per night and avoid post-dinner cat naps! 
6. Try a Daily Probiotic: Probiotics are live microorganisms that encourage the growth of healthy gut bacteria. Dietary sources of probiotics include sauerkraut, kvass, kimchi, kombucha, natto, and other fermented foods. If these ingredients don't make it onto your dinner table, you can also add a daily probiotic supplement to your diet. 1 Body's probiotic capsules contain 15 probiotic strains as well as prebiotics which feed and support good gut bacteria. This supplement can support immune health to keep you healthy and happy through the holidays,  as well as support the gut to regulate digestion, mood, and energy levels no matter what your itinerary looks like.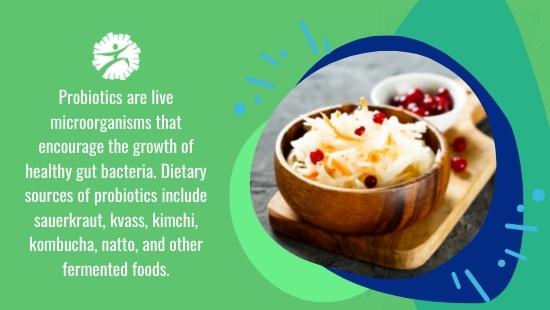 7. Drink plenty of water: Proper hydration not only provides the body with energy and supports its healthy functioning, but it has also been shown to strengthen the mucosal lining of the intestines to help avoid stomach upset and leaky gut syndrome. Drink water throughout the day and pour an extra glass of water with your meal and with every alcoholic beverage you consume to avoid dehydration.
It's never too early to add these healthy habits to your day! The best way to support gut health through the holiday season is to stop disruptions from ever happening in the first place. Eat, drink, and be merry (but don't forget to keep your gut merry too!)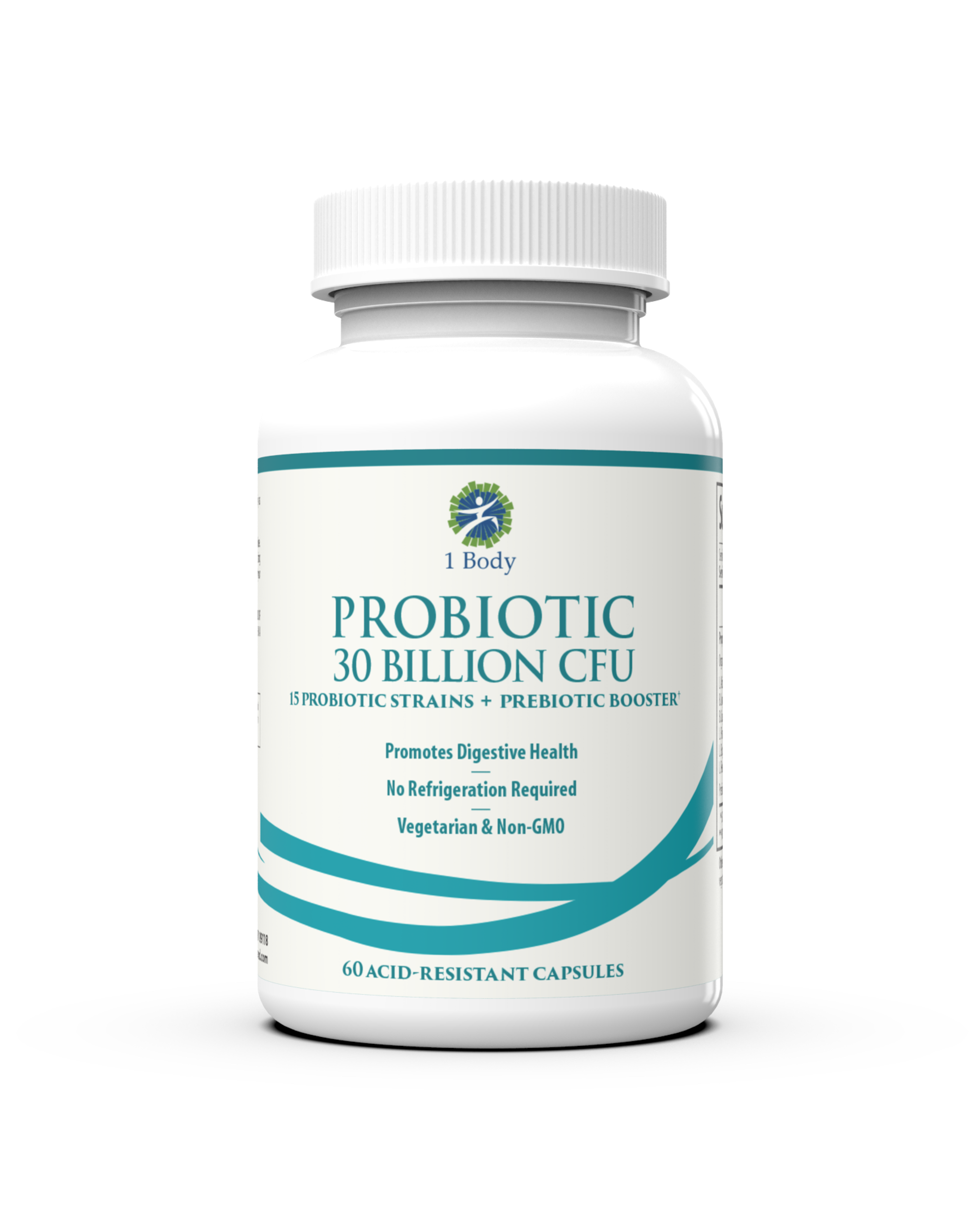 Probiotic
High Potency & Strain Diversity.

Our formula has a whopping 30 billion CFU of 15 strains of the best probiotics, including Lactobacillus Reuteri, Lactobacillus gasseri, & Lactobacillus Acidophilus.

Patented Vegetarian Acid Resistant Capsules.

 Specially designed to resist stomach acid and ensure the proper delivery of the probiotics & prebiotic to your intestinal tract

Supports Immune System & Digestive Function.

 Since 80% of the immune system is in your gut, adding more good bacteria helps support a healthy bacterial balance in your digestive tract.

No Refrigeration is Necessary.

 Shelf-stable to maintain live probiotics & prebiotic at varying temperatures.