Health Benefits of Saffron Extract
Late night snacking was never an issue for me until I started working overnights at a job in college, and then suddenly it was Lean Pockets at 2am or a bowl of cereal at midnight. At first, it was survival, but the snacking then became a habit that stuck with me long after graduation. Needless to say, after I saw the number on the scale and felt the difference in my body, I was determined to quit the 10PM Special K. In doing research on appetite and how to prevent snacking after meals, saffron and saffron supplements kept popping up. After a little more digging, it's easy to see why!
Saffron has been used in food and traditional medicine since it was first domesticated by those in Greece and Iran. Beyond the unique taste, powerful aroma, and pigmented red color used in the culinary industry, saffron has also been used by those interested in natural medicine for its powerful antioxidant properties and potential health and wellness benefits. Saffron has been linked to helping a wide variety of health issues ranging from moderate depression and weight management to cancer and PMS. Plus, it may help keep off those pesky pounds caused by extra snacking!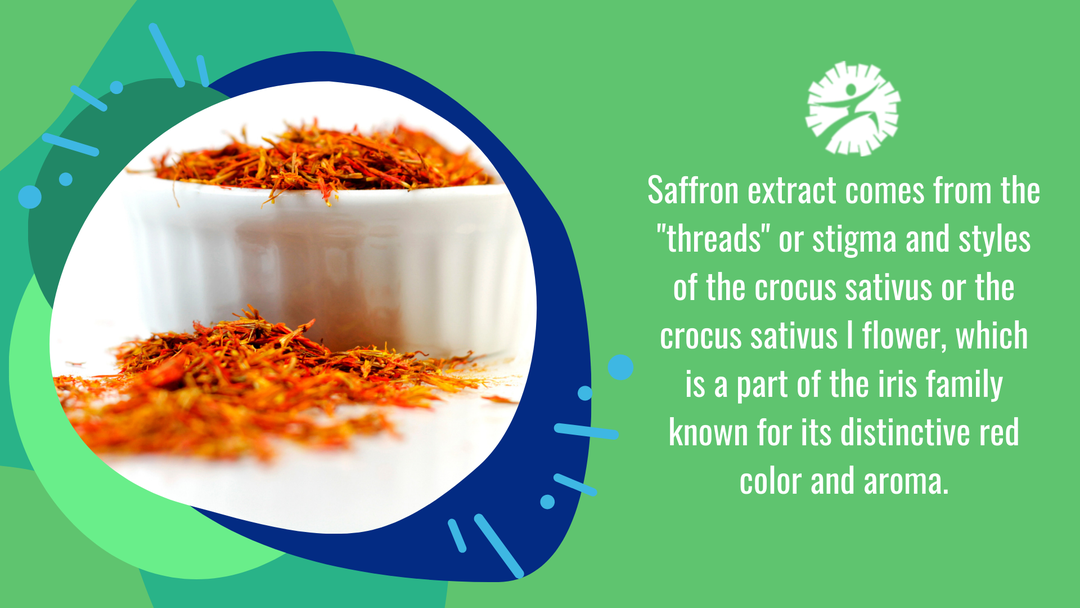 What is Saffron Extract?
Before we get into the health benefits of saffron extract for our health, we need to understand what it is and where it's derived from. Saffron extract comes from the "threads" or stigma and styles of the crocus sativus or the crocus sativus l flower, which is a part of the iris family known for its distinctive red color and aroma. These kinds of flowers are most commonly found in India, Iran, and eastern Mediterranean areas and are harvested by hand to be used in spices and extracts. Due to its popularity and tedious harvesting process, Saffron is one of the most sought-after and expensive spices in the world. According to Healthline, just 1 pound (450 grams) could cost anywhere between 500 and 5,000 U.S. dollars. Saffron spice is ground from the dried "saffron threads" of the saffron flower, and A LOT of them. It is estimated that "It takes between 15,000-16,000 flowers to produce 1 kilogram of saffron spice."
Unlike the saffron spice, saffron extract is usually created through a solvent extraction process that is much more cost-effective than the actual spice itself. Both saffron spice and extract are used for culinary and commercial purposes because of their red color (which is caused by the carotenoid pigments in saffron, crocin, and crocetin), distinct taste, and overall health benefits. Manufacturers, healthcare advocates, and culinary professionals have used saffron extract for food products, drinks, personal care products, and nutraceuticals for years. But what are the health benefits of the highly sought-after crocus sativus flower? Let's take a look.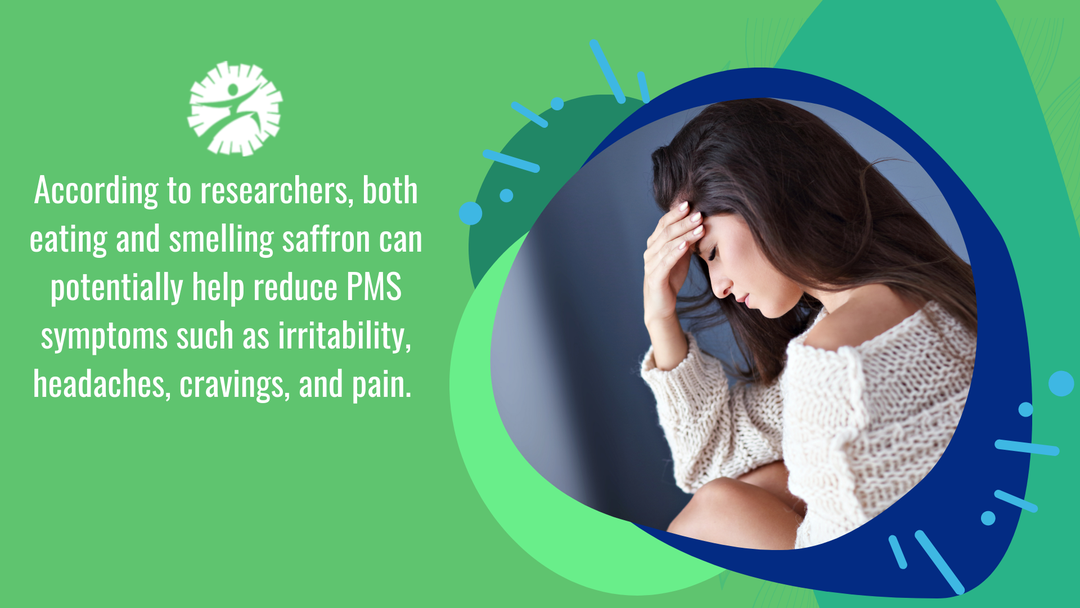 Health Benefits of Saffron Extract
Saffron has over 150 chemicals present in its structure that give the plant its unique color, taste, and aroma. Crocetin and crocin, picrocrocin, kaempferol, and safranal are all present in the saffron flower and also act as powerful antioxidants in the body. According to the Mayo Clinic, antioxidants are "substances that may protect your cells against free radicals, which may play a role in heart disease, cancer, and other diseases." Beyond the impressive amount of antioxidants, researchers have also found that saffron extract or saffron supplements may have the following health benefits: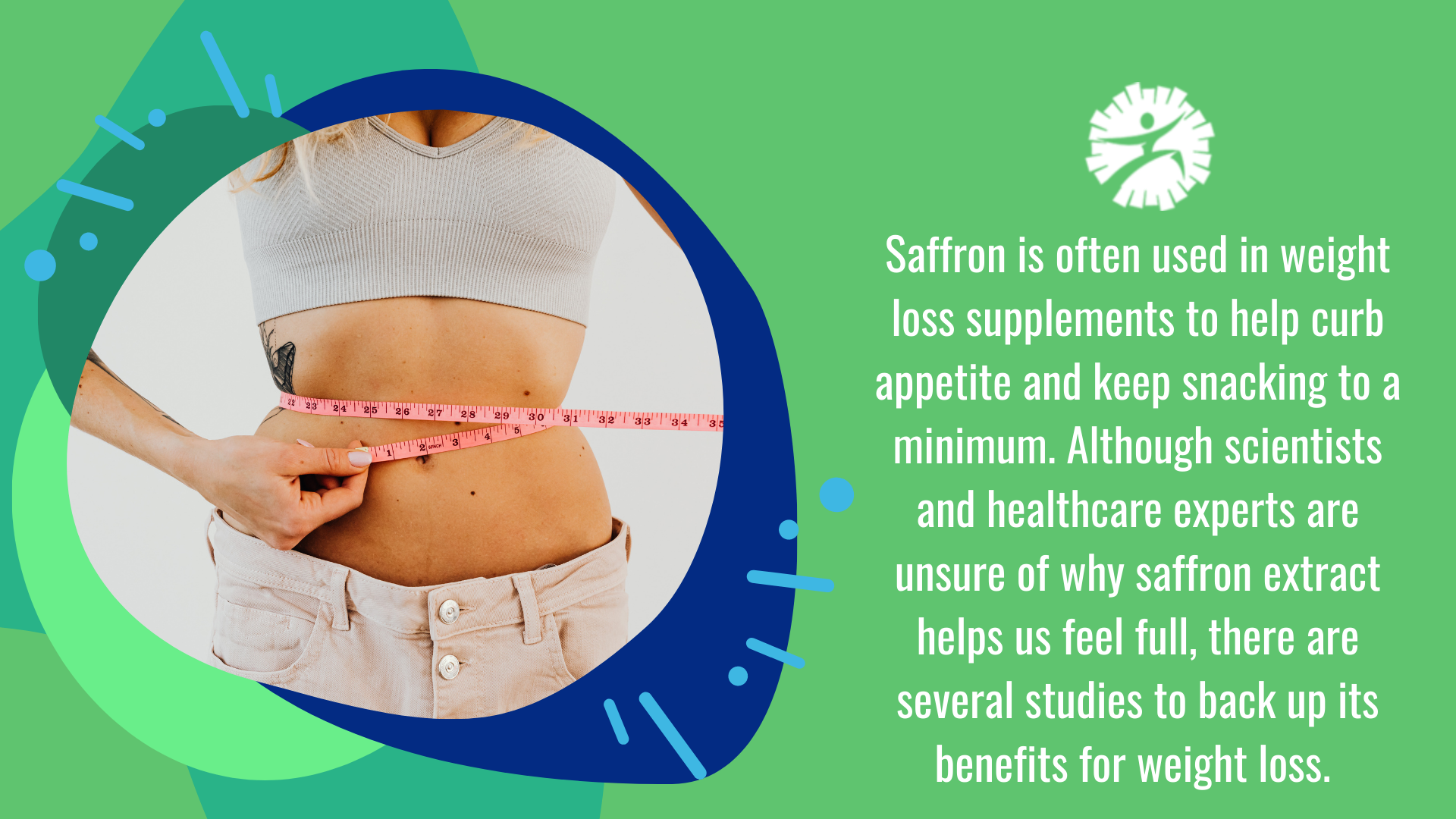 It Can Help with Depression - While research is limited, certain studies have found that "taking 30 mg of saffron daily was just as effective as Fluoxetine, Imipramine, and Citalopram." In a study comparing saffron supplements to placebo supplements, the saffron supplement did significantly better than the placebo at treating mild to moderate depression symptoms. Another study "found that a saffron extract increased dopamine levels in the brain without changing the levels of other brain hormones, such as serotonin."
It May Reduce PMS Symptoms - PMS or premenstrual syndrome, is described by the Mayo Clinic as a wide array of symptoms "including mood swings, tender breasts, food cravings, fatigue, irritability, and depression". According to researchers, both eating and smelling saffron can potentially help reduce PMS symptoms such as irritability, headaches, cravings, and pain. In one study, women ages 20-45 who took 30 mg of saffron as a daily supplement experienced fewer PMS symptoms than those who took a placebo.
It Can Boost Libido - Saffron is considered an aphrodisiac, which is defined as "any substance or food that increases sexual desire, arousal, behavior, performance, or pleasure." Saffron supplements have been found to be especially successful in helping those struggling with low sex drive or performance due to antidepressant consumption. One study found that men who took 30 mg of saffron daily over four weeks had more improvement in their erectile dysfunction (related to antidepressants) than the men who took a placebo. Women have also been found to benefit from saffron supplements for their libido. Researchers have found that women who suffer from low sex drive or painful sex due to certain antidepressants, experienced an increased sex drive and a reduction in painful sex as a result of taking 30 mg of saffron daily compared to women who took a placebo.
It May Help with Weight Loss - Saffron is often used in weight loss supplements to help curb appetite and keep snacking to a minimum. Although scientists and healthcare experts are unsure of why saffron extract helps us feel full, there are several studies to back up its benefits for weight loss. In one eight-week study, women taking a saffron supplement felt fuller throughout the day and lost significantly more weight than the women taking a placebo supplement.
It May Aid in Treating Alzheimer's Disease - Researchers believe that the antioxidants and anti-inflammatory properties found in saffron may help those with Alzheimer's disease by reducing inflammation and oxidative stress in the brain. According to Medical News Today, "People with mild-to-moderate Alzheimer's who took saffron for 22 weeks had cognitive improvements that were comparable with those of people who took the drug donepezil, and they also experienced fewer side effects." There are few studies on the effects of saffron for those with Alzheimer's and other nervous system disorders, and healthcare experts agree that more clinical trials are needed.
It May Have Cancer-Fighting Properties - As we mentioned before, the saffron flower contains high levels of antioxidants, which may help fight cancer-causing free radical damage. While human studies are limited, in test-tube studies, saffron has been found to "selectively kill colon cancer cells or suppress their growth, while leaving normal cells unharmed." Other test-tube studies have found that the antioxidant crocin may make cancer cells more sensitive to chemotherapy drugs. It May Reduce Your Risk for Heart Disease - Not only is saffron rich in heart-healthy minerals like magnesium and potassium, but it can also help reduce your risk for heart disease. Saffron has been found to lower both cholesterol and blood pressure, which are directly related to heart health. It May Help Treat Age-Related Macular Degeneration (AMD) - According to the National Eye Institute, AMD is "an eye disease that can blur your central vision." AMD is common and impacts nearly 11 million people in the U.S. alone. Saffron has been found to modestly improve visual function that was damaged by AMD by researchers. In a 2016 study, researchers found that patients with both wet and dry AMD who took 30 mg of saffron a day for 6 months experienced "statistically significant changes in retinal function".
Side Effects of Saffron Extract 
Like all supplements, it's important to talk to your doctor or healthcare provider before adding a saffron supplementation to your daily routine. The recommended dosage of 1.5 grams or 1500 mg of saffron is considered safe by experts, while 5 grams or 5000 mg of saffron is considered to be toxic. In low doses, saffron extract or supplements may cause mild side effects such as dry mouth, anxiety, dizziness, drowsiness, nausea, change in appetite, and headache. Taken in high doses (5 grams or more), saffron can cause a "yellow appearance of the skin, eyes, and mucous membranes; vomiting; dizziness; bloody diarrhea; bleeding from the nose, lips, and eyelids; numbness; and other serious side effects."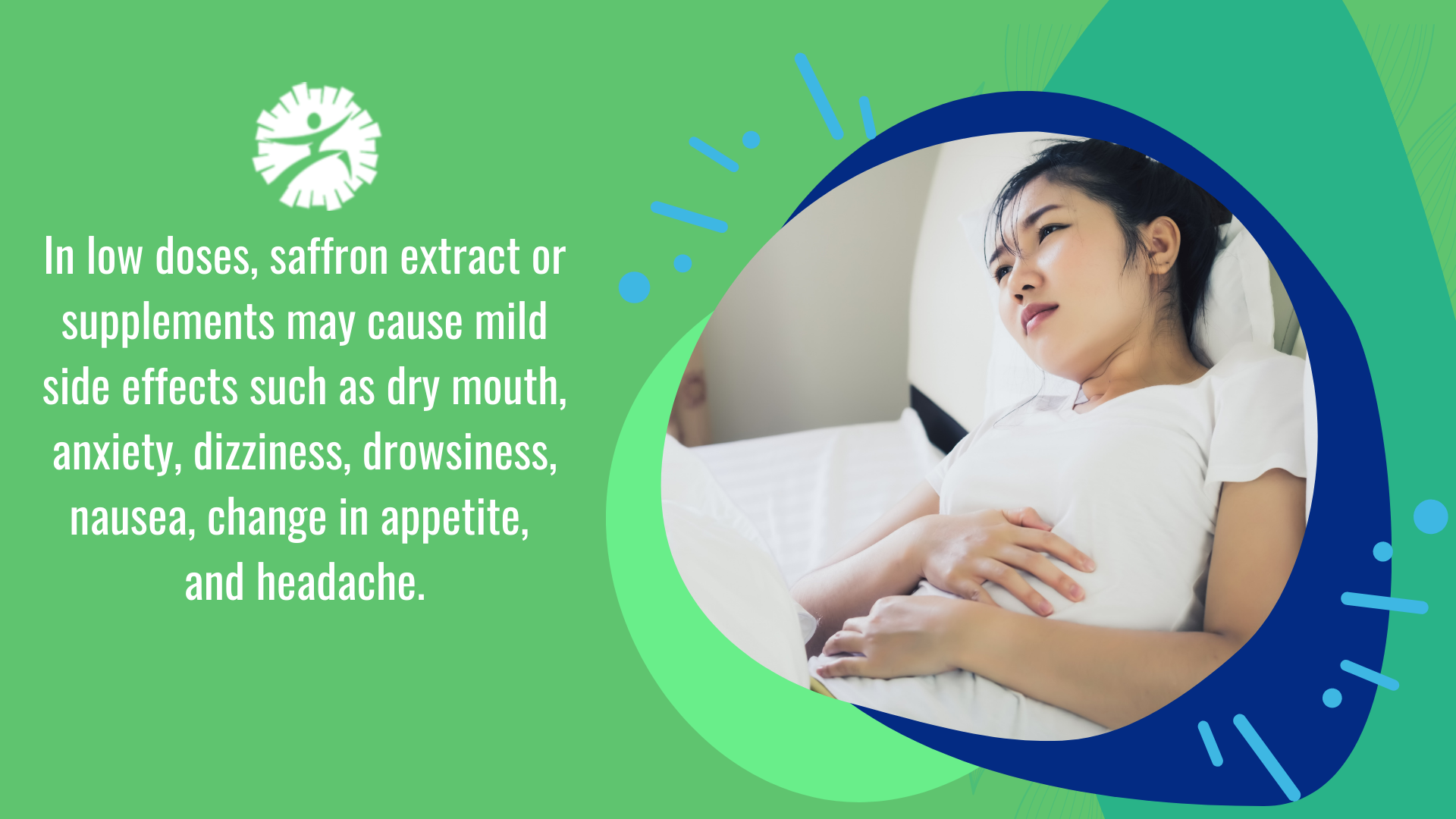 Adding saffron extract or supplements to your diet may not be right for you if you are: 
Pregnant or breastfeeding - Taking saffron supplements or using a saffron extract while pregnant can cause the uterus to contract and lead to a miscarriage. Women who are breastfeeding need to avoid the potential additives that can be found in supplements. 
Allergic to Lolium, Olea (includes olive), and Salsola plant species - You may be potentially allergic to saffron as well. Better to be safe than sorry!   
Experiencing low blood pressure - As we mentioned before, the saffron extract may be a useful tool in helping to reduce high blood pressure and cholesterol but can be dangerous and potentially fatal if you have a condition that causes low blood pressure.  
Bipolar - Those diagnosed with bipolar disorder should avoid saffron extract or supplements as they might trigger an impulsive and excitable mood swing (mania).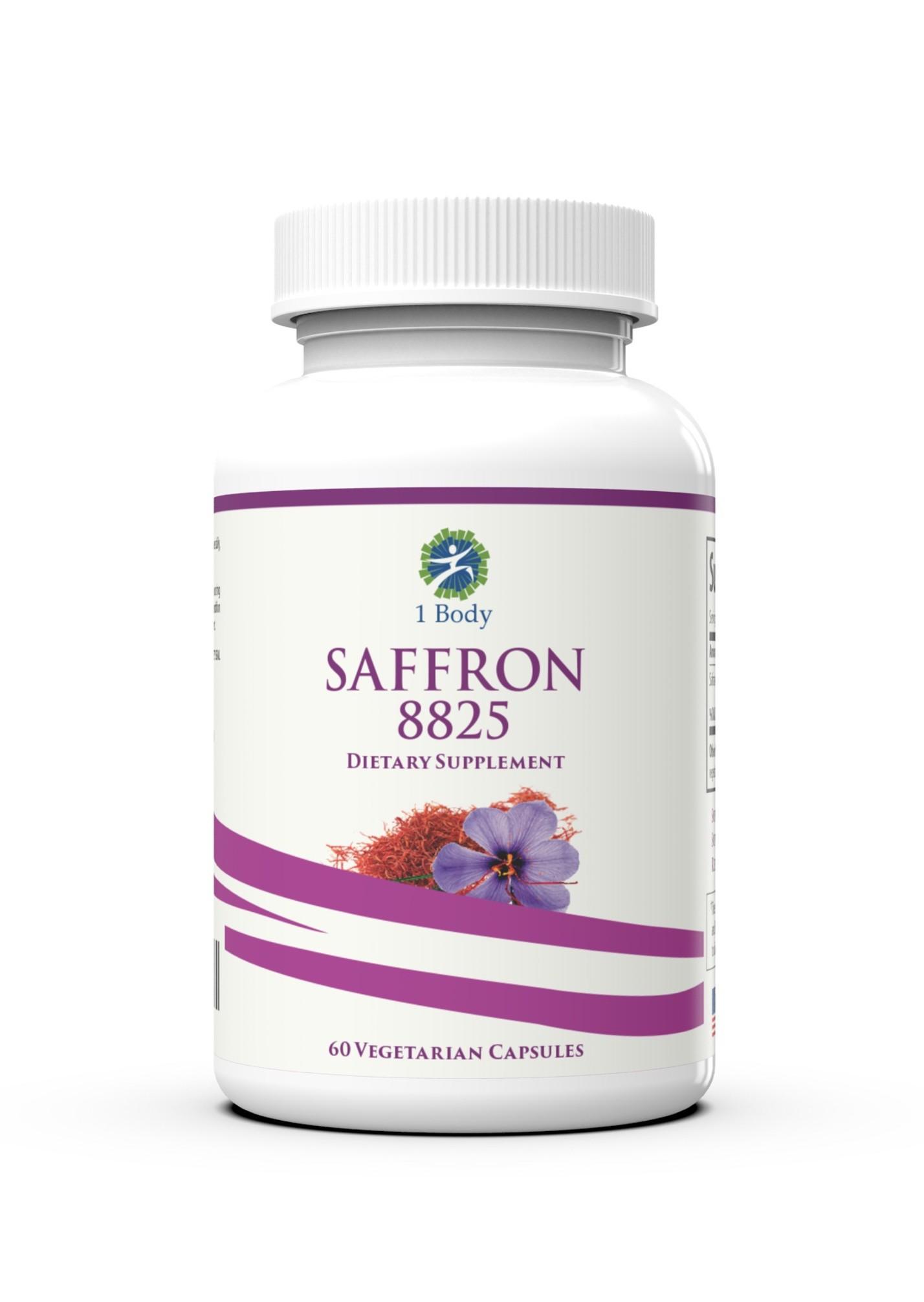 1 Body Saffron Extract
Interested in the potential health benefits of adding the saffron extract to your daily routine? Whether you're looking to help reduce your appetite, increase sex drive, or improve your mood, 1 Body's Saffron Extract Supplements offer 88. 5 mg of saffron extract in an easy-to-swallow vegan capsule to help you reach your health and wellness goals.  Simply take one (1) capsule twice daily 30 minutes before a meal with an 8 oz glass of water to help curb cravings without the caffeine, stimulants, or jitters of a traditional appetite suppressant. 1 Body's unique formula is manufactured in the USA without hormones, gluten, sweeteners, or soy!