What Does Current Good Manufacturing Practices (CGMPs) Mean?

The pharmaceutical industry is highly regulated. There are many hoops to be jumped through, checks to be made, and tests to be done before a pharmaceutical product can be introduced to the market. Dietary supplements, though? The US FDA (Food and Drug Administration) does not monitor supplements for safety or efficacy unless "a manufacturer claims its supplement can cure disease or something goes wrong and people get sick." This lack of regulatory requirements leaves a lot of gray areas for clever marketers to operate in. Some less-than-transparent supplement brands thrive in this gray area, making false claims, using cheap ingredients, and failing to disclose safety concerns. 
At 1 Body, we've sought out the highest regulatory standards possible to ensure consistent quality, purity, and efficacy in all of our products. That's why we are proud to share that all 1 Body products are manufactured in the USA in a cGMP certified facility in order to provide YOU with the highest quality supplements on the market. Not sure what cGMP entails? Here's what it means and why you'll want to see it on every biological product you buy.
What does cGMP certified mean?
At the most basic level, GMP stands for Good Manufacturing Practice and cGMP stands for the current Good Manufacturing Practice. This set of regulations was created on the basis of continuous improvement, thus there is no single set of standards that must be met; the current GMP regulations should be used. 
The Current Good Manufacturing Practice Regulations (cGMP) are a form of quality assurance that is enforced by the US Food and Drug Administration. According to the FDA, "Adherence to the cGMP regulations assures the identity, strength, quality, and purity of drug products by requiring that manufacturers of medications adequately control manufacturing operations. This includes establishing strong quality management systems, obtaining appropriate quality raw materials, establishing robust operating procedures, detecting and investigating product quality deviations, and maintaining reliable testing laboratories." CGMP certification entails:

Quality Control
Identity Testing
Contaminant Testing
Labeling Regulations
Sanitation and Facility Management
Operating Procedures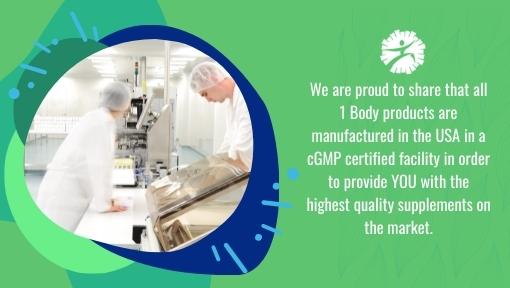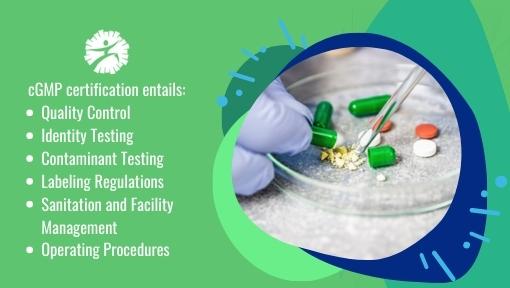 Manufacturing facilities (of medical devices, supplements, and pharmaceutical products) can earn cGMP certification by following the 5 key components of cGMP certification:
Primary Materials and Products:

Primary materials include the raw ingredients used to create a product, and the finalized product that is sold to consumers. To enforce that ingredients of the utmost quality are used, GMP requires documentation of a master formula that is used consistently throughout the entire manufacturing process. Product testing is done at every level of the manufacturing process in order to maintain quality.

Premises:

The cGMP requirements also entail that all premises and equipment used within the supply chain are properly maintained and in good condition for the safety of the workers and quality control of the end product.
People:

In order for manufacturing facilities to be cGMP compliant, only trained personnel can be employed. Additional training may be done to ensure that all employees are well versed in the GMP requirements.

Procedures:

Manufacturing procedures must be regularly evaluated and improved in order to stay up to date with science and technology advances. This is the essence of current GMP requirements.

Processes:

Processes may refer to a code of federal regulations or documentation to ensure that the minimum requirements are being met. Validation of these guidance documents is critical to passing an audit and becoming a certified cGMP facility.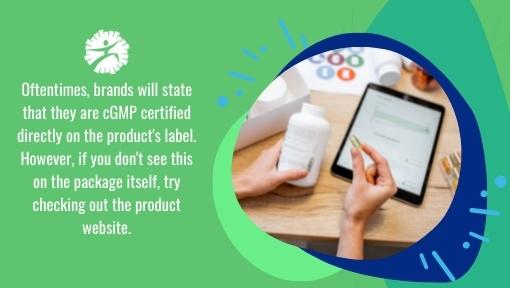 What does this mean for supplements?

As mentioned above, the U.S. Food and Drug Administration (FDA) does not have the authority to review dietary supplement products for safety and effectiveness before they are marketed. However, if a company does decide to become cGMP certified as a method of risk management and quality assurance, this does involve the FDA's intervention. Essentially, adherence to these guidelines is a way for supplement brands to go above and beyond and ensure the utmost quality of their products. 
Oftentimes, brands will state that they are cGMP certified directly on the product's labeling to signal to buyers that their products are safe and reliable. However, if you don't see this on the package itself, try checking out the product website.
So what if a supplement or drug manufacturer isn't following cGMP guidelines? 
Products made in other countries may have quality standards that are enforced by other regulatory agencies. Although cGMP requirements are enforced by the United State's federal government, they can be enforced in manufacturing facilities worldwide. This ensures that the entire supply chain of a product is evaluated and vetted against cGMP standards and is not limited by geographic borders.
According to the FDA "If a company is not complying with CGMP regulations, any supplement it makes is considered "adulterated" under the law. This kind of adulteration means that the drug was not manufactured under conditions that comply with CGMP. It does not mean that there is necessarily something wrong with the supplement." These products will also be susceptible to recall if the product is found to be dangerous or has made false claims.
Choosing cGMP certified is in the best interest of the consumer. It calls for accountability, transparency, and purity which ultimately translates to safety and efficacy for the end-user. Don't get lost in the gray area. If you have questions about a brand's manufacturing process, ingredients, or more, do some internet digging or ask the brand directly. 
At 1 Body, we do not sacrifice quality at any step. In addition to manufacturing our products exclusively at cGMP certified facilities, we offer a 60-day money-back guarantee if you aren't satisfied with your product. If you have any questions about our line of premium supplements, feel free to reach out contact us at any time. We aim to make raving fans out of each of you!