Want to Build Bigger Muscles? Here's why Collagen Should Be Your Main Protein!
In my quest to find the ultimate protein for my post-workout supplement, I came across an interesting choice, Collagen. Collagen caught my attention for a few different reasons. Still, before we jump into the benefits of collagen supplements and how they can relate to muscle mass and bodybuilding, let's talk about what it is, its primary functions, and a few different terms we'll find when conducting our research. 

What Is Collagen and What Are Its Primary Functions?
At its core, collagen is a type of protein, the most abundant protein in the human body. In fact, it accounts for about 35% of total body protein content. It provides a lot of the structure for muscle growth and serves as the main component of our body's connective tissue, which means it's the building block for tendons, ligaments, skin elasticity, teeth, cartilage, bones, blood vessels, and joint health, just to name a few.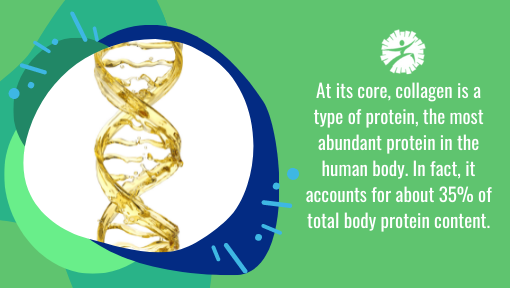 Three other terms we need to keep an eye out for are: 
Collagen peptides.

Peptides are simply smaller chains of amino acids, the building blocks of proteins. Proteins are very large molecules. Collagen broken down into smaller pieces is sometimes referred to as collagen peptides. 

Collagen hydrolysate.

You'll see most supplements labeled as either collagen peptides or collagen hydrolysate. They are the same. Hydrolysate means the collagen has been hydrolyzed or broken down into smaller pieces, also known as peptides. Collagen is hydrolyzed and turned into peptides for supplements to make it easier to absorb and digest.

Collagen supplements.

Labeled as collagen, collagen peptides, or collagen hydrolysate, collagen supplements are dietary supplements that provide this particular type of protein. The supplements are usually formulated as powders that dissolve into liquids with no taste.
Like all proteins, collagen is composed of different amino acids, nineteen to be exact. However, we're only going to discuss the three most prevalent. 

They are:
Hydroxyproline:

An essential component of collagen, comprising about 13.5% of mammalian collagen.

Glycine

: Another building block of protein.

Proline:

Besides protein synthesis and structure, it plays important roles in metabolism (particularly the synthesis of arginine, polyamines, and glutamate) and nutrition, as well as wound healing, antioxidative reactions, and immune responses.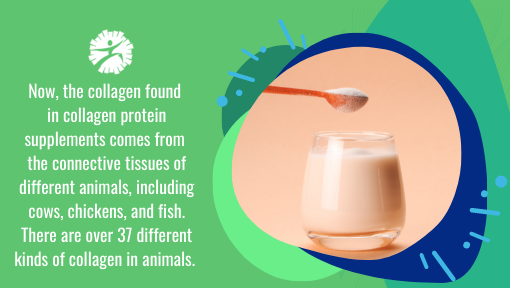 The collagen found in collagen protein supplements comes from the connective tissues of different animals, including cows, chickens, and fish. There are over 37 different kinds of collagen in animals. They can be categorized into different types: type l, type ll, type lll, etc., based on their specific amino acid makeup and where they're found in the animal's body.
Here's a brief breakdown:
Type I collagen is the most abundant type of collagen in the human body, and it's present in scar tissue, tendons, ligaments, skin, bones, and more.
Type II collagen protects joints against damage and helps preserve their function.
Type lll collagen supports various organs such as the liver and bone marrow as well as tissues in the lymphatic system.
When we ingest protein, be it from collagen, whey protein, or any other protein source, it is digested and disassembled into individual amino acids by enzymes present in the GI tract. Upon arriving in the small intestine, the individual amino acids are transported to the bloodstream and head to the liver.
Any essential amino acids not used by the liver get re-released into the bloodstream to be used by the body where they are needed to perform a wide array of functions, including:
Cellular repair
Muscle recovery and growth
Neurotransmitter synthesis
Hormone production
Hair, nail, and skin maintenance and growth
Benefits Of Using Collagen Supplements
Collagen levels drop naturally as we age, but it's also possible to have too little collagen as a result of a poor diet. This may increase signs of aging such as wrinkles and saggy skin, joint pain, stiffer tendons and ligaments, and weaker muscles. Supplements can make up for some of this loss or deficiency. 
Up until recently, we've seen collagen products mostly marketed for improving skin condition and bone strength. Still, as evidence from research grows, we're beginning to see collagen used for fitness and athletic performance as well.
So the question lingers, are we actually able to see fitness improvements and improved body composition by increasing our collagen intake? Let's take a deeper dive and find out.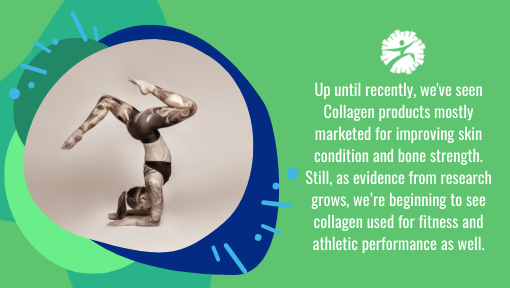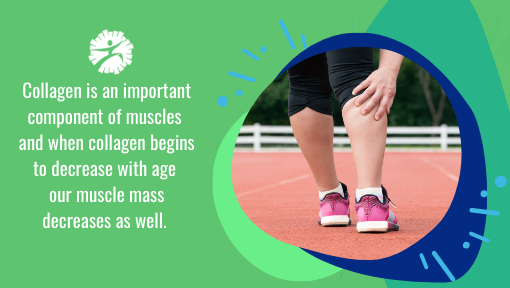 Muscle Mass
We'll start with our main focus, muscle mass. Simply put, muscle mass is the amount of muscle in your body, including skeletal, smooth, and cardiac muscles. This is what we're enhancing when looking at collagen as a muscle building protein. 
Collagen is an important component of muscles and when collagen begins to decrease with age, our muscle mass decreases as well. What research has already proven is that collagen supplements can reverse this aging trend in people diagnosed with sarcopenia, age-related muscle loss. Personally, I like to lower my potential for issues, be it work, personal, or health related, by taking preventative action. So while the research shows collagen supplements can reverse the trend in older people, it would benefit you to strengthen your collagen levels as early as possible. 
To further support this, the processes discovered showed they could potentially apply to anyone. Research has proven that when men combined exercise with a

post-workout

collagen supplement

, more

muscle mass

was built than those that exercised and received a

placebo

.



One reason collagen may help with

muscle mass

is that it contains the two important

amino acids

that act as the

building blocks

for

creatine:

arginine

and

glycine

. There is already plenty of evidence that

creatine

helps improve

muscle mass

, build strength, and improve athletic performance. By adding these

amino acids

through collagen, you are increasing the amount of

creatine

that can be produced. 



In one

randomized controlled trial

of

elderly sarcopenic men,

researchers found that when

resistance training

exercise was combined with a

post-workout

collagen supplement,

such as a

protein shake

, they built more

muscle mass

than those who exercised and received a

placebo

. Although the study looked specifically at older men, the processes discovered could potentially apply to anyone.



From personal experience, I could also feel a difference when taking

collagen protein

versus whey protein. I felt a larger pump ever so slightly when performing high-intensity weight lifting activities. And as they say, every little bit helps.



Due to the fact that it plays such an active role in

building muscle

, it stands to reason that

collagen supplements

can increase

muscle mass

in younger, healthy people even though the research and evidence is currently limited. 



Collagen is also an important component of cartilage, the tissue that cushions and supports joints. As cartilage wears away we experience

joint pain

and even arthritis. 



Studies have shown that using

collagen supplements

can reduce

activity-related joint pain

and specific symptoms of

osteoarthritis

. By decreasing our chances of injury, we're increasing our ability to build sustained and healthy

muscle mass

.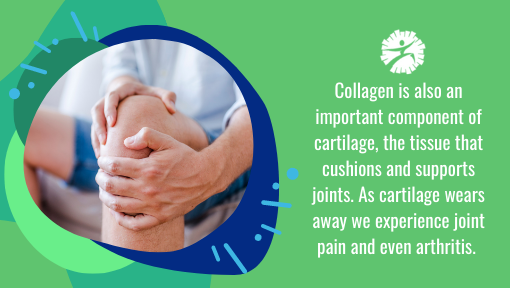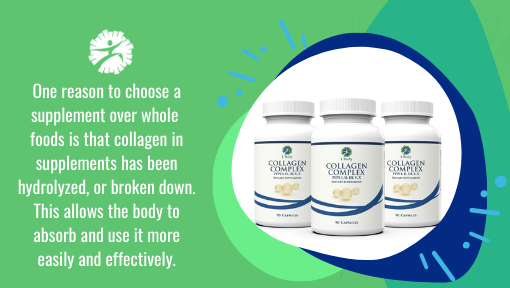 Supplements vs Food
Naturally, the best way to get your nutrients is from a healthy, balanced diet, but there is still room for safe and effective supplementation.
One reason to choose a supplement is that collagen in supplements has been hydrolyzed or broken down. This allows the body to absorb and use it more easily and effectively.
If you're more interested in foods, that are high in collagen:
Bone broth

Chicken, pork, and salmon skin

Egg yolk

Foods with

gelatin

Certain cuts of meat, including oxtail, tendons, and knuckles
For vegans and vegetarians, try foods rich in the
amino acids
glycine
and
proline
, both crucial for producing collagen. These include legumes, like soybeans, spirulina, and agar.
Are There Any Side Effects or Risks?
Before taking any kind of supplement it's always advisable to consult with your doctor first. While collagen supplements have been shown to be safe, more studies are needed to better understand how collagen works in the body. One safety risk is to folks who have food allergies as collagen may include eggs, fish, or shellfish allergens. Other, extremely mild side effects may include gastrointestinal discomfort and a bad taste in your mouth. 
As long as you're doing your homework and are aware of what the supplements you're taking consist of, you should be just fine. 
I hope this information has been beneficial and hopefully has shed some light on any questions you may have regarding collagen as a supplement, its benefits as a protein and how it can not only help you build muscle but also protect and strengthen the parts of your body that support athletic and intense movements.