The Best Vitamins for Bone Health: Vitamin K2 and Vitamin D3
If I'm being honest, I don't often think about my bone health. I know the bone basics - we have 206 of them, bones need calcium, and older people tend to have more breaks and fractures than younger people. That's about it. But as the structural supporter of my entire person, I felt that I owed my bones a bit more support from me. In doing some research on the best supplements for bone health, I discovered that vitamin D and vitamin K (specifically vitamin K2) are the best, even if a bit underrated, for supporting our skeletons.
A Bit About Bone Health & Osteoporosis  
Obviously, as the structural support of our bodies, our bones play a huge role in everything we do as people. Our bones not only give our bodies structure, but they also house and protect the organs, keep our muscles in place, and store calcium in the body. Although it may not be obvious to us, our bone structure is constantly changing and growing. According to the Mayo Clinic, "When you're young, your body makes new bone faster than it breaks down old bone, and your bone mass increases. Most people reach their peak bone mass around age 30. After that, bone remodeling continues, but you lose slightly more bone mass than you gain."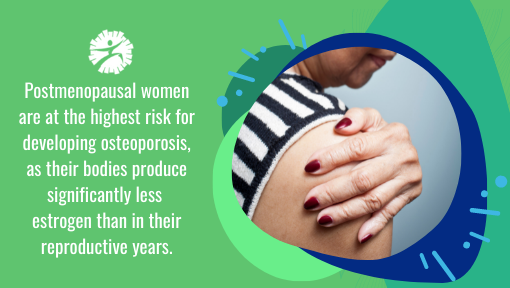 Healthy bones need certain minerals, mainly calcium and phosphorus. These minerals make up what is known as bone mineral density or bone density. 
When bones are not healthy and strong, certain individuals may develop bone diseases or complications such as osteoporosis, the most common bone disease in which the bones become weak and more susceptible to injury. The Mayo Clinic states that the likelihood of one developing osteoporosis depends on "how much bone mass you attain by the time you reach age 30 and how rapidly you lose it after that." Some individuals are at a higher risk of developing bone diseases like osteoporosis, including those with these healthcare factors: 
Age

- Older individuals are more likely to have weaker bones, as bone mass and bone mineral density decline with age. 

Race

- Caucasians and those of Asian descent are more likely to develop osteoporosis. 

Sex

- Women are at a greater risk of developing osteoporosis than men, due to the natural hormonal changes that take place during a woman's life. Postmenopausal women are at the highest risk for developing osteoporosis, as their bodies produce significantly less estrogen than in their reproductive years. Less estrogen is linked to lower bone mass density. 

Frame Size

- Those with a smaller body frame are more likely to develop bone health complications such as osteoporosis, as they have less bone mass to draw from as they get older. 
Medical Conditions - Certain medical conditions such as celiac disease or IBS that prevent nutrient absorption can lead to poor bone health. Other medical conditions that can lead to osteoporosis include kidney or liver disease, cancer, multiple myeloma, and rheumatoid arthritis. Those who have had severe eating disorders are also at a higher risk of developing bone diseases as their bodies have been deprived of key nutrients that bones need. 

Hormones

- As mentioned above, lower estrogen levels have been linked to weaker bones, but other hormones may impact bone health as well. Low testosterone levels in men may lead to lower bone mass. Increased thyroid hormone levels may also cause bone loss. 

Certain Medications

- According to the Mayo Clinic, "Long-term use of corticosteroid medications, such as prednisone, cortisone, prednisolone, and dexamethasone, is damaging to bone." Additionally, certain breast cancer, depression, and seizure medications may also contribute to bone loss and risk for osteoporosis. 
Now that we've covered the basics of bone health and the genetic, lifestyle, and environmental factors that could negatively impact it, let's cover the two dietary supplements that could make a positive impact on bone health - Vitamin K2 and Vitamin D3. 
Benefits Vitamin K2 for Bone Health
First reported in Germany as an essential nutrient for blood clotting, vitamin K was first known as "Koagulationsvitamin". There are two main forms of vitamin K, vitamin K1, and vitamin k2. Vitamin K1 (phylloquinone) can be found in leafy green vegetables, while Vitamin K2 (menaquinone) can be found in animal and fermented foods. Vitamin K2 plays an important role in calcium absorption. It does this by activating "the calcium-binding actions of two proteins — matrix GLA protein and osteocalcin, which help to build and maintain bones," according to Healthline. Vitamin K2 also helps boost cardiovascular health, as this process helps to clear out calcium buildup in the arteries (arterial calcification), which can lead to heart disease.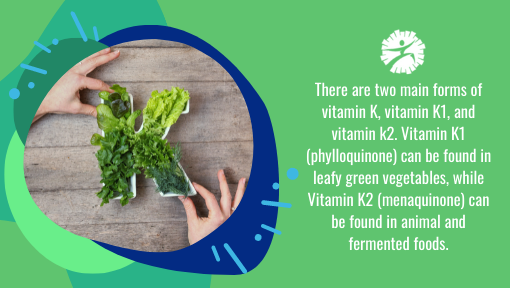 There are several studies that show the benefits of vitamin K2 for bone health. In one study of 244 postmenopausal women over a 3-year period, those that were taking a vitamin K2 supplement had less age-related bone loss. Additionally, several trials that focused on bone fractures, reported that vitamin K2 helped to reduce incidences of spinal fractures by 60%, hip fractures by 77%, and all non-spinal fractures by 81%. 
If you're looking to up your vitamin K intake, try adding these foods to your diet: 
liver
egg
yolks beef 

products

sauerkraut 
miso natto
Benefits of Vitamin D3 for Bone Health
There are technically three compounds in the vitamin D family - vitamin D1, vitamin D2, and of course, vitamin D3 that all makeup what is commonly known as just vitamin D, which is a fat-soluble vitamin. Our bodies, specifically our skin, produce vitamin D naturally when exposed to sunlight, but we also need to ingest it for our overall health and wellness. Beyond the obvious benefits for the immune system and muscle function, vitamin D is also essential for bone health. This is because vitamin D is required by the body to absorb calcium. In fact, if vitamin D is not present, our bodies will absorb calcium very poorly, if at all. 
Additionally, vitamin D helps the parathyroid glands balance calcium levels in the blood. The parathyroid gland is constantly communicating between the kidneys, gut, and skeletal structure to ensure that our bodies are properly absorbing and using calcium efficiently. The Cleveland Clinic explains that when this balance is thrown off due to insufficient nutrients bone loss may occur, "When there is sufficient calcium in the diet and sufficient active Vitamin D, dietary calcium is absorbed and put to good use throughout the body. If calcium intake is insufficient, or vitamin D is low, the parathyroid glands will 'borrow' calcium from the skeleton in order to keep the blood calcium in the normal range." 
When we don't get enough vitamin D either through vitamin d supplements, diet, or sunlight, a vitamin D deficiency can occur that may negatively impact bone health. Low vitamin D levels are most commonly seen in very young children, pregnant women, those over the age of 65, and those on a strict vegan diet and may lead to certain health conditions, including osteoporosis. In one study, German researchers discovered that "vitamin-D deficiency increases both the start and spread of bone fractures by up to 31 percent." Children that don't get enough vitamin D can develop rickets, a disease that causes "bone weakness, bowed legs, and other skeletal deformities, such as stooped posture." Adults can develop a similar disease called Osteomalacia, which causes decreased mineralization in the bones and similar symptoms as rickets.   
The National Institutes of Health recommends different daily dose levels of vitamin D depending on your age:
Birth to 12 months: 400 International Units (IU)
Children and teens: 600 IU
Adults 19–70 years: 600 IU
Pregnant and breastfeeding women: 600 IU
Adults 71 years and older: 800 IU
We have these reported in International Units, to convert, multiply the IU 0.025 to see the value as mcg. Try adding some of these vitamin D-rich foods to your diet: 
fatty fish (salmon, cod, tuna, etc.) 
dairy products (milk, cheese, yogurt, etc.) 
eggs
mushrooms
Other Tips for Bone Health
While ensuring our bodies get enough essential nutrients is important for both bone health and overall health, we can also make other changes to our routines and health habits to help build strong bones.
Add more veggies

- Veggies are obviously great for our health, but they also are a great source of vitamin C, which has been found to stimulate bone cell production. Healthline also reports that "A high intake of green and yellow vegetables has been linked to increased bone mineralization during childhood and the maintenance of bone mass in young adults." Another interesting study found that women over 50 who ate onions regularly compared to women who rarely ate them had a 20% lower risk of developing osteoporosis.  
Get some exercise

- Any form of exercise is good for you, but research has found that specifically weight lifting and strength training can improve bone health. Studies on both older women and men that regularly performed weight-bearing exercises saw an increase in bone mineral density, bone size, and bone strength, as well as a reduction in "markers of bone turnover and inflammation." 

Consider collagen

- While more research is needed in the world of collagen, early studies are promising for its benefits on bone health. Collagen is a protein that is naturally present in bones and contains the amino acids glycine, proline, and lysine, which help build bone.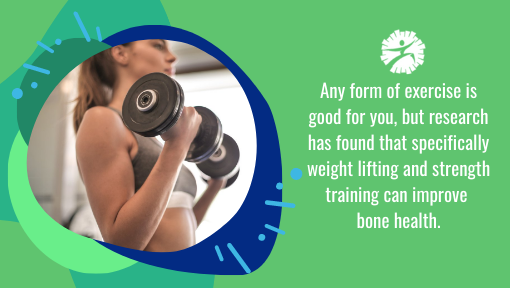 Weight management

- Managing a healthy weight is crucial for bone health. Being underweight can lead to osteoporosis and reduced bone mass density. On the other hand, being overweight can put extra stress and pressure on the bones and joints, and can increase fracture risk. Fluctuating weight

can also negatively impact bone health, according to healthcare professionals. 
Don't forget your magnesium

- Magnesium helps the body convert vitamin D to its active form so that the body can properly absorb calcium. According to Healthline, "An observational study of over 73,000 women found that those who consumed 400 mg of magnesium per day tended to have 2–3% higher bone density than women who consumed half this amount daily."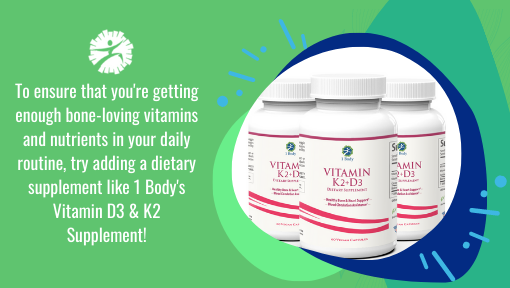 Add a supplement

- To ensure that you're getting enough bone-loving vitamins and nutrients in your daily routine, try adding a dietary supplement like 1 Body's Vitamin D3 & K2 Supplement! 1 Body's supplement is made with vitamin D3, vitamin K2 (mk-7)(as Menaquinone), and calcium in an easy-to-swallow vegan capsule. Our formula is made with the most bioavailable forms of each vitamin to ensure your body gets full absorption and maximum benefit! Plus, it is manufactured in the USA at a cGMP-compliant facility without wheat, gluten, soy, milk, egg, fish, or tree nuts. 
Vitamin K2+D3
Strong Bones.

 Vitamin D3 & K2 work together to strengthen bones – D3 increases the absorption of calcium and K2 directs more of that calcium to bones rather than joints and arteries.

Healthy Heart

. D3 & K2 vitamins are both essential nutrients for a healthy heart and cardiovascular system and help promote healthy cholesterol levels.

Defense System Support. 

Science shows that vitamin D supplements are proven to strengthen your body's natural defense system, which comes in handy during the winter season.

Mood Booster.

A D3 vitamin is a great option for people who don't get enough sunlight to maintain adequate levels of vitamin D, which plays a critical role in our mood and vitality.