How to Support a Healthy Gut Microbiome
When the viral "kombucha girl" video was circulating around the internet a few years ago, I was inspired to try the fermented drink to see what the hype (or disgust) was all about. I'm going to be honest - I didn't like it, but I found the claimed benefits to be very interesting. The tea-based drink claimed to be able to help with everything from boosting metabolism and aiding in weight loss to reducing the risk of cancer all because of the bacteria it contained. That's right. Bacteria. While some bacteria have the ability to give us a cold or salmonella, certain strains of bacteria can actually help boost our health and improve bodily functions. Both can be found in our microbiome, but as long as we maintain the balance between the "good" and the "bad" bacteria we consume, our microbiome can function properly. Finding this balance starts in the gut, here a majority of these bacteria reside. 
What is the microbiome and how does it affect the gut?
Essentially, the microbiome is made up of the trillions of bacteria, viruses, fungi, found in our bodies. These microorganisms sometimes referred to as microbes or microbiota, are essential for our body's immune system, heart health, weight management, and other bodily functions. The number of bacterial cells in our body outweighs the number of human cells we have. According to Harvard Health, microbes are vital as they help the body "stimulate the immune system, break down potentially toxic food compounds, and synthesize certain vitamins and amino acids, including the B vitamins and vitamin K." 
Every microbiome is unique and begins to form when we are born - actually, while we're being born, though some researchers suggest that they form in the womb.
Our mother's birth canals provide us with essential bacteria that help developing infants grow in various ways from forming their immune systems to breaking down essential nutrients and sugars found in breast milk. The microbiome grows and changes a ton in the first two years of life, and is heavily influenced by the microbes found in breast milk as well as environmental factors. This rapid growth usually evens out by the time we are three years old, as our diet becomes more stable and the immune system is fully formed, but our microbiome still changes as we age with the influence of environmental factors, diet, medications, and stress. All of these variables can impact the microbiome and our overall health.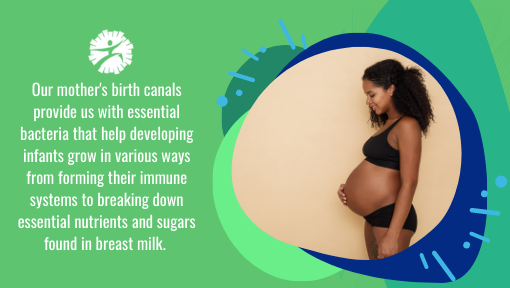 So how does the microbiome affect our gut? Well, a majority of the microbes that make up our microbiome are located in the gastrointestinal tract, which is made up of our esophagus, stomach, small intestine, and large intestine. Microbes, by nature, cannot live in the acidic conditions of the stomach for very long, so more of them can be found in the small and large intestines. The gut bacteria in our gastrointestinal tract fall into five main categories, or phyla: 
Bacteroidetes
Firmicutes
Actinobacteria
Proteobacteria
Verrucomicrobia
Each of these five main categories has its own subcategory of gut microbiota species that can is usually generalized as "good" or "bad" bacteria, i.e. Lactobacillus (good bacteria) or E. coli. (bad bacteria). These bacteria can obviously impact our gut health, but they also play a huge role in overall health and wellness. When all is well, the bacteria in our bodies and gut work in a symbiotic relationship to help our bodies out with the following processes: 
break down foods
supply the gut with energy
make vitamins
break down toxins

protect against pathogens by producing anti-microbial chemicals, and

by physically taking place where the bad bacteria normally would before it has a chance. 

But what happens when our gut microbes are thrown off balance or damaged? 
Gut Feeling: What Happens When the Gut Microbiome is Off?
Keeping our microorganisms happy and balanced is clearly important for maintaining overall health and wellness, but when this harmonious balance is thrown off-kilter, a slew of health concerns could arise. The bacteria living in our gut could start doing more harm than good when the bad bacteria start to outweigh the good bacteria. This imbalance is called dysbiosis. There are technically three types of dysbiosis - Type 1 is caused by losing good bacteria from the gut. Type 2 occurs when there is too much growth of harmful bacteria in the stomach.
Finally, Type 3 dysbiosis is when overall gut microbiome diversity (both good and bad bacteria) is lost. It's fairly common to have more than one dysbiosis type! But, what causes this imbalance? Well, you may throw off your gut health with the following : 
A lack of diversity in your diet 
A lack of prebiotics 
Overconsumption of alcohol
Antibiotic use
A lack of regular exercise
Smoking 
Irregular sleep schedule
Stress
Because the gut microbiome influences so much in the body, when the balance is off, the rest of the body feels off. A less than healthy gut microbiome can contribute to the following health concerns and their symptoms: 
Intestinal Diseases

- Those that have been diagnosed with intestinal diseases such as irritable bowel syndrome (IBS) and inflammatory bowel disease (IBD), may feel the repercussion of microbial imbalance the most severely. According to Healthline, "bloating, cramps and abdominal pain that people with IBS experience may be due to gut dysbiosis. This is because the microbes produce a lot of gas and other chemicals, which contribute to the symptoms of intestinal discomfort". 
Weight Gain

- There have been several studies on the differences in the microbiomes of identical twins, but a 2014 study focusing on an obese twin and their lean sibling found that there may be some connection between the gut microbiome and obesity. The researchers found that when the obese sibling's microbiome was transferred to mice, those mice gained more weight than the mice that were exposed to the lean twin's microbiome, regardless of being exposed to the same diet.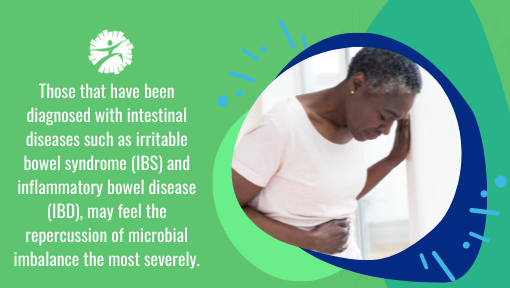 Diabetes

- According to Weill Cornel Medicine, "Gut microbes influence blood glucose levels by acting directly on the liver", the thing that those with diabetes are trying to maintain the balance of. Additionally, a 2019 study suggests that dysbiosis of the gut microbiota may contribute to the development of Type 2 diabetes. 
Heart Problems - Certain strains of bad bacteria in the gut may contribute to heart disease. This occurs because the bad bacteria in the gut produce a chemical called trimethylamine N-oxide (TMAO) that contributes to clogged arteries. There are also certain strains that can convert the choline and L-carnitine usually found in red meats to TMAO, further increasing the risk for heart disease and stroke. 
Mental Health

- Ever wonder why your stomach hurts when you're feeling anxious or nervous? As it turns out, the brain and the gastrointestinal tract are much more closely related than most would think. For one, certain strains of gut bacteria help our brain synthesize neurotransmitters such as serotonin, which is a natural antidepressant. Plus, there are millions of nerves connecting our guts to our brains, so if our gut is less than healthy, it could be harming our mental health and mood.  
Tips to Support a Healthy Gut Microbiome
Clearly, the repercussions of poor or less-than-perfect gut health can be serious and lead to a number of health concerns. So, how do we support a healthy gut microbiome? Diet, lifestyle changes, and supplements can all work together to ensure the growth of beneficial bacteria and prevent further growth of harmful bacteria. 
Diversify Your Diet

- It is widely understood that a diverse diet leads to a generally healthy gut microbiome, as an increased number of bacteria introduced to the gut = an increased number of potential health benefits. However, in most Westernized countries, our diets tend to be high in fat and sugar, and are only sourced from 12 plant and 5 animal species. Studies have found that those living in rural regions of Africa and South America have greater microbiome diversity than those living in urban areas of Europe or the US. So, if you've wanted to try that new Ethiopian restaurant - do it in the name of gut health!
Add More Fiber

- Our bodies can't technically digest fiber, but the microbes found in our guts can - and thrive on it. Certain bacteria found in our gut use fiber to stimulate growth, such as Bifidobacteria, which has been found to reduce inflammation in the intestines and enhance gut health. Try adding these fiber-rich foods: 
raspberries
artichokes
green peas
broccoli
chickpeas
lentils
beans
bananas
apples
Whole Grains are Important

- Whole grains are an important staple in any diet, but they're especially important for maintaining a healthy microbiome. Not only are whole grains full of fiber, but they also contain non-digestible carbohydrates that are absorbed by the large intestine to help promote the growth of good bacteria such as Bifidobacteria, lactobacilli, and Bacteroidetes. However, it is important to note that those with a sensitivity to gluten should avoid wheat, barley, and rye, as these could intestinal permeability and inflammation in the gut. 
A Bit About Fermented Foods

- When you Google "gut health", fermented foods such as kombucha and kimchi will almost always be suggested. This is because the process in which these foods are created (fermentation) involves bacteria or yeast breaking down the sugars in the foods, thus making them rich in gut-friendly bacteria by the time we consume them. Many fermented foods are high in lactobacilli, a strain of bacteria that helps our bodies break down food, absorb nutrients, and fight off bad bacteria strains. Plus, certain fermented foods such as yogurt, have been found by researchers to help enhance the function and composition of the microbiome. Just be sure to look for "contains live active cultures" on your fermented foods labels! Here are some of our favorite fermented foods:

yogurt, kimchi, sauerkraut, kefir, kombucha and tempeh.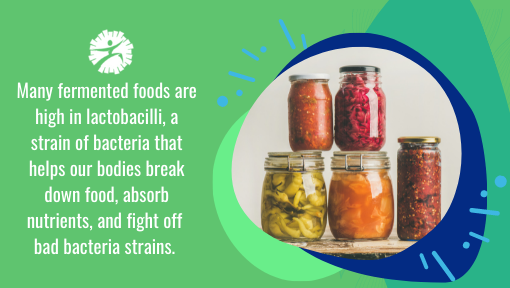 Add Probiotic and Prebiotic Foods

- Prebiotic foods are foods that promote the growth of beneficial bacteria in the gut, while probiotic foods actually contain live microbes (usually bacteria) that can provide a specific health benefit when consumed. So, you can essentially think of probiotics as foods containing the good bacteria our microbiome needs to thrive and prebiotics as food that help these bacteria do their job. 
Prebiotics are found in foods high in fiber such as fruits and vegetables but can be found on their own in some cases. Prebiotics can also help with weight management and diabetes, "Certain prebiotics have also been shown to reduce insulin, triglyceride, and cholesterol levels in people with obesity." 
Probiotics don't stay in our gut permanently, but while they're there, they help to support metabolism and can alter the composition of the gut microbiome. While researchers believe that probiotics are most successful at returning a damaged microbiome back to a healthy state, they're also useful for helping improve the function of existing gut bacteria and the chemicals they produce. Probiotics are usually found in fermented foods. 
Get Your Sleep

- Sleep impacts nearly every aspect of our overall health including gut health. When we don't get enough sleep, our bodies become stressed and produce the hormone cortisol. Cortisol, AKA the stress hormone, can cause permeability issues in the intestines, and lead to leaky gut, a condition where food and toxins can pass from the intestines to the bloodstream. A leaky gut can lead to bloating, inflammation, stomach pains, food sensitivities, and changes to the gut microbiome.  
Stay Hydrated

- Staying hydrated is always good advice, but adding an extra cup or two could certainly boost the health of your gut microbiome! Studies have found that staying hydrated and drinking plenty of water has a beneficial effect on the mucosal lining of the intestines, and helps maintain the balance between good and bad bacteria in the microbiome. 
Try Adding a Probiotic Supplement

- If you're looking to help boost your gut health in an easy convenient way that doesn't require stocking your fridge with kimchi and yogurt, try adding a probiotic supplement like 1 Body's Probiotic to your routine! 1 Body has created their probiotic supplement to contain 30 billion CFU of 15 strains of the best probiotics, including

Lactobacillus Reuteri

,

Lactobacillus Gasseri

, and

Lactobacillus Acidophilus

. Plus, this unique formula contains prebiotic boosters to help the good bacteria in the gut flourish and does not require refrigerated storage. Always talk to your doctor or healthcare provider before adding a supplement to your routine first.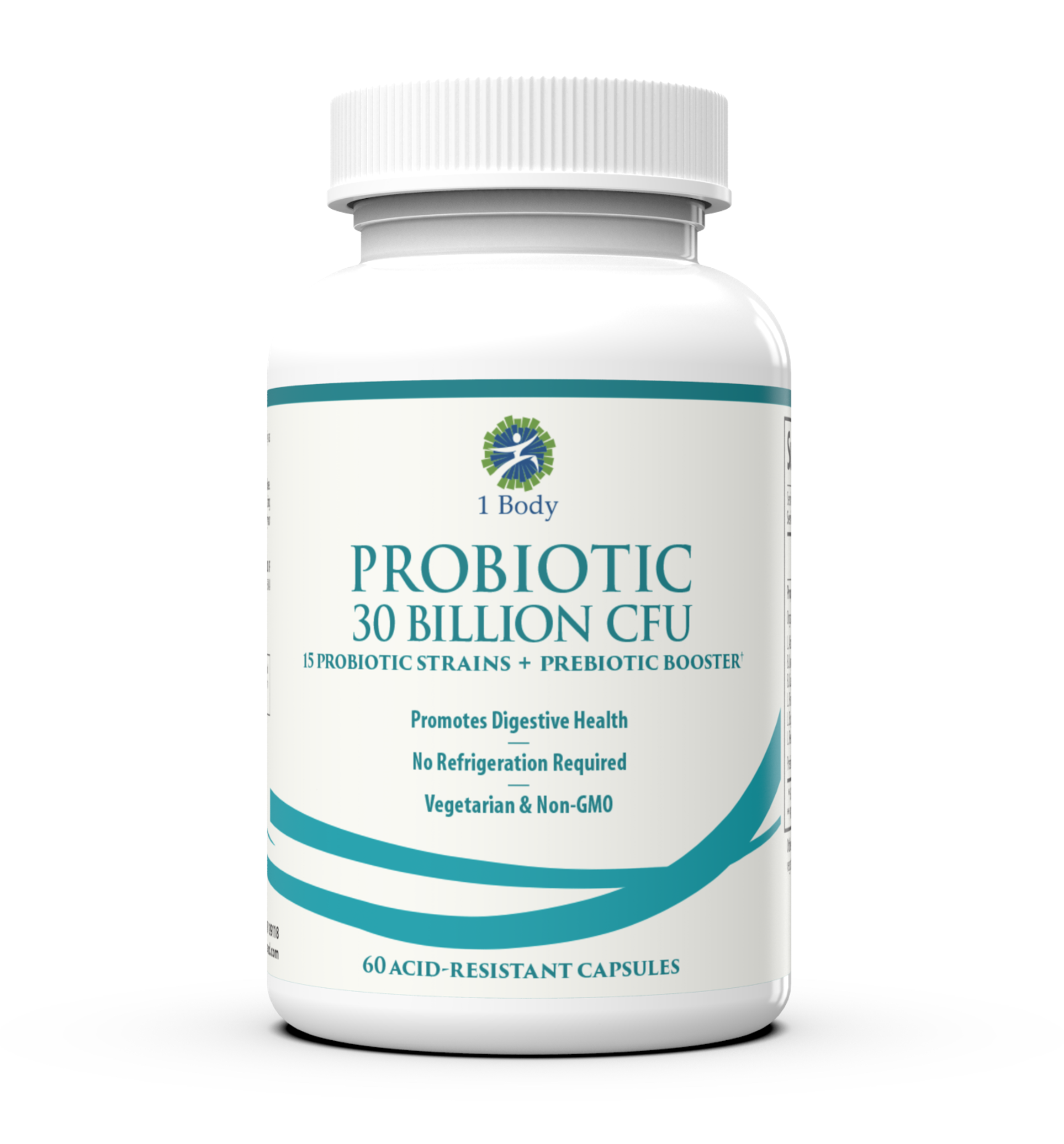 Probiotic
High Potency & Strain Diversity.

Our formula has a whopping 30 billion CFU of 15 strains of the best probiotics, including Lactobacillus Reuteri, Lactobacillus Gasseri, & Lactobacillus Acidophilus.

Patented Vegetarian Acid Resistant Capsules.

 Specially designed to resist stomach acid and ensure the proper delivery of the probiotics & prebiotic to your intestinal tract

Supports Immune System & Digestive Function.

 Since 80% of the immune system is in your gut, adding more good bacteria helps support a healthy bacterial balance in your digestive tract.

No Refrigeration is Necessary.

 Shelf-stable to maintain live probiotics & prebiotic at varying temperatures.