The Health Benefits of Turmeric Supplements

Lately, I've been seeing a ton of videos and posts on social media using turmeric "shots" as a means to boost immune health, overall wellness, and even mood. Users mix turmeric with a number of other ingredients including ginger, lemon juice, pepper, and water, and take the concoction as a quick shot (companies have started manufacturing and selling their own version of turmeric shots as well). Honestly, the claimed benefits of the turmeric shot sounded a little too good to be true and had the inner skeptic in me questioning whether or not users were experiencing the placebo effect or the benefits of the other ingredients in the shot and simply claiming the turmeric as the hero ingredient. 
However, after going down a rabbit hole of TikToks and YouTube videos of regular turmeric users boasting the spice's benefits, I decided to take a look on my own, and after some research, I found that these creators might actually be on to something with turmeric.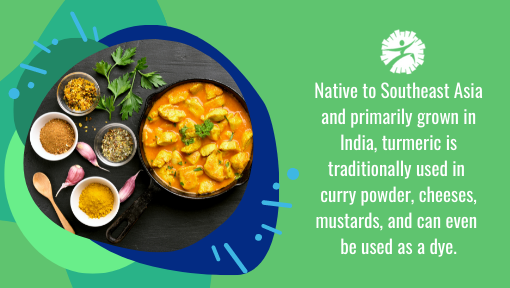 What is Turmeric, and Where Does it Come From? 
Turmeric has been used as a spice and medicinal herb for thousands of years and is considered part of the ginger family. Native to Southeast Asia and primarily grown in India, turmeric is traditionally used in curry powder, cheeses, mustards, and can even be used as a dye. According to the National Center for Complementary and Integrative Health, "turmeric was used in Ayurvedic and other traditional Indian medical systems, as well as Eastern Asian medical systems such as traditional Chinese medicine." 
Derived from the root of the Curcuma longa plant, turmeric is yellow in color and slightly bitter in taste. Turmeric is full of beneficial compounds called curcuminoids, with the most important one being curcumin. Curcumin is the main active ingredient in turmeric and helps to give it its color. It is considered a powerful antioxidant and has been found to contain anti-inflammatory properties (but we'll get more into the effects of curcumin below). 
The rate at which nutrients are absorbed into the body is called bioavailability, and the bioavailability of curcumin is low. This means that curcumin is not absorbed by the body into the bloodstream very well, negating the potential benefits it has. To harness the full power of the curcuminoid, another substance found in black pepper called piperine must be added. Piperine helps to boost curcumin absorption by up to 2000%. 
While turmeric powder has been used to help spice and color foods for generations, today, the spice can be found in turmeric extracts, supplements, juices, and more simply because of the wide array of potential health benefits it has. 
Health Benefits of Turmeric
Clearly, if humans have been using turmeric for this long, there have to be some benefits to it. Well, actually, there are quite a few benefits. Turmeric may help with: 
Inflammation - As we mentioned above, the main active ingredient in turmeric, curcumin, is an anti-inflammatory compound meaning it contains anti-inflammatory properties. While short-term inflammation helps our bodies fight off invasive viruses or bacteria and repair damage, long-term, chronic inflammation could lead to a number of health concerns. Inflammation could contribute to the following health conditions: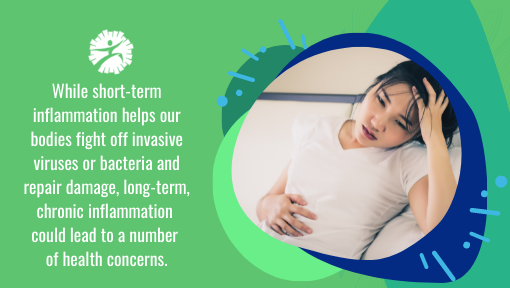 heart disease
cancer
metabolic syndrome
Alzheimer's disease 
various degenerative conditions
While the curcumin found in turmeric has been found to have anti-inflammatory properties, researchers and healthcare professionals advise that a high dose of the curcuminoid is needed to have the same effects as pharmaceutical-grade anti-inflammatory drugs. 
Fighting Oxidative Stress - Free radicals are molecules that exist with one or more unpaired electrons, and are created during normal metabolic processes, and can damage our cells. Luckily, our body fights this process by producing antioxidants that neutralize or destroy free radicals by donating the missing electron. When there is an imbalance between the free radicals and antioxidants found in the body, oxidative stress occurs. Oxidative stress is thought to contribute to aging and a number of health concerns including: 
cancer
Alzheimer's disease
Parkinson's disease
diabetes
cardiovascular conditions such as high blood pressure, atherosclerosis, and stroke
inflammatory disorders
chronic fatigue syndrome
asthma
male infertility
So, how does turmeric factor in? Curcumin is a powerful antioxidant and can help the body fight free radical damage. In studies conducted on animals and on cellular structures, curcumin was found to be effective at blocking the actions of free radicals and even stimulating the other antioxidants in the body. While more studies are needed on human subjects, boosting your antioxidant intake is never a bad thing!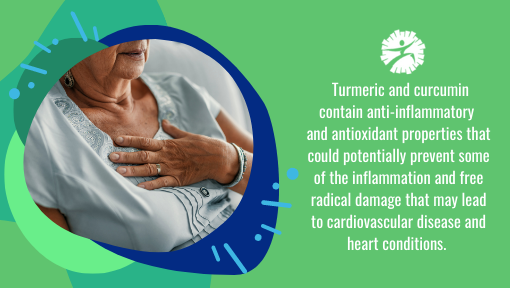 Lowering Risk of Heart Disease - As mentioned, turmeric and curcumin contain anti-inflammatory and antioxidant properties that could potentially prevent some of the inflammation and free radical damage that may lead to cardiovascular disease and heart conditions. Additionally, curcumin has been found to boost the function of the endothelium, the lining of your blood vessels. When the endothelium is compromised, endothelial dysfunction occurs and prevents the blood vessels from regulating blood pressure, preventing blood clotting, and various other factors. 
Curcumin has also been found to help boost heart health, with one study even claiming that curcumin was just as effective for heart health as an exercise in post-menopausal women. Another study focusing on 121 people undergoing coronary artery bypass surgery found that the group that consumed curcumin in the days leading up to the surgery and a few days after experienced a 65% decreased risk of experiencing a heart attack in the hospital in comparison to the placebo group. 
Cancer Treatment and Prevention - The effects of turmeric and curcumin on cancer are two-fold: prevention of cancer and the treatment of existing cancer cells. Due to the anti-inflammatory and antioxidant effects of turmeric and curcumin, the spice is claimed to help prevent the development of certain cancers, especially cancers in the digestive system. As a treatment, studies have found that curcumin can impact the way cancer cells grow and develop. Some studies have found that curcumin may help: 
contribute to the death of cancerous cells
reduce angiogenesis (growth of new blood vessels in tumors)
reduce the metastasis (spread of cancer)
Of course, turmeric should never be used in lieu of medical and pharmaceutical-grade cancer treatments. It should instead be viewed as a complementary supplement to aid the body in fighting cancer. Always follow medical advice from doctors and other healthcare professionals. 
Treating Arthritis - Most types of arthritis, including rheumatoid arthritis and osteoarthritis, are caused by inflammation in the joints, which leads to intense joint pain and discomfort. With the anti-inflammatory properties of curcumin, it would make sense that turmeric may help relieve some of the inflammation that is causing the joint pain associated with arthritis. One study even found that curcumin was more effective than an anti-inflammatory drug in those with rheumatoid arthritis. Other studies have found that curcumin could help improve other symptoms of arthritis including swelling.  
Mental Health - Remember when I mentioned those claims of turmeric shots helping to improve mood? They may have been on to something! In a small study, three groups of people were given either the anti-depressant drug Prozac, 1 gram of curcumin, or a combination of both. After 6 weeks, it was found that the effects of the curcumin closely resembled the effects of the Prozac, while the group that took both showed the most improvement in mood and symptoms of depression. There is also some evidence that curcumin could help boost serotonin and dopamine levels in the brain, but further research is needed. 
Gut Health and Digestion - Some use turmeric to help treat and prevent digestive issues such as irritable bowel syndrome (IBS) or acid reflux due to its anti-inflammatory and antioxidant effects on the body. In a clinical study performed in the UK, turmeric was found to help improve symptoms of IBS in 207 patients after they were instructed to take turmeric extract tablets. According to the Canadian Society of Intestinal Research, other studies have found that curcumin could have positive benefits on other gut health conditions including adenomatous polyposis, inflammatory bowel disease, and ulcerative colitis.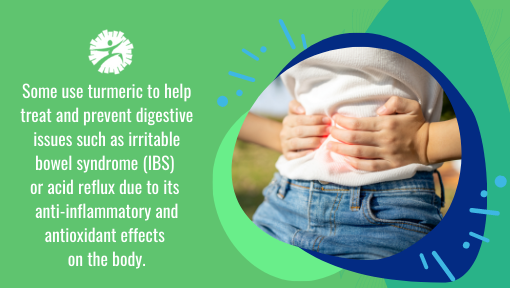 You don't have to be diagnosed with a digestive disorder to take turmeric for gut health. The spice has been found to improve gut permeability and reduce gut inflammation - the two measures of digestive health. Taking care of your gut health can help to prevent a number of other health concerns. 
High Cholesterol - While there are only studies performed on animals correlating turmeric and reduced cholesterol levels, the research out there is promising for humans. The current animal research suggests that turmeric has the biggest impact on total cholesterol, LDL cholesterol, and triglyceride levels, all of which contribute to an increased risk of heart disease. In one study in which rabbits were fed a high-fat diet, turmeric given to these rabbits appeared to help reduce both LDL cholesterol and triglyceride levels and even prevented LDL cholesterol from being oxidized which can lead to hardened arteries. 
How to Add Tumeric to Your Routine
With the list of potential and proven benefits of turmeric growing with every study, it would be silly not to take advantage of the seemingly simple spice! But how can we add turmeric into our routine without having to make curry for dinner every night? Here are some simple ways to consume turmeric and reap its ever-growing list of health benefits: 
Add to Food or Drinks - The easiest way to add turmeric to your diet is by using it the same way people have for thousands of years - add it as a spice to your food or drinks! There are a ton of recipes online that include turmeric as an ingredient both for flavor and for its numerous benefits. Just be sure to add black pepper so that the piperine can activate the curcumin and improve its bioavailability, and with healthy fat (try avocado or some nuts) to boost absorption.  It is important to note that while this is the most natural, and possibly more delicious way, to up your turmeric intake curcumin levels are typically low in the spice, usually around 3%.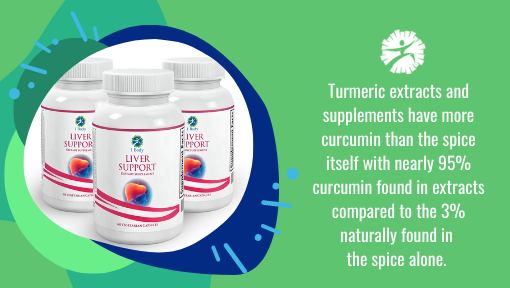 Add a Tumeric Supplement or Extract -  If adding turmeric to every meal doesn't sound viable, choosing a turmeric supplement might be right for you! Plus, turmeric extracts and supplements have more curcumin than the spice itself with nearly 95% curcumin found in extracts compared to the 3% naturally found in the spice alone. 
Look for three things when it comes to choosing a turmeric supplement: an appropriate amount of turmeric and high curcumin levels, a reputable supplier with ingredients and their levels transparently listed, and other beneficial (or harmful!) ingredients. The recommended dose of turmeric is 500–2,000 mg of turmeric per day, so finding a supplement that contains the recommended amount or close to it is ideal. 
Only choose supplement suppliers like 1 Body that transparently list all ingredients used in their supplements, and manufacture products without any sugar, salt, dairy, wheat, gluten, soy, preservatives, artificial colors, or flavors. 
Speaking of ingredients, it is important to pay attention to other ingredients that may be added to the supplement formula. Be wary of "filler ingredients" such as cellulose, gelatin, and stearic acid, and look out for beneficial ingredients that can work with turmeric to enhance its benefits. For instance, turmeric could be beneficial for boosting liver health when paired with vitamin C and folate, or for improving joint health when paired with Glucosamine Sulfate and ginger root. Always talk with your doctor or healthcare professional before adding any dietary supplement to your routine to prevent any unwanted interactions with prescribed medications. Though the risk for side effects is low, turmeric could potentially cause bloating. If bloating continues, discontinue use and contact your doctor.
Liver Support
Do you feel lethargic

, bloated, have weight gain, smoke, or regularly consume alcohol; you may need a liver support supplement.ips 

Easy & Gentle

; Only 2 capsules per day; No handful of horse pills like some of the other brands. You should gradually feel an increase in energy, better overall health, & improved mental clarity 

Manufactured in the USA

at our cGMP certified facility (enforced by the FDA). NOT manufactured with sugar, salt, dairy, wheat, gluten, soy, preservatives, artificial colors or flavors; We simply use the purest & highest quality raw ingredients