Why Take Collagen with Vitamin C
Some things just work better together! What's a warm cup of hot chocolate without some mini marshmallows on top? Who can have just a jelly sandwich? You need the peanut butter! Sweet confections aside, there are supplements that simply work better together. Collagen powder and vitamin C are two prime examples!
Why Take Collagen?
Collagen was quick to rise to the top of the supplement market and it has since solidified its spot as a universally beneficial supplement. Collagen production occurs naturally within the body. It is the most abundant protein in the human body. Collagen can be found in all the connective tissues throughout the body including the skin, blood vessels, muscles, joints, ligaments, and even eyes. Collagen proteins build upon each other to form supportive scaffolding that keeps the joints cushioned and strong, and the skin clear, hydrated, and wrinkle-free.
Though collagen synthesis occurs naturally, it isn't steady. As we age, our collagen levels slow and many of the signs of aging settle in. There are very few practical food sources of collagen, so the only way to increase collagen levels is by using a dietary supplement. After consuming collagen (in the form of capsules or powder) it breaks down into its amino acids glycine, proline, and hydroxyproline. These amino acids then stimulate further collagen synthesis and help you to revert back to your youthful, healthy days. There are many health benefits to adding a collagen supplement to your diet. It can help reduce joint pain, improve skin health and elasticity, speed up wound healing, boost muscle building, and more. Want to learn why you should consider taking collagen? Read this blog!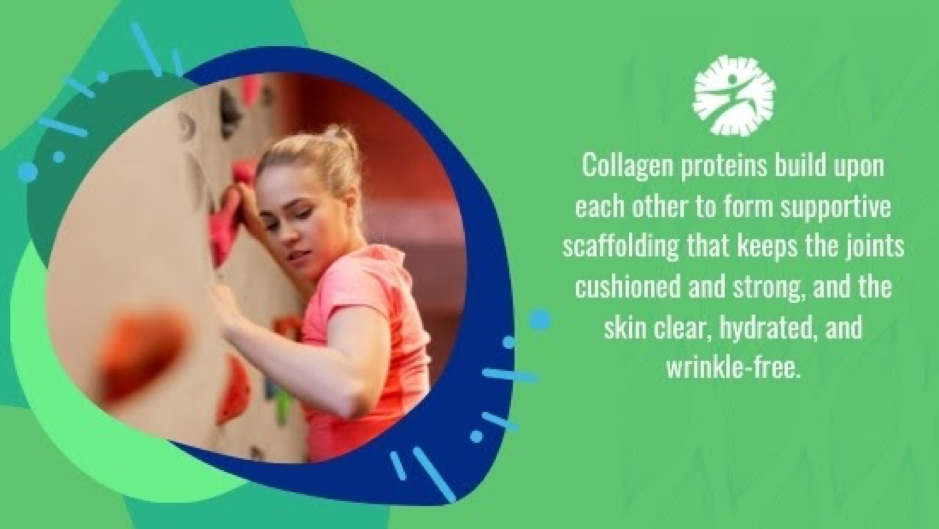 Why Take Vitamin C?
Vitamin C, or ascorbic acid, is a staple in health and wellness supplements. Known primarily for its ability to support the immune system, vitamin C is wildly beneficial to the human body. Vitamin C is an essential water-soluble vitamin, meaning that it's necessary for healthy functioning, yet the body can't produce it on its own. 
As an antioxidant, the main role of vitamin C is to reduce oxidative stress. By fighting free radicals, vitamin C helps to lower the amount of oxidative stress in your body and thus lowers your risk of developing or worsening chronic conditions and inflammation. In addition to strengthening the immune system and reducing the risk of long-term health conditions, the benefits of vitamin C include:
Lowered risk of heart disease (by managing blood pressure and cholesterol)
Help prevent gout
Decreased risk of iron deficiency or anemia
Enhanced cognitive functioning and decreased risk of age-related memory loss
Increased bioavailability of collagen
Because the benefits of vitamin C are so widespread, the side effects of vitamin C deficiency can be serious. Scurvy is a disease caused by severe vitamin C deficiency, characterized by swollen bleeding gums and sores. Sources of vitamin C include fruits and vegetables such as citrus fruits, strawberries, kiwi, bell peppers, broccoli, kale, and spinach and vitamin C supplements. While vitamin C deficiency is rare today, you can still benefit from adding a vitamin C supplement to your diet, especially if you are also taking a collagen supplement!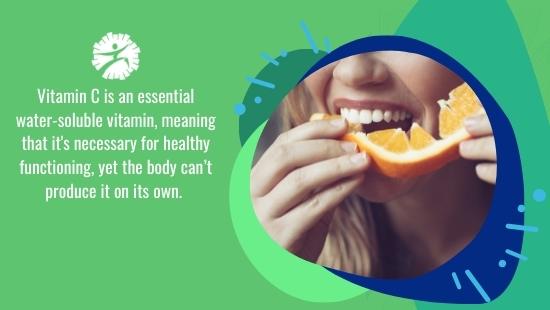 Better Together: Collagen and Vitamin C
Since many of the benefits of vitamin C overlap with the benefits of collagen, it's not surprising that by taking them together, you'll experience even more noticeable benefits. However, multiple clinical trials and studies have shown that it's not just "adding benefits on benefits", taking vitamin C can increase collagen formation. In fact, vitamin C is a necessary component of collagen synthesis.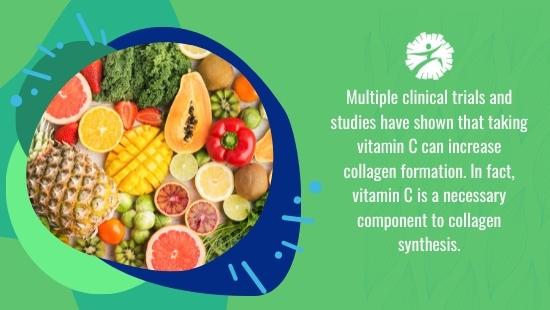 When collagen is consumed, it goes through a complex process that occurs both within the cells and outside of the cells in order to make it more bioavailable or beneficial. Vitamin C enhances this process by adding hydrogen and oxygen to the amino acids which make up collagen while they are still within the cell. This helps them to form a precursor molecule called procollagen when they are outside of the cell.
Both human clinical studies and animal studies have been done to measure the efficacy of vitamin C on collagen formation. A systematic review and meta-analysis conducted in 2018 were done to measure vitamin C's efficacy in accelerating healing after bone, tendon, and ligament injuries in vivo and in vitro, promoting collagen synthesis, and protecting the collagen fibroblasts. This review concluded that maintaining adequate levels of vitamin C does, in fact, accelerate bone healing, increase type I collagen synthesis, and reduce oxidative stress. In summary, not only can vitamin C increase collagen production, it protects the collagen fibers already in the body. 
Vitamin C is a popular ingredient in skin serums and multivitamins alike. However, not all forms are equally effective. For example, ascorbate phosphate, a synthetic form of vitamin C, is not absorbed as effectively as L-ascorbate which is food-derived and contains co-factors. Dermal application of vitamin C is also less bioavailable and is concentrated in small areas. The most effective and easy way to bump up your collagen and vitamin C content is a liposomal vitamin C supplement, paired with a hydrolyzed collagen peptide supplement.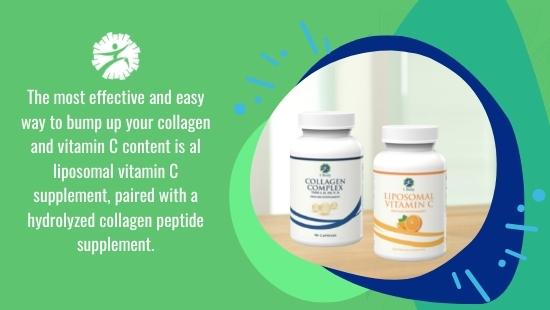 Liposomal vitamin C delivers high doses of vitamin C to the body and ensures maximum bioavailability, meaning little to nothing is going to waste. Encapsulated vitamin C and collagen can provide high concentrations of each supplement without having to scoop, drip, or blend ingredients into your morning cup of coffee. Vitamin C and collagen are simply just better together!