At What Age Should You Start Taking Collagen?
The answer may surprise you!

Collagen is widely regarded as an anti-aging supplement and for good reason! All of the pesky and sometimes painful signs of aging like joint pain, bone loss, and fine lines and wrinkles can all be traced back to a decline in collagen production. So can these symptoms be minimized by upping your collagen intake early? What is the best age to start taking collagen and at what age does it deliver the best benefits? Let's find out!

How Does Collagen Work?
Nowadays, collagen is a very popular supplement! This is largely due to its prevalence throughout the human body; it can be found in nearly every connective tissue. As a fibrous structural protein, collagen acts as scaffolding or a building block to the connective tissues and provides structural support. This means that when collagen levels are high, skin elasticity is at its highest meaning fewer wrinkles and sagging skin, the joints are cushioned with strong and healthy ligaments, the blood vessels are flexible and strong to improve heart health, and even bone health is improved due to greater bone mass. In most cases, collagen depletion is a slow and steady process. 
Natural collagen production slows at a steady pace after age 25 or so. One exception to this is for women going through menopause in which collagen levels drop drastically and quickly. In addition to the body naturally producing less collagen, free radicals obtained via sun exposure, air, food, and even water can damage the collagen already in the body. 
Oral collagen supplements typically contain pure collagen peptides derived from cows (bovine collagen) or fish (marine collagen) and may help mitigate the side effects related to collagen loss. Once consumed, the collagen protein gets broken down into its three main amino acids glycine, proline, and hydroxyproline. These amino acids stimulate the body to produce collagen and provide additional health benefits such as improved skin health and elasticity and faster wound recovery.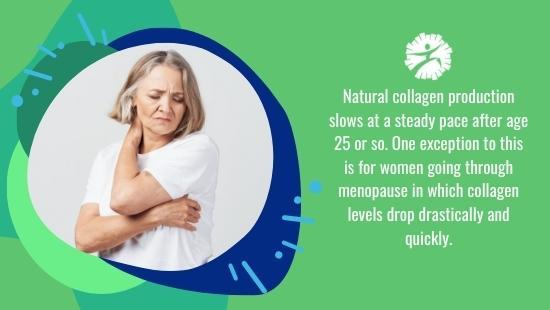 What Is The Best Age To Start Taking Collagen? 
Because collagen is produced naturally within the body, in fact, it is the most abundant protein in the human body, it is generally considered safe. In many cases, collagen has little to no side effects outside of an upset stomach if consumed in excess. Determining the prime age to start taking collagen depends on a number of factors, but since the benefits of collagen are so widespread, it's never too early or too late to start taking collagen.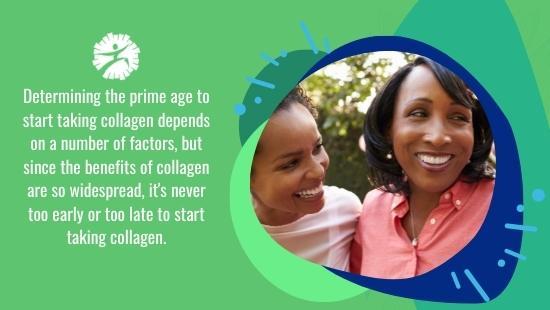 Take for example a woman in her early twenties who wants to improve her skin health and avoid wrinkles but doesn't want to add another topical product to her skincare routine. It's like "prejuvenation" if you will!
Or, an older man or woman may want to prevent new wrinkles from forming or deepening; collagen is a great way to repair and rejuvenate the skin from the inside out!
Collagen can also benefit those with active lifestyles and especially those who are looking to enhance their results. Because collagen is a lean protein, it may help to boost muscle mass while following a clean and healthy diet!
One particular study conducted on college-age athletes also found that collagen consumption helped to increase wound recovery and decrease joint pain! In short, you can start taking collagen supplements at a young age, say age twenty, to get ahead of the curve and keep collagen levels high for more graceful aging.
Does It Matter What Type of Collagen I Take?
There are a couple of things to consider when choosing a collagen supplement. First and foremost, consider what your desired benefit is because not all types of collagen deliver the same benefits! Secondly, the source of collagen should be considered because not all collagen sources (fish, chickens, eggshell membranes, cows) contain the same types of collagen. 
There are at least 16 different types of collage, appropriately called type I, II, III, and so on. Here's a quick overview of the most popular types: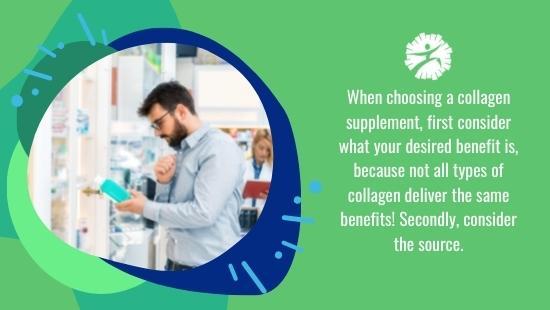 Type I collagen: Type I collagen is by far the most abundant type of collagen. Type I collagen is commonly found in bovine and marine collagen. It is best for people looking to achieve healthy skin, thick and glossy hair, strong nails, and or bigger, stronger muscles.
Type II collagen: Type II collagen is derived from chicken cartilage and ligaments. Not surprisingly, this type of collagen is great at improving joint health!
Type III collagen: Type III collagen is found in the digestive tract, blood vessels, and uterus. The best source of type III collagen is bovine collagen. The primary benefit of this type of collagen is skin hydration and elasticity and gut healing.
Multi-collagen blends like 1 Body's Collagen Complex capsules contain a mix of all three collagen types as well as collagen types V and X for even better results. It's a great well-balanced collagen powder perfectly encapsulated in easy-to-swallow gelatin capsules.
How Much Collagen Should I Take?
There is no daily recommended amount of collagen, it varies depending on certain lifestyle factors, age, health condition, and more. In general, however, many benefits can be seen after consuming 2.5-10 grams of collagen daily for 8-12 weeks. Those who are extremely active or have health conditions like osteoarthritis may benefit from taking a higher dose.
COLLAGEN COMPLEX
Promote hair and nail strength – Collagen is essential for hair and nail growth and strength. Oftentimes brittle nails are a sign of low collagen, but collagen supplements provide a convenient solution.
Support gut and skin health – In addition to making your skin look healthy from the inside out by boosting elasticity, collagen peptides also protect the lining in the gut for good gut health.
Strengthen joints, bones, and cartilage – Collagen provides the structure, strength, and elasticity necessary for our connective tissues, such as bone, skin, and ligaments.